SPORTS: BFHS girls lose at Sandpoint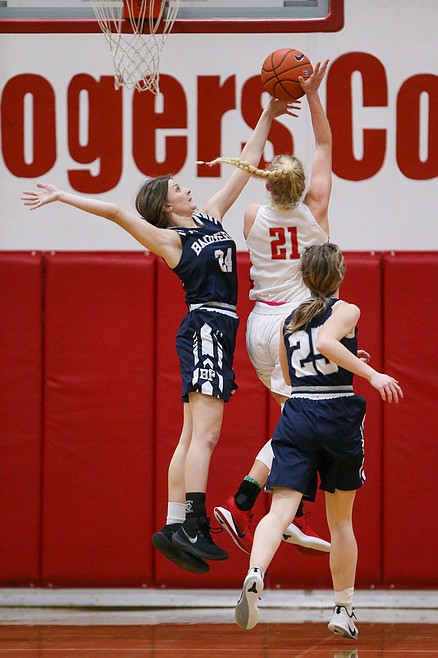 Photo courtesy of JASON DUCHOW PHOTOGRAPHY Bonners Ferry's Kaylee Sumpter blocks a shot by Sandpoint's Hattie Larson during the Bulldogs' 40-30 win over the visiting Badgers on Tuesday night.
by
DYLAN GREENE
Hagadone News Network
|
January 7, 2021 1:00 AM
SANDPOINT — In a defensive battle between neighboring rivals, Sandpoint had a few more offensive surges than Bonners Ferry.
Sandpoint girls basketball forced 29 turnovers to secure a 40-30 win over Bonners Ferry Tuesday night at Les Rogers Court.
The Bulldogs struggled finding the bottom of the net all night, but their aggressive defense allowed them to pull away from the Badgers.
"Defense travels but it also stays at home too, so I thought that was big for us here because Bonners Ferry competed very, very hard tonight," head coach Will Love said. "I was really impressed with their team and they came in here on short notice."
Avery Bayer and Holly Ansley scored nine points each to lead the Badgers, who trailed early before digging in defense and limiting Sandpoint to six second-quarter points.
Whenever Sandpoint did get cold on offense Tuesday night, it seemed like Kaylee Banks was always there to end the drought.
The senior guard was in attack mode early. She hit two 3-pointers and scored 9 of Sandpoint's 14 first-quarter points.
"She's really coming along as a leader and she's consistently talking out there," Love said about Banks. "In that second half, she did some good things that allowed us to get the victory tonight."
The Bulldogs forced 15 turnovers in the first half and took a 20-13 lead into the locker room.
To open the second half, Sandpoint went on a 11-3 run to build a comfortable 11-point advantage heading into the fourth quarter.
But just when it seemed like the Bulldogs were pulling away, the Badgers slowly clawed back. Then Hattie Larson decided to leave her mark on the game. The senior drilled a 3-pointer and on the ensuing Bonners Ferry possession got a steal that led to a basket from Bella Phillips.
Those two plays sealed the deal and gave Sandpoint its fourth win this season.
Banks finished with 17 points, five steals and four assists. Larson had 10 points, six rebounds, five steals and three assists. Phillips tallied 4 points and six rebounds and Daylee Driggs added 4 points and four steals.
Bonners Ferry 7 6 9 8 — 30
Sandpoint 14 6 13 7 — 40
BONNERS FERRY — Bayer 9, Sa. Hill 0, Bliss 5, Blackmore 0, Abubakari 0, Ansley 9, Si. Hill 6, Sumpter 0, Pinkerton 1.
SANDPOINT — Gammon 0, Driggs 4, Reinink 1, Lyons 0, Tomco 0, Cessna 0, Phillips 4, Kar. Banks 2, Larson 10, Platte 2, Kay. Banks 17.
---