Special message to the Badger community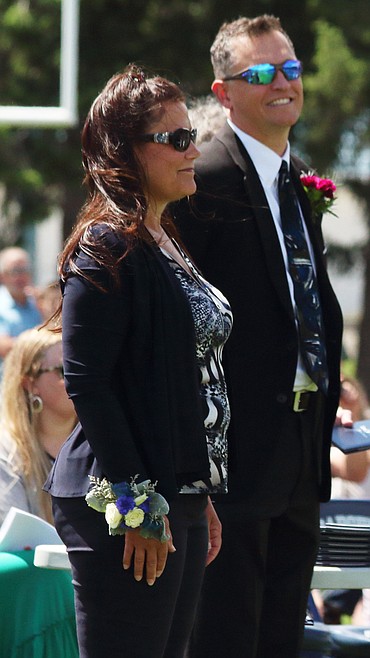 (Photo by Victor Corral Martinez) Principal Gina Brown with Vice-Principal Nathan Williams
by
Gina Brown, BFHS Principal
|
June 8, 2021 3:31 PM
Hello to our Badger Community,
Final exams are in progress, and as we end the 2020/21 school year, a Maya Angelou quote comes to mind, "I can be changed by what happens to me. But I refuse to be reduced by it." This year has been full of changes and more changes, but we have persevered through it. Our students and teachers have become stronger and more resilient as a result. Despite the numerous changes, our students could come to school and participate in extracurricular activities when so many students around the state and country never stepped foot inside a school or gym the entire year. For this, I am extremely grateful. We have many things to celebrate as we end the school year.
Spring sports saw 124 students participate on seven different teams. Congrats to the BFHS girls varsity golf, softball, baseball, and track for qualifying for state. Girls golf won league, districts, and the state championship! Congratulations to the BFHS track team for a stellar performance at the state track meet. Charles Henslee is the state champion 1400, and Asha Abubakari earned a 3rd in the shot put. Boys 4x400 took 2nd place in State and Girls 4x400 took 2nd place. Overall, Boys took 5th in state and girls took 6th place.
BFHS staff and the Class of 2021 are very thankful for the return of some traditional senior activities. Prom was held on May 8, and the Senior Trip to Triple Play took place on May 26. We also want to thank the local PEO chapter for providing us with the Senior Tea last Thursday. The turnout was amazing, and the goodies were delicious. Following the Tea, we moved to the auditorium, where parents and students watched the senior slideshow. It always makes me smile to see the photos of our graduates from their younger years.
Following the slideshow, we recognized our students who excel at academics and athletics. BFHS graduates earned a total of $542,657 in scholarships, with $87,540 coming from Boundary County community members and organizations. To say that our community is generous is an understatement. We also want to congratulate Senior Male Athlete Danny Walker and Senior Female Athlete Holly Ansley. And also to Underclassmen Male Athlete of the Year, Bo Bateman and Underclassmen Female Athletes of the Year Asha Abubakari and Mia Blackmore. We would also like to recognize Sarah Michalsky for being selected as a finalist for the IHSAA Interscholastic Star Student Award and earning a $500 scholarship. There are 10 finalists in the state, two per classification, so this is a rare honor.
Additionally, Lauren Onstott and Ian Beazer were chosen as the most distinguished students by the BFHS staff. This award goes to students who have shown exceptional character throughout their high school career and who the staff would be honored to have as their own children. This is never an easy decision for the staff to make because we have so many wonderfully deserving students who exemplify the criteria. To the parents, we want to thank you for raising such remarkable children and entrusting them to us.
And to our Badger community, we want to thank you from the bottom of our hearts for the generosity, kindness, and grace that has been shown to our educational community this year. From the kind words, multiple meals, and willingness to drop everything to help out, please know that we appreciate all you do to support us. Have a great summer, and we will see you in the fall!
---