Planning and Zoning issues formal complaint to Owen Benjamin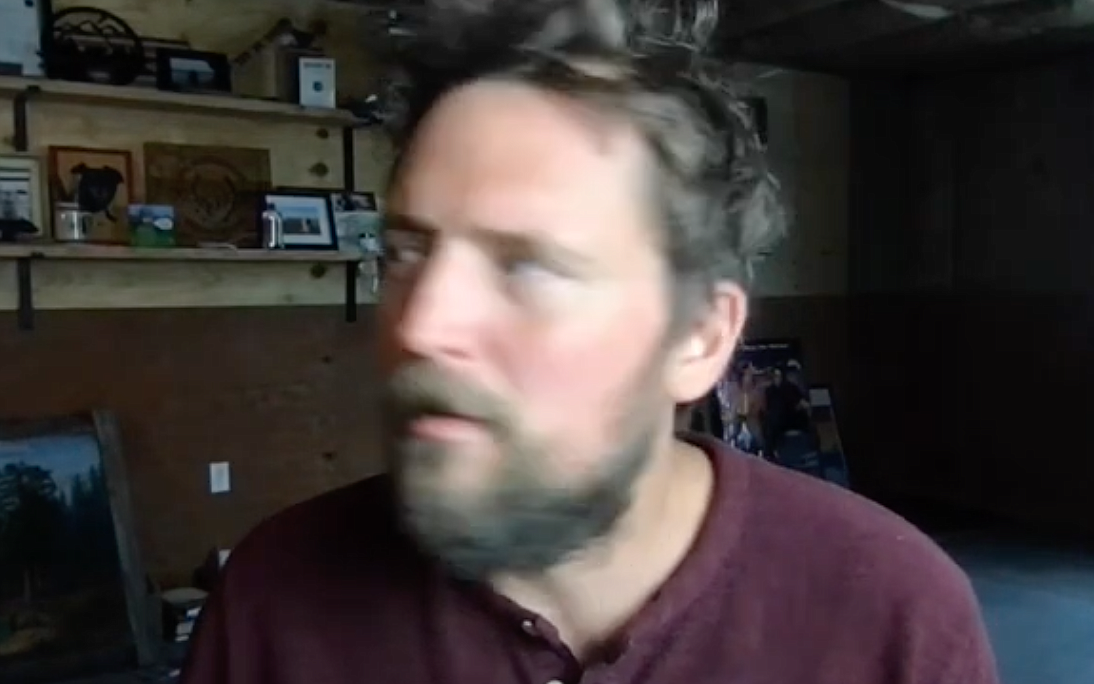 Owen Benjamin live streaming to supporters
by
VICTOR CORRAL MARTINEZ
Staff Writer
|
June 9, 2021 2:45 PM
BONNERS FERRY — Boundary County Planning and Zoning issued a formal complaint to Owen Benjamin last week, detailing potential land use violations for his Moyie River property.
The June 3 letter warned that construction on the property known to Owen and his followers as Ursa Rio violates county ordinances, in part because no applications submitted to the planning department or permits issued for work on the site.
"Boundary County has been informed that uses being developed may include, but are not limited to, cabins, residences, and RV park stalls," planning officials said in the letter
The warning follows complaints by nearby residents who claimed Owen Benjamin and Struggle Bear Corporation have violated applicable zoning provisions for the neighborhood.
Among the complaints by residents was that the 10-acre lot will be used for recreational and commercial purposes, allowing people to use the land as a place to develop a village of buildings.
On the Great Bear Trail website, Benjamin details his vision for the site as part of a request for donations to his compound he called BearTaria.
"Donate toward the creation of a community campground with cabins and utility," Benjamin said on the website "Your name and email address will be added to an exclusive list that will be given access to campgrounds year round depending on space available."
In a recent video released on June 7, Benjamin retracted previous statements, saying he had no plans for a shooting range in the 10-acre parcel in Boundary County but at a 300-acre property he was considering purchasing.
In the same video, Benjamin followed up with statements stating that Russia isn't the boogeyman because the United States has more people in prison than Russia.
"I know it's cause we have a lot of Blacks that's why we have so many prisoners, but you can't just blame it on the Blacks," Benjamin said.
In their letter, planning officials told Benjamin that the county's agriculture and forestry, and suburban zones require approved permits prior to construction of primary residences, accessory dwelling units and new primary structures.
In addition, they warned that the recreational vehicle park or resort-style construction planned for Ursa Rio would also be a violation unless it is first approved via the permit process.
Planning officials told Benjamin the violations must be corrected and permitting approved required before further development of the land or action may be taken.
"The county may also take injunctive action to restrain, enjoin or stop any violation of the county land use laws, in accord with the laws of the state of Idaho," officials said in the letter.
According to the letter Benjamin has 10 business days to respond to the complaint.
However, in a recent video before the letter by planning and zoning was sent, Owen Benjamin seemed unconcerned, telling supporters they would be"building for literally decades."
He said supporters have continued to help him build a planned 20-foot x 20-foot bunkhouse and a 12-foot by12-foot cabin with brick-and-cement foundations, adding more buildings are planned in the future.
"We're eventually going to be building a castle," Benjamin said.
Benjamin told supporters that there will be opportunities for others to build on the land. In videos shared by Benjamin, supporters are shown visiting the location to help build or showing up unexpectedly.
In a recent video, Benjamin discussed the backlash for his building projects and mentioned the initial complaints.
"We're all to code because these things we're building right now are shelters," Benjamin said, "We don't need permitting for what we're currently doing."
He tells supporters in the video that Idaho is a freedom-oriented place, and notes his property has water rights to the Moyie River.
Recent Headlines
---