NE Productions Knows How to Snap Up the Spotlight
by
ROSE SHABABY
Staff Writer
|
March 16, 2021 2:29 PM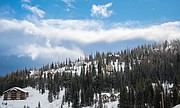 BONNERS FERRY — As a child, Nicole Espino watched her father work as a video editor, often falling asleep in his edit bay. She had no idea that someday she would follow in his footsteps. While she dabbled in it over the years, it wasn't until she moved to Bonners Ferry that she decided to make it a career.

Over the years she has worked as a tech director for her churches as well as putting together pictorial videos for events like family gatherings, birthdays, funerals and more. Always willing to help, she has often put together advertising videos for friends' businesses and acted as photographer at weddings, taking senior pictures and family portraits.
When the pandemic hit and she started homeschooling her children, running her own business seemed like a good fit. It wasn't long before NE Productions was born. Espino offers a variety of services: photography, video and audio editing, sound mixing, logo and graphic design, drone footage and more.
Much of what Espino does she learned from her father; in her sophomore year of high school he helped her with a video book report that her teacher continued using in the years after as an example of a creative approach to school assignments.
She isn't resting on her laurels, however, and has continued to learn through programs like Tomorrow's Filmmakers, and training herself in all Adobe products, software used by most professionals in the industry. It also helps that she's highly organized.
Espino loves photography and spending time recording the history of people and families through images. She hopes to start a new product line of sorts, a documentary-style family tree, preserving family history through video recordings, storytelling and photographs and as the family grows, adding to the story. It's an idea she's been playing with for a while and hopes to soon have an example to share on her website.
Starting a new business always comes with growing pains but as her business has grown, Espino said her only regret was that "she didn't start earlier." Being born into the industry and having a creative outlet has been more rewarding than she ever realized it could be.
If you are interested in learning more about her services, you can contact Espino at 442-283-3881, email her at nicole@neproductions.net or visit her website at https://neproductions.mypixieset.com.
---