New compound forming, residents present zoning violations to commissioners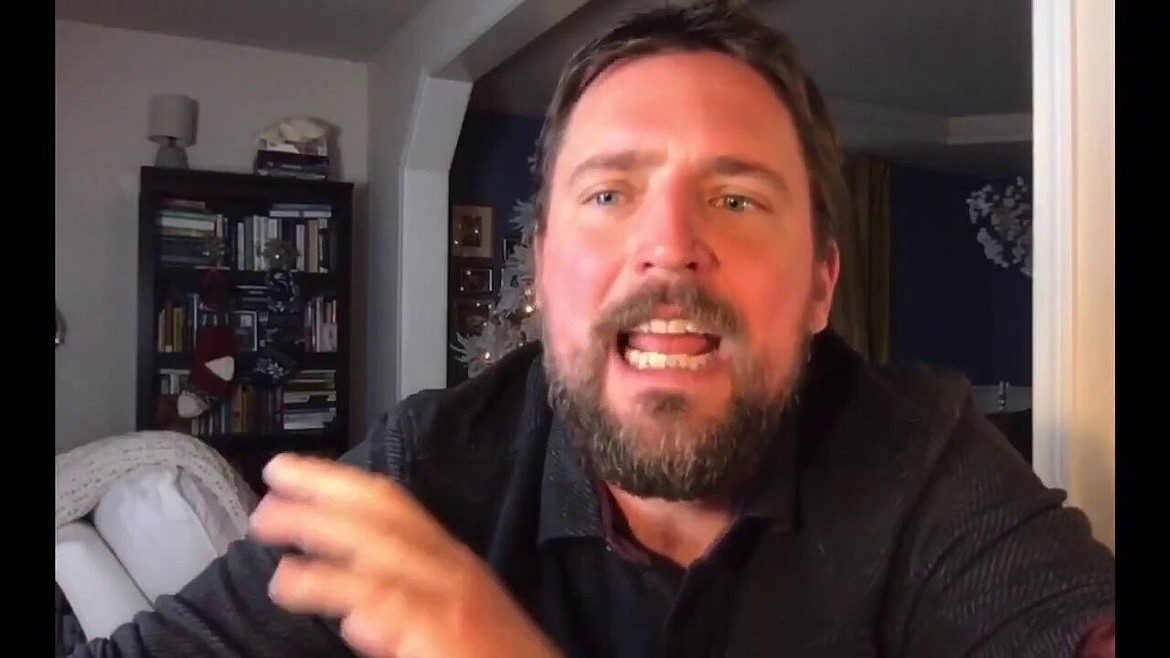 Concerned residents near the Moyie River along Earl Lane Road spoke to county commissioners on Tuesday, May 25, about an alleged "Ruby Ridge style" compound forming in Boundary County. Pictured above is Owen Benjamin, who neighbors say have violated zoning provisions for the neighborhood.
(Photo courtesy STOPANTISEMITISM.ORG)
BONNERS FERRY — Concerned residents near the Moyie River along Earl Lane Road spoke to county commissioners on Tuesday, May 25, about an alleged "Ruby Ridge style" compound forming in Boundary County.
Elaine Duncan and eight additional residents provided documentation supporting their belief that the owners, Struggle Bear Corporation and Owen Benjamin, have violated the zoning provisions for the neighborhood.
On the Great Bear Trail website, Owen Benjamin details a request for donations to his compound called BearTaria.
"Donate toward the creation of a community campground with cabins and utility. Your name and email address will be added to an exclusive list that will be given access to campgrounds year round depending on space available."
This donation is under Owen Benjamin Inc. and discloses that the organization is a for-profit company with a post office box in Sandpoint.
The complaint cites that the 10-acre lot will be used for recreational commercial purposes, allowing people to use the land as a place to build a village of buildings.
Owen Benjamin is a former comedian and has been kicked out of most social media sites for his violations of user policies. Some of the content by Benjamin is related to flat-earth and other fringe conspiracy theories.
Many of Benjamin's livestreams have since been taken down. Still, he received much notoriety for comments condemning people of the Jewish faith, claiming eugenics by government agencies and many other inaccurate claims.
In a video post, Benjamin said, "Gays and Jews were considered the worst of the worst. Why? Because if they get power, they will destroy your entire civilization. Has anyone not seen that happening?"
Duncan presented evidence in detail highlighting the violations she believes have occurred, including clearing in a zone designated for agriculture and forest land.
Additionally, Duncan recently detailed a construction crew set up in the open area on the gas pipeline with a pyramid tent, mobile camper and multiple tents.
"They're doing something," Duncan said.
As the presentation was made, Duncan outlined what she believes is probable cause violations being committed, and under section 4.7 in county zoning provisions, the administration has the right to act.
The section details that if probable cause is established and the offender is offered the opportunity to correct the violations but doesn't, then the administrator may request the Boundary County Sheriff's Office to become responsible for enforcing the law.
Commissioner Dan Dinning seemed concerned about the complaint and documentation but reiterated that the process must be done correctly to be successful for it to proceed.
After hearing from the community and looking over details of the complaint, a concerned Tim Bertling quickly stated, "We have to fast-track this [complaint]."
The following steps in the process will be reviewed by the county prosecutor in communication with the planning and zoning board acting in an advisory capacity to the commissioners, who can then offer a cease and desist or require law enforcement to take action.
Recent Headlines
---