Riverside park receives grants for major improvements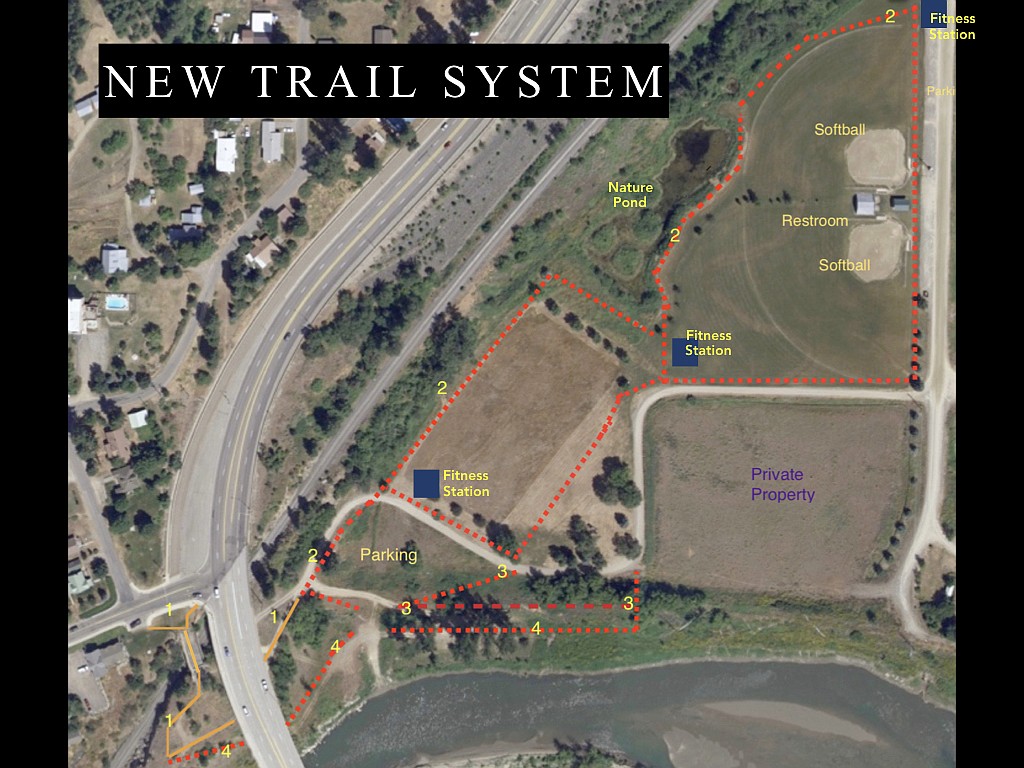 (Photo courtesy of 9B trails) Planned improvements
BONNERS FERRY — 9B Trails received a $74,800 grant from the Idaho Department of Parks and Recreation to build a trail system at riverside park.
9B trails submitted the grant request in 2019, but due to COVID-19, the grant was delayed until recently being processed.
In 1990, the park was initially planned to be a waterfront park with many amenities, but the park was never fully developed because of financial constraints.
The original plan for the park was to include a two-mile pedestrian and biking trail system. Providing looped trails would provide safe walking and biking access but also viewing opportunities along the river.
Three decades later, Bonners Ferry still does not have a safe, ADA-approved walking and biking route for its residents, families, or visitors. Additionally, the lack of proper access has resulted in an underutilized park that suffers from vandalism, graffiti and ill-maintained foliage.
According to the 9B trails website, the park would provide crucial amenity due to its proximity to residential neighborhoods, senior housing, municipal hospital, visitor's center, museum, businesses, eateries and hotels.
"This project will serve the community by addressing the need to finally provide a safe pedestrian and biking trail system, while at the same time preserving and beautifying the scenic qualities of the area and contributing positively to local tourism and the economy."
According to Tess Rae, who helped organize the grant proposal, along with other grants and donations secured from TC Energy, High Five, BNSF railroad, Boundary County Parks and Recreation and the Idaho Community Foundation, puts the total amount received at $98,263.
Funding for the park will go toward amenities that will include benches, kiosks, interpretive signage, park signage, fitness stations, a frisbee disc golf course and other needed park improvements.
Rae stated two entities involved in this project; Boundary County Parks and Recreation and the City of Bonners Ferry.
Boundary County Parks and Recreation is responsible for the park with the funding secured for the Boundary County Park and Recreations portion of the trails, marked as 2, 3, & 4 on the map.
Trail one with the bridge connector starts at the bridge at north-side park crossing the railroad bridge and goes under highway 95s bridge which is the responsibility of Bonners Ferry; that portion is still pending.
According to Rae, Urban Renewal approved funds in 2019 for that section of the trail. Still, everything is dependent on the City of Bonners Ferry securing the necessary easements from the railroad and Idaho Transportation Department.
The park trail upgrades have much support from many of the agencies and leadership in Boundary.
In a letter of support from the Boundary County Parks & Recreation and board chairman Rob Tompkins, states, "This is a project that would connect our park with the local neighborhoods, hospital, downtown district and sidewalks reaching the opposite end of town."
Additionally, saying, "It is our goal to develop the remainder of this park and we feel pedestrian access is the first key to doing so."
A letter of support from the Boundary County Commissioners on Dec. 23, 2019, also reiterated similar sentiments, stating, "Commissioners feel this project will encourage more people to get out and savor the outdoors and beauty of our surroundings."
Recent Headlines
---