From the Archives - Nov. 11, 2021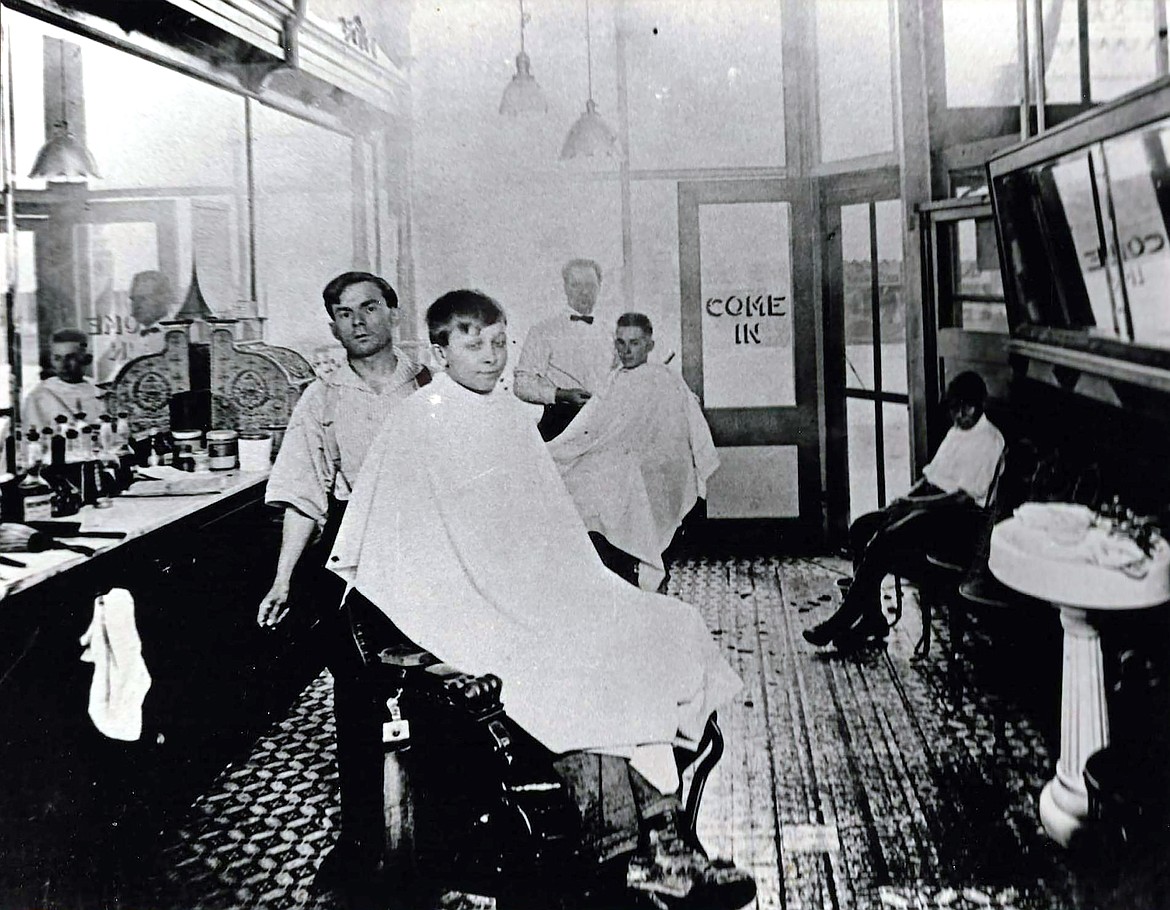 This photo, inside the High Top Saloon and Barber Shop, was taken in 1916. The barber is Mike Miller, and the boy having a haircut is Rene Wickstrom. Rene shined shoes in the barber shop.
(Photo courtesy BOUNDARY COUNTY MUSEUM)
|
November 11, 2021 1:00 AM
J.H. Hoagland opened the Pastime Cigar Store with a poolroom in 1906. It was located in the Alberts Building next to the First State Bank on Main Street. Hoagland sold the thriving business, in 1913, to Miller & Grindstaff. Miller was the proprietor of the Sunset Barber Shop, so the gentlemen merged the two business. They operated the Pastime Cigar Store and the High Top Saloon and Barber Shop.
This photo, inside the High Top Saloon and Barber Shop, was taken in 1916. The barber is Mike Miller, and the boy having a haircut is Rene Wickstrom. Rene shined shoes in the barber shop
In 1920, Miller & Grindstaff sold the Pastime Cigar Store to the Brookes Brothers. One hundred years ago, in 1921, the Pastime Cigar Store was raided and shut down. From the Bonners Ferry Herald: "Armed with a search warrant issued by County Attorney O.C. Wilson, Jack Foster , of the state constabulary, and J.A. Worley, City Marshall, raided the Pastime Cigar Store, finding two quart bottles of peach brandy in the basement and a quart bottle about three-quarters full of brandy."
Your Boundary County Historical Society and Museum, 7229 Main, Bonners Ferry, Idaho, sponsors this column.
Visit the Museum Thursday-Saturday 10 a.m.-3 p.m., and you can visit the website at www.boundarycountymuseum.org or the museum's Facebook Page for historical photos and stories, and to see upcoming events. Or we can be reached at doyouremember@meadowcrk.com or telephone 208-267-7720. Thank you for your continued support!
Recent Headlines
---