Wrestling team holds firewood fundraiser
by
EMILY BONSANT
Hagadone News Network
|
November 24, 2021 1:00 AM
BONNERS FERRY — Every year the Badgers wrestling team raises money by doing a wood drive.
This year, Regehr Logging donated a truck load of logs to the Badgers. As a result, the wrestling team could be found Friday and Saturday, Nov. 19-20, during practice in the Paradise Valley splitting logs and loading up cords of wood for customers.
Coach Kevin Campbell said that all the funds raised go to the Bonners Ferry High School wrestling program. The funds are used for team travel, hotels and food when the team travels, and funds are being saved for when new wrestling mats are needed.
The team had an efficient assembly line going and made good progress on the logs.
"Most people we sell to are going to buy wood anyway," Campbell said. "They enjoy supporting local kids and high school sports."
Campbell went on to say that these types of fundraisers are practical and filled a need in the community.
The team travels long distances to tournaments. Due to winter weather, the team stays in hotels, because they don't want to risk missing the tournament by traveling back to Bonners Ferry.
Campbell said that the wrestling program doesn't go around begging for donations. Instead they put the work in and earn funds for the program. He said that the physical work makes the team feel like they have earned the funds and makes them put some skin in the game.
Donny Riess, between splitting wood and a brief snowball fight, said that he was glad to be out helping the team fundraise.
Campbell said that chopping wood also made a good workout for the team. Jackson Rickter agreed and said splitting wood made him stronger.
"It helps the team make money and probably helps me get stronger," he said. "I've been [splitting wood] for so long, I forget how much muscle it builds."
Campbell wanted to thank community residents for their willingness to buy firewood to support the wrestling team. The Badgers split between 12 to 16 cords of wood each year. It is $225 a cord. The team does deliver, but may charge more depending on the distance. Wood that is not sold will be saved until the next fundraiser.
Kids can still come out for wrestling, even homeschooled students.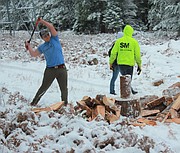 Recent Headlines
---