Brittany Jean to perform free show at The Pearl
|
November 25, 2021 1:00 AM
When the pandemic ended her performances in 2020, including a show at The Pearl Theater in Bonners Ferry, Brittany Jean turned her focus to creating her first-ever Christmas album, hoping that it would be ready for Christmas 2021.
Brittany Jean is thrilled to announce that "Wintertide" is now available on her website, bjeanmusic.com, and she's equally pleased to announce that she'll be back on stage at The Pearl Theater to put on a free show to make up for the one she had to miss.
The show will be held at 7 p.m. on Friday, Dec. 10, at The Pearl, 7160 Ash Street, Bonners Ferry.
Originally from West Chicago, Illinois, Brittany Jean is a singer/songwriter currently living in a tiny apple town in central Washington. Her style is rooted in the folk and Americana music she has loved all her life, and in one way or another, every slice-of-life song she brings with her is a love song. 
In addition to "Wintertide," Brittany has released four full-length albums, all recorded in Nashville: "Whispered Stories," "Leavin' Home," "Wander With Me," and "All The Love."
"Wintertide" includes 15 songs, a blend of eight personal favorites and seven originals. She made several trips to Nashville to work with sound engineer John Nicholson at Hilltop Recording Studios.
Their instruments and harmonies combined with Brittany Jean's vocals make for an enchanting and delightful listen.
"So many of you have been asking for this album for years," she said. "'Wintertide' is for you."
Brittany is excited to bring these songs to those in Bonners Ferry who love the Christmas season, and all are invited to join her in celebrating the holiday season at the free show.
Doors and The Pearl Cafe open at 6 p.m. To learn more, call 208-610-2846.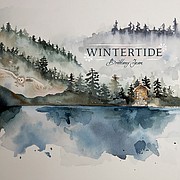 Recent Headlines
---