Helmer earns 'Ace of Aces' honors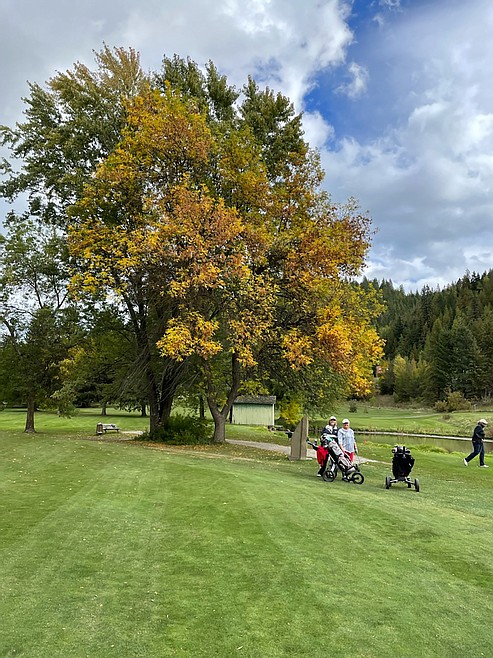 Mirror Lake ladies Gerry Ann Howlett and Tara Lee preparing to tee off on Hole No. 8.
(Photo courtesy ADA GARDNER)
|
October 7, 2021 1:00 AM
For the week of Sept. 29, Game of the Day for the Mirror Lake Ladies was "Ace of Aces" in which all the golfers who earned "Ace of the Month" honors play off for the Championship "Ace."
The six competing Aces were Ada Gardiner (May), Carrie Figgins (June), Gerry Ann Howlett (July), Tara Lee (August) and Therese Helmer (September).
The winner "Ace of Aces" was Therese Helmer with a net 38.
Carrie Figgins was first runner up with a net 39. The Low Putts award went to Carrie Figgins with 14. Beverly Comegys was a close runner-up with 15. Gerry Ann Howlett won for Low Gross with 50, and Beverly Comegys won for Low Net with 38. Following the golf matches, the ladies enjoyed a delicious pot luck luncheon in the Mirror lake Clubhouse, followed by their final business meeting for the year.
Wednesday was be the last day of the Ladies' season, featured the "Impossible Open," in which Manager, Ralph Lotspeich reworked the tee boxes and putting greens into a special golfing challenge, along with the colder weather. This "Flannel shirt" match decides who has the best sense of humor, as well as golf talent and stamina for the year 2021. Following the Impossible Open will be a celebratory dinner today at the Rusty Moose in Bonners Ferry.
---