Richard Lee Hollenbeck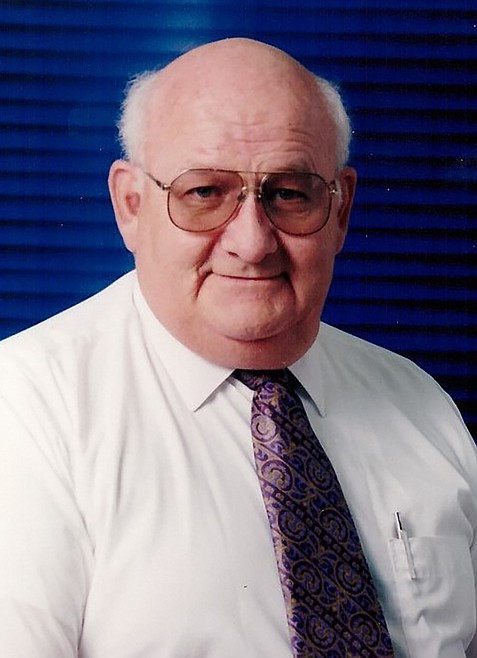 We are sad to announce that Richard Lee Hollenbeck, loving father, grandfather and great-grandfather and an active community member, died at his home in Bonners Ferry, Idaho, on March 27, 2022. He leaves behind a loving family and a community who miss him tremendously.
Born on Sept. 4, 1934, in Bowman, N.D., to Beula and Harry Hollenbeck, he joined four brothers and three sisters, some of whom were adults. As a toddler he moved with his family to Tekoa, Wash., where they established an auto repair and sales business. There he attended grade school and graduated from Tekoa High School in 1953. He was an avid athlete in high school participating in all sports.
After graduating he attended Eastern Washington State College where he played varsity football and received his bachelor's degree after an interruption of being drafted and serving in the Army. He received a master's degree from Gonzaga University. While at Eastern, he met and married the love of his life, Elsie Rhoads. During his service they lived in Virginia and New Orleans, and it was when he was on TDY in Newfoundland that his first daughter, Andra, was born.
After returning to the Northwest they moved to Bonners Ferry, an area that he greatly enjoyed, to teach and coach football, basketball and track. In 1960, his second daughter, Joni, was born and in 1968 his son, Geoff, joined the family. He continued to teach for 35 years instructing in physical education, health and speech as well as coaching at the junior and high school levels where he had so much fun. He was an active member in the Idaho Education and National Education Association, traveling to many U.S. cities as a delegate. Many summers were spent working for the Forest Service on the fire crew.
Richard was a staunch community supporter and was active in several service organizations. He held office in the Jaycees, served on the county Waterways Board, the city Traffic Safety Committee, the Board of Guardians, and was vice president of the Friends of the Restorium. He was a 50-year member of the Masonic Lodge and was a dedicated Shriner, holding many offices. His passion for helping children with orthopedic needs resulted in years of raising money and being a representative for the Shriners Children Hospital.
An avid sportsman, Richard enjoyed hunting, fishing, boating and camping. In retirement, he traveled to six continents in search of completing his bucket list, including riding an elephant in Africa, riding a camel in Australia, and swimming with the dolphins in Costa Rica.
He is survived by his wife, Elsie; his daughter, Andra (Raymond Scully); his son, Geoff (Sharman); three grandchildren, Max Hollenbeck, Sabryna Hollenbeck and Kimber Ortiz; four great-grandchildren; and his sister-in-law, Bobbe Hollenbeck; and many nieces and nephews. He was preceded in death by his daughter, Joni; three sisters, Ione Lebo, June Collier and Phyllis Schimling; and four brothers, Keith, Roland, Wayne and Dean.
A memorial service will be held at 1 p.m. Saturday, May 7, 2022, at the Becker Auditorium at Bonners Ferry High School in Bonners Ferry.
Memorials can be sent to the Shriners Children's Hospital, Box 2472, Spokane, WA 99210; or the Friends of the Restorium, Box 1362, Bonners Ferry, ID 83805.
To leave a message or memory for the family, please go to www.bonnersferryfuneralhome.com. Bonners Ferry Funeral Home is caring for the family.
Recent Headlines
---