351 turn out for Thanksgiving Turkey Trot
by
EMILY BONSANT
Staff Writer
|
December 1, 2022 1:00 AM
BONNERS FERRY — Thanksgiving 2022 saw yet another successful Turkey Trot with a record 351 runners and a truckful of food donated to the Bonners Ferry Food Bank.
The trot's inaugural "Run down Tom the Turkey" was a huge hit, event organizer Caroline Birell said.
"Bonners Ferry's cross country and track runner Sydney Beckle graciously donned the red cape and turkey baster and took off 15 seconds before the rest of the runners. The goal was to chase her down and take control of the baster," she said.
"That baster could be passed off several times as a new runner overtook it. In theory, the fastest runner would cross the finish line with it," Birrell said. "But that didn't happen after all. Connor Alexander, Bonners Ferry alum and current Lewis-Clark State cross country and track runner, came screaming in first and when we asked him about the baster, he answered, 'I could've grabbed it, but I didn't want to spoil all the fun.'"
Music was provided by Adam Reeves' "Forerunner Entertainment" kept everyone tapping their feet to keep warm while standing by the burn barrel.
After the race runners enjoyed eight huge pumpkin pies, three extra-large whipped cream containers, five gallons of hot cocoa and four gallons of coffee and more than 60 prizes by local businesses were given out in a drawing.
Birrell said nearly 1,000 pounds of food was donated to the food bank.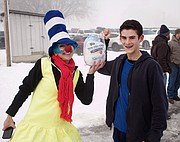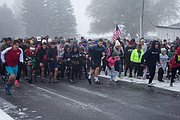 Recent Headlines
---