Visit Santa's Village and support Jake's Landing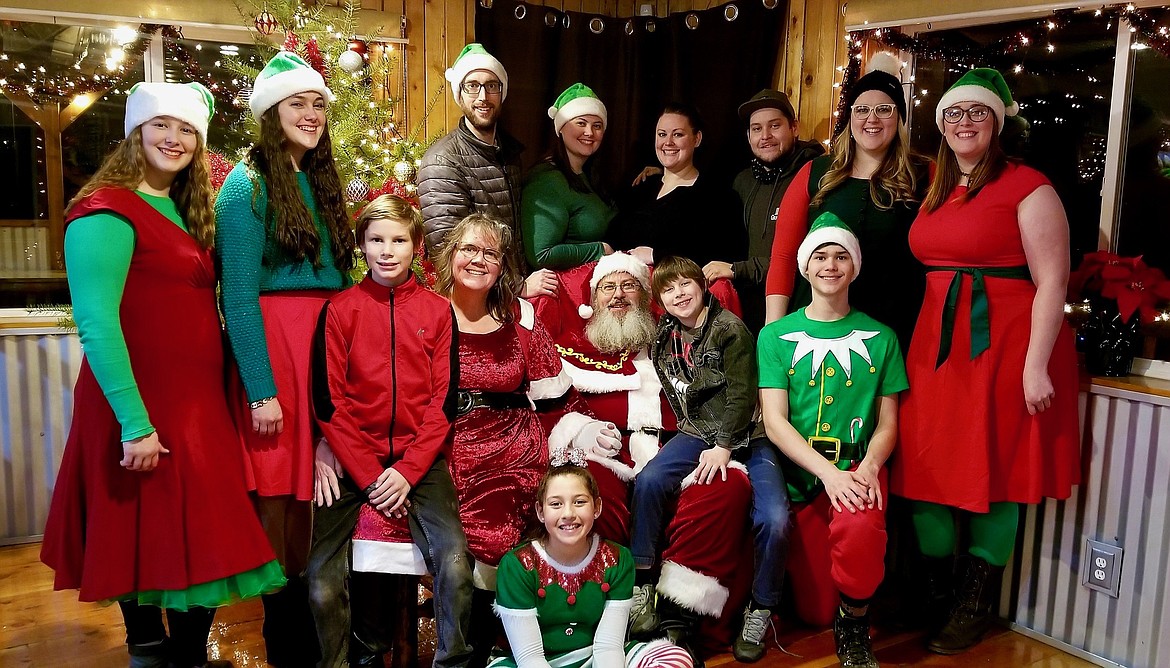 Santa's family at Jake's Landing.
(Courtesy Photo)
by
EMILY BONSANT
Staff Writer
|
December 8, 2022 1:00 AM
PORTHILL — Boundary County businesses are coming together to support Santa's Village at Jake's Landing.
For the past three years, Jake's Landing has transformed into the North Pole and fully "decked out the halls" with more than 14,000 Christmas lights.
Business drastically slowed for Jake's Landing during COVID-19 when the border closed to Canadian travel. Jake's Landing is within a mile of the border and relies heavily on Canadian business. The border has not returned to pre-COVID hours, and the business and Jacobson family are just hanging on.
That's where the community and local business come together.
Mark Carey with ERA Shelman Realty along with Century 21 are handing out $5 off tickets for any purchase made at Jake's Landing. The $5 you save will be paid to Jake's Landing by local businesses distributing tickets.
"Jake's Landing was the hardest hit business in the county," Carey said.
He said the Jacobson family always comes forward to help others and this is a great opportunity to show what Boundary County is all about.
"This is our Hallmark moment," he said.
The county has no say over the operation hours of the border crossing. David Sims of the Boundary County Economic Development Council, as well as the Kootenai Tribe of Idaho and the Boundary Community Hospital have requested that Idaho's Congressional Delegation advocate at the federal level for the border crossing to return to pre-COVID hours.
The Kootenai Tribe said the border crossing hours of 7 a.m. to 5 p.m. restricts meaningful access to their sister tribe, the Lower Kootenay Band, in British Columbia, and imposes hardships on tribal members planning and attending family events in addition to participating in cultural events that involve members on both sides of the border.
Bonner County Hospital officials said the hours of operation do not allow them to hire needed staff from across the border, further hindering their ability to recover from staffing shortages.
Three years ago the port was open from 7 a.m. to 11 p.m.
On Oct. 20, the delegation requested the Commissioner of U.S. Customs & Border Protect restore the Port Hill port of entry hours of operations return to pre-COVID-19 hours.
Sims said the next issue that has come up is that the commissioner has been replaced with an interim commissioner, who may not be willing to make such a large decision in a temporary role. A new commissioner must be appointed by the U.S. Senate, which Sims said might take some time since there is a largely new senate.
Santa's Village will be open Friday, Dec. 9 and Saturday, Dec. 10 and Friday, Dec. 16 and Saturday, Dec. 17 from 1-7 p.m., offering all kinds of holiday activities.
To support Jake's Landing, contact Mark Carey at 208-661-1486 or at mark@shelmanrealty.com.
To pick up $5 off any purchase tickets at Jake's Landing stop by ERA Shelman Realty, Century 21 Four Seasons Realty, Michael Wold — State Farm Insurance Agent or Bonners Ferry Vet Clinic. There is no limit to how many $5 off purchase tickets a family can pick up.
Recent Headlines
---