Bradley Meinhold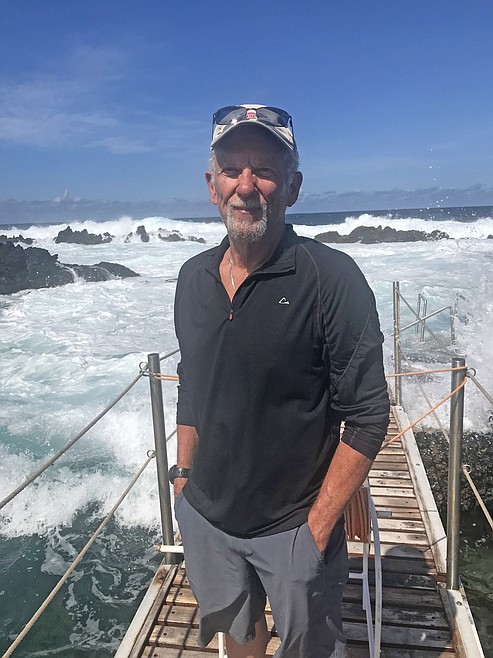 |
February 10, 2022 1:00 AM
Bradley Meinhold was born Sept. 11, 1949, in Oakland, Calif., at Oaknol Military Hospital to Donnalynn and Alfred Meinhold.
His early years were spent moving around the United States, as his father was in the Marines. Their family eventually settled in Washington state in 1957. The Meinhold kids (Dad's siblings) fondly remember being raised playing cribbage, whist and bridge with their parents, and going camping, fishing and hunting.
Bradley graduated from Edmonds High School in 1967, and soon after started junior college at Shoreline Community College. Following in his Dad's footsteps, he decided to enlist in the Marines. When he got out of the service he returned to Shoreline Community College. He eventually transferred to Central Washington for his Bachelor of Arts degree in recreation administration. Wanting to pursue a career as a hunting guide, he landed in Darby, Mont., where he attended a backpacker guide school. After completing his guide training, he went to work for Vermejo Park in New Mexico, where he spent 20 years professionally guiding elk hunters. 
In the early 1970s, Brad enjoyed his motorcycle, big hair and being a night shift jailer in the King County Jail. The real highlight of his life will forever be the day he met his Cynthia Joy at a co-ed softball practice in Edmonds. He was the coach and she played in the outfield. He called Cindi his "first time/all time/only time love," and they were married in Seattle in 1978. Six months later, they left the big city to move east to Colville, where they welcomed son Shane in 1980.
In order to fulfill his dream of working in Alaska, Bradley went back to school to get another bachelor's degree, this time in education. He applied and was accepted for a position in Napakiak, Alaska, where he taught many subjects throughout a three-year period. He also coached basketball and co-ed volleyball. Brad became the first coach in the history of that region to take a Yupik boys basketball team to state in Anchorage. In 1985, he was named Coach of the Year for Southwest Alaska. While living in Napakiak, Brad and Cindi added two daughters to the family, Alyssa Leigh and Teanna Rae.  
After leaving Napakiak, the Meinholds moved to Klawock on Prince of Wales Island in Southeast Alaska. Brad taught there for two years and coached boys' basketball and girls' volleyball. The decision was made to move back to Colville to raise their family, where they spent close to 20 years. In Colville, Brad primarily worked as a juvenile probation officer. He was very involved in kids' programs in the community, coaching baseball, softball, basketball and track.
In 2004, Brad and Cindi moved to Bonners Ferry, Idaho, where Brad changed careers and became a Customs & Border Protection officer. He enjoyed his time living on the Canadian border, where there was plentiful wildlife and natural beauty. He treasured those years and the friendships that were formed there. 
After Brad's retirement in 2013, Brad and Cindi moved to Montana in order to join forces with Shane's family and be part of raising their only grandkids at the time. The past nine years have been spent enjoying family, new friendships, new hunting ventures, church and building a home two years ago in Stevensville. Brad was blessed when he was offered a part-time job as an animal security officer for a private ranch. He also enjoyed his time volunteering for the Missoula Search and Rescue Team, some coaching and being a member of the Garden City Duplicate Bridge Club.  
Bradley is survived by his loving wife, Cynthia Meinhold; his son, Shane and wife Tami, grandkids, Kendyl, Ali and Brennan; daughter Alyssa Meinhold; and daughter, Teanna and husband Kaleb, and grandkids Asher and Aksel Gentry. Bradley is also survived by his brothers, Merrick Meinhold and wife Cathy, Matthew Meinhold and wife Misha, and Clay Meinhold and wife Claudia; sister Adria Brudvik and husband David; and many nieces and nephews who fondly remember bowling with Uncle Brad, countless fishing and hunting adventures, and his dry humor — silent on the "h."
Husband, father, grandfather, brother, uncle, friend, coach.
Brad will forever be in our hearts and we will miss him dearly. Our sorrow is lighter knowing that he is with his loving Savior in Heaven.
A memorial service will take place at 11 a.m. Saturday, Feb. 26, 2022, at Roots Fellowship in Victor, Mont. For those unable to attend in person, it will be live-streamed on the church's YouTube channel.
Memorial contributions can be sent to the Stevensville Pantry Partners Food Bank, P.O. Box 806, Stevensville, MT 59870.
The family is being served by Garden City Funeral Home and Crematory, Missoula, Mont.
Recent Headlines
---