No more late fees at library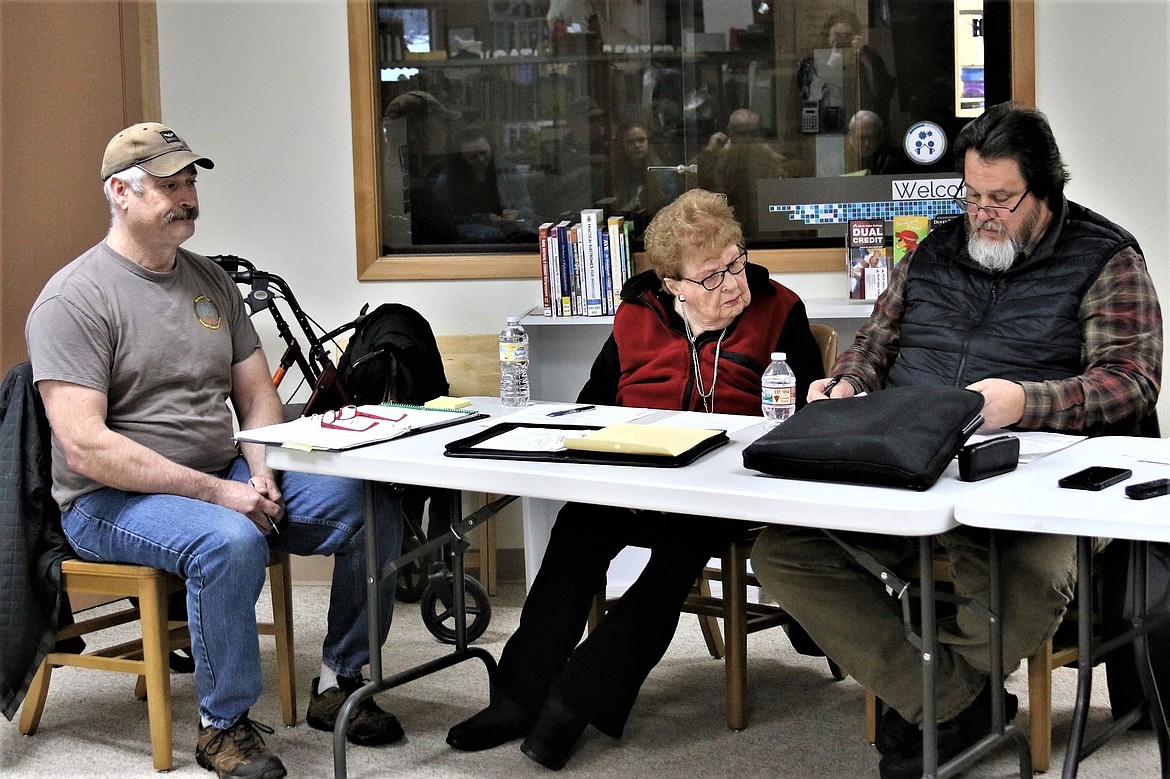 From left: Trustees Lee Colson, Wendy McClintock and Ken Blackham Jr. at the Jan. 20 library board meeting.
Photo by EMILY BONSANT
BONNERS FERRY — Boundary County Library will no longer fine residents for late returns of books and other library items.
At the Jan. 20 board meeting, director Kimber Glidden said elimination of library fines has been a trend across the country over the past several years.
Other library districts have moved away from charging late fees to patrons since it negatively affects those who can't afford the fees, Glidden said.
"What the industry found is that fines can be a barrier to access and they end up penalizing the people who can least afford the fines," Glidden said.
She said that statistics show that people fear fines and instead of returning their stack of material, they accumulate more fines. Because of this fear, patrons will not return the materials quickly to prevent having fines. Instead they will get scared and never return to the library — and the materials don't return to the library either, she said.
Eliminating fines would align Boundary County Library with how the industry is moving, she said.
Glidden said that tracking fees takes 15 hours of staff time per week. The library spends dollars to collect dimes.
"For $1,800 worth of fines, it costs $13,000 in staff time to collect," she said, prompting an audible complaint by some in attendance. Glidden said that is not a responsible use of library resources and time.
The library is not going to remove all fines for damaged or lost materials. Trustee Aaron Bohachek suggested that patrons work off incurred fines by providing a service to the library.
"We could use work rather than monetary value," he said
Glidden also suggested that staff hours be shifted to start at 8:30 a.m. to 5 p.m. to allow time for a morning staff meeting, an unpaid 30-minute lunch and to better follow Idaho Department of Labor laws. The library will still be open Tuesday to Saturday, 9 a.m. to 5 p.m.
Glidden will also be starting a monthly column on the library's website called "From the Stacks" to keep library patrons informed.
The next regular scheduled meeting is Feb. 17, at 10 a.m. in the library downstairs in the children's section. The library board meets every third Thursday of the month.
Recent Headlines
---