Two Bonners Ferry wrestlers off to nationals
Bonners Ferry wrestlers Eli Richards and Savannah Rickter will be competing July 16-22 in the Fargo USA Nationals at North Dakota State University for Team Idaho.
Rickter has been named one of the wrestlers to watch by Idaho Sports. This is her first year wrestling for Team Idaho.
Rickter took third at the first Idaho state girls wrestling tournament in February. She was also the District I and II champion for her weight class.
In June, Bonners Ferry High School wrestler Rickter competed for Team Idaho at the 2022 Junior Nationals Duals in Tulsa, Okla. Rickter finished with a 5-3 record in Tulsa. Team Idaho includes 13 girls with one in each weight class. Team Idaho finished 6-2, taking seventh.
Richards is a recent graduate of BFHS. His high school wrestling record is 145-39 overall. His senior year he went 42-4.
Richards is a two-time Idaho state high school wrestling state champion, three-time state finalist, four-time state medalist and 2021 USA High School Wrestling Triple Crown champion.
At the 2022 High School Senior Nationals, Richards was a top 12 finisher, with the top placer being named All American. He was recently named the 2022 North Idaho Wrestler of the Year and was inducted into the North Idaho Hall of Fame.
This year marks the 29th anniversary that the USA National Championships are being held in the Fargodome with competition in men's freestyle, Greco-Roman, and women's freestyle.
Wrestlers from all 50 states will compete for the coveted "STOP SIGN" trophy for individual champions. Wrestlers finishing in the top 8 of their weight class will receive All-Americans honors.
Team Idaho will be sending a near record-breaking number of wrestlers. Chris Owens, director of Idaho USA Wrestling, previously said that since 2017, more kids in Idaho are now competing on a national level than before.
Team Idaho is sending well over 100 wrestlers and is expected to exceed last year's contingent of 109, IdahoSports reported.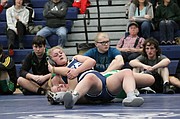 Recent Headlines
---