Kootenai River Days Cornhole Tournament 2022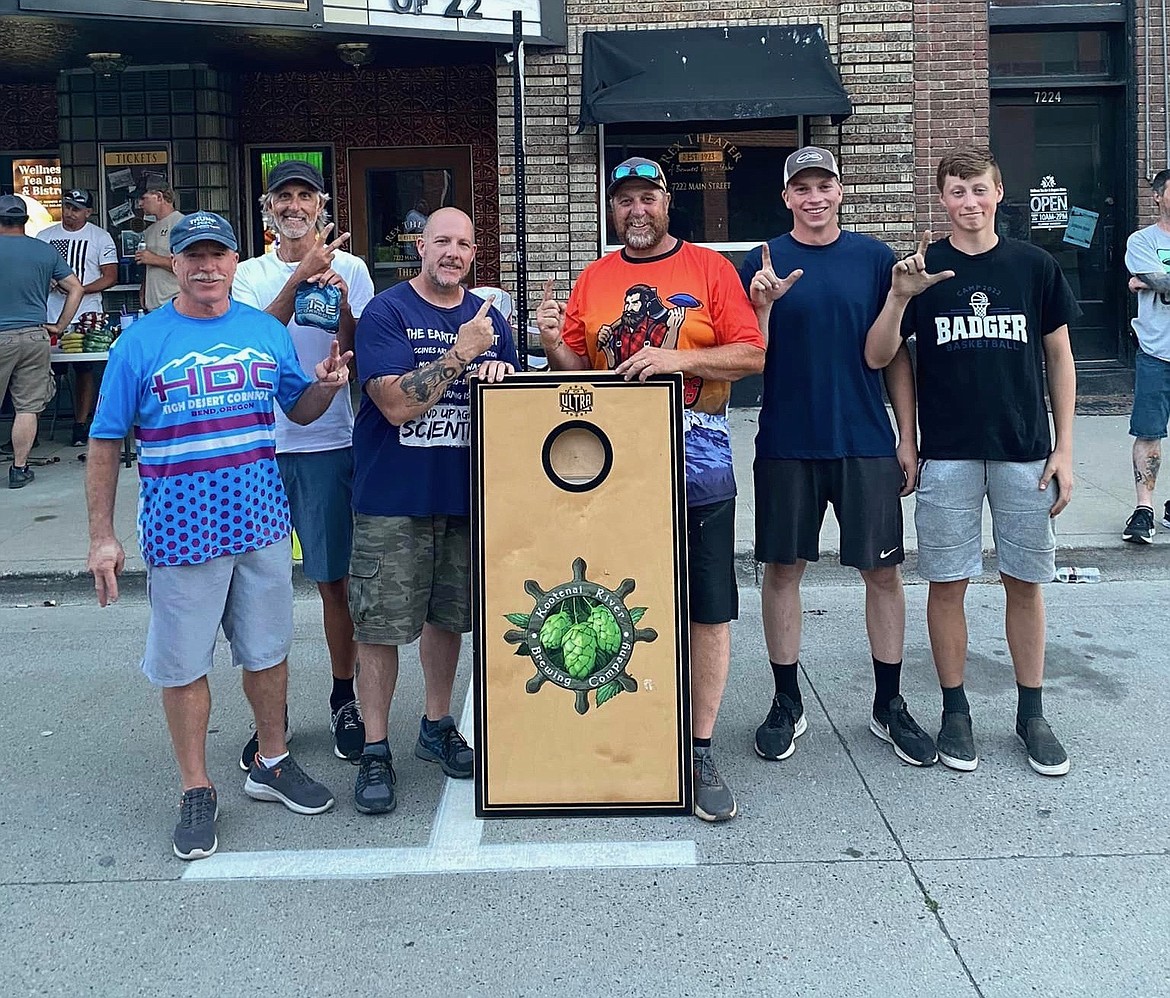 Kootenai River Days corn hole tournament first through third place. (center) Winners in the A Division "Sergeant Slaughter" (Bobby Read) and "The Mayor" (John Mace)—first. (left)"Ken D." (Ken Dority) and "TiGer" (Dave Turner)—second. (right) Seth Bateman and Thomas Bateman—third.
(Courtesy Photo)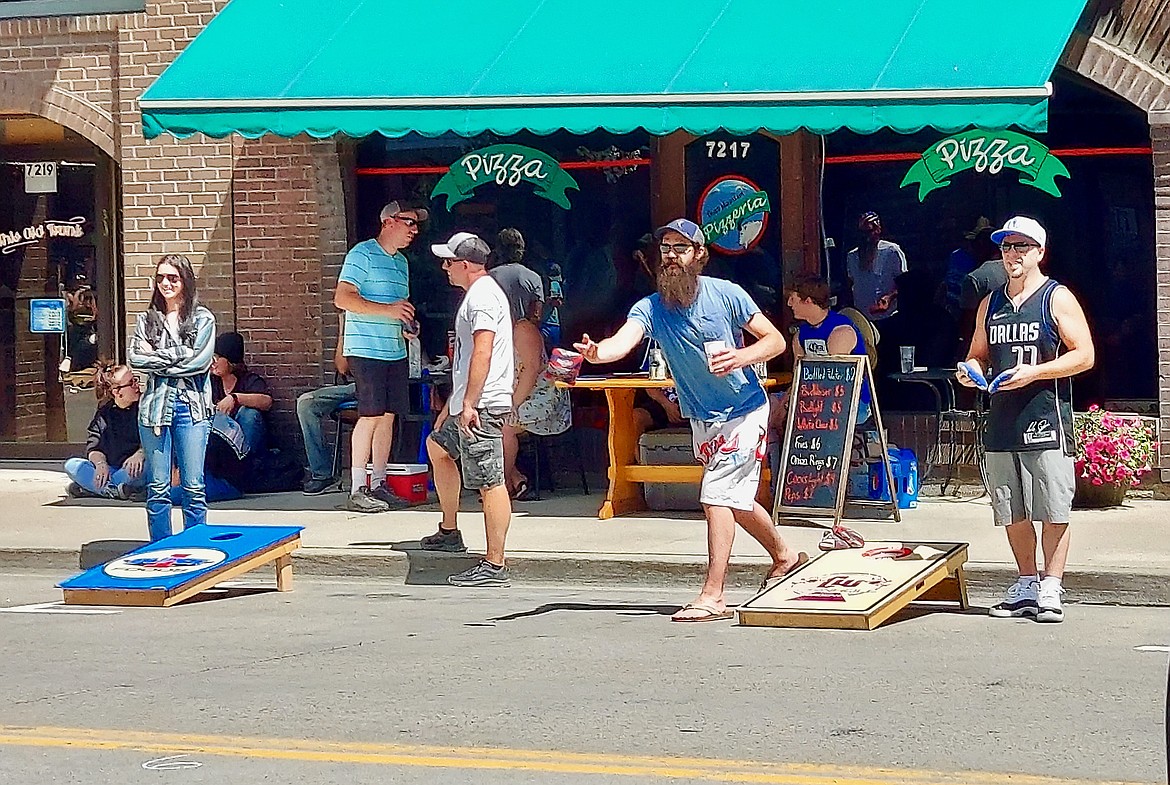 2022 Cornhole tournament participants.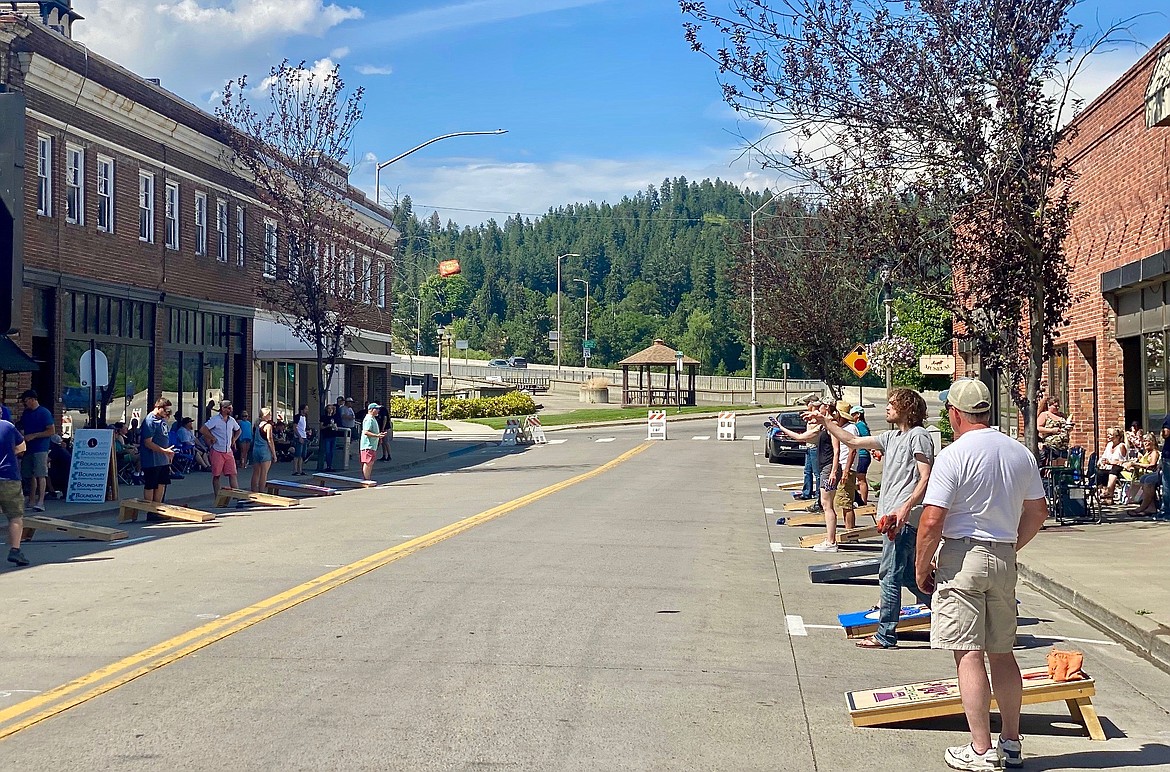 Participants in the Kootenai River Days corn hole tournament played in front of city hall for hours.
Previous
Next
by
PAUL BONNELL, Contributing Writer
|
July 28, 2022 1:00 AM
BONNERS FERRY — Thirty-eight corn hole teams came out for the 2022 tournament. This included local Boundary County residents, as well as teams and players from Sandpoint and Usk, Wash.
The play was round robin style with a minimum of four games to determine seeding, followed by a seeded A (upper) and B (lower) bracket double-elimination tournament. Champions in the A bracket won $200; runners-up won $100; third won $50. Champions in the B won $100; runners-up won $50; third place won $25.
Additionally, the champions from the A and B brackets played a final "champion vs. champion" match for an extra $50 prize.
Play proceeded in front of Bonners Ferry City Hall for several hours. Players took breaks to visit vendors, restaurants and food trucks. Competitive matches were had by all, with thousands of bean bags tossed.
Kassy Skeen masterfully managed the tournament using the Scoreholio tournament management app with real-time updates, standings, seedings and results. Ed Koberstein organized tournament play and procured boards and bags for the tournament. Paul Bonnell coordinated emails and tournament promotion.
Winners in the B Division (not pictured) were Aaron Smith and Francisco Cabrera — first. Brian Bennett and Bradley Bennett — second. Trevor Koberstein and Jeffery Batchelder — third.
Winners in the A Division (pictured below) were "Sergeant Slaughter" (Bobby Read) and "The Mayor" (John Mace) — first. "Ken D." (Ken Dority) and "TiGer" (Dave Turner) — second. Seth Bateman and Thomas Bateman — third. Following all regulation play, the A and B champions played each other by streetlight, with Read and Mace winning the final match of the Kootenai River Days Cornhole Tournament.
Of the tournament, Koberstein said, "It was a success, and we learned some good takeaways for next year. This tournament could really expand!" Ken and Dawn Dority, visiting from Usk, Wash., said they were impressed with the tournament and the friendly, welcoming atmosphere of Bonners Ferry and the Kootenai River Days. "We'll definitely be back."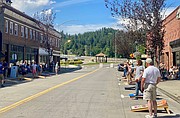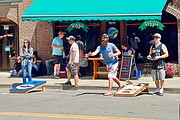 Recent Headlines
---