Mirror Lake Ladies' Golf Association returns to action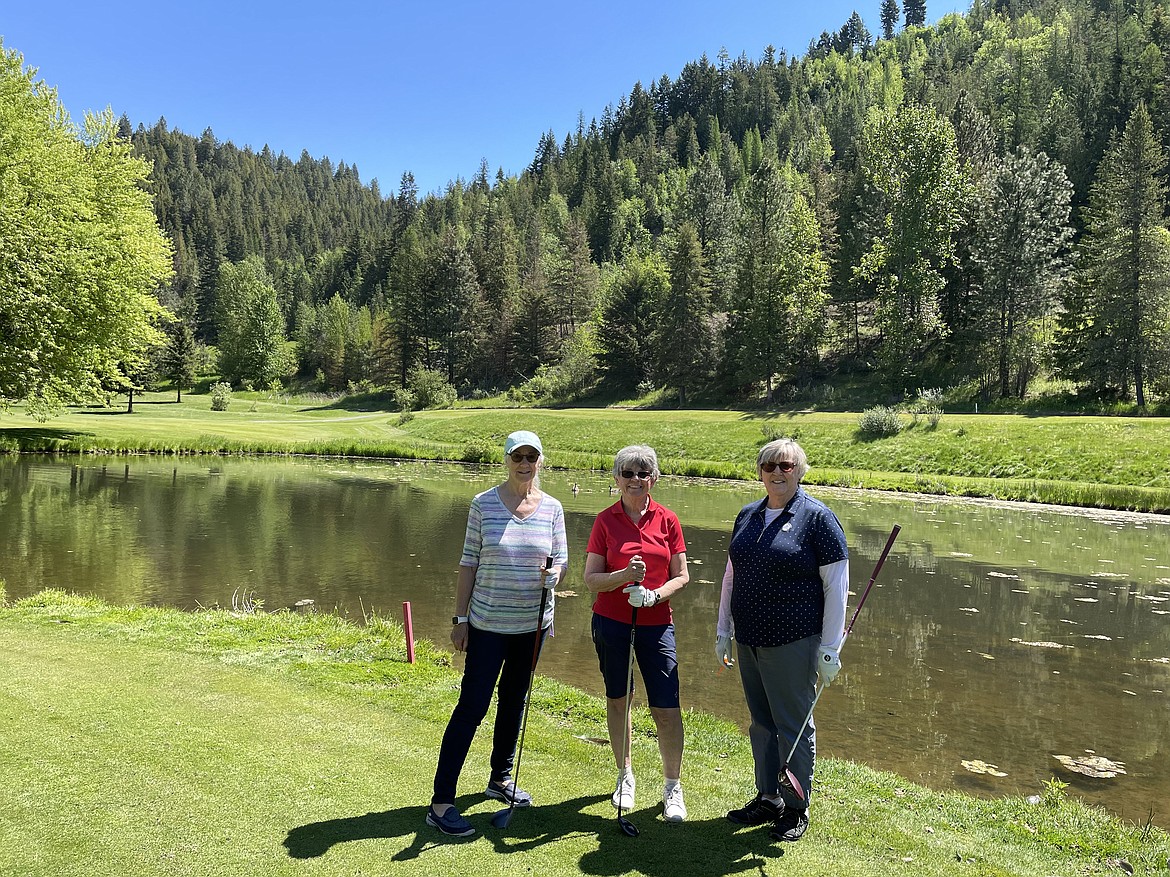 Mirror Lake golfers Gail Thompson, Jenny Link and Linda Bogden are pictured at the forward tee on hole number 8 at the golf course.
(Courtesy photo)
The Mirror Lake Ladies' Golf Association is back in action.
Club members met on good weather Wednesdays in May to test out their golf skills after a long winter. Wednesday, May 24, was a lovely golf morning for the ladies to compete in the first Ace of the Month Day for this season. Game of the day was Closest to Pin on Hole No. 2. Therese Helmer won for Ace of the Month of May with her low gross score of 46. There were no winners of the closest to pin award.
Flight A, Low Net winner was Linda Bogden with her net 33. Linda also had a chip-in on Hole No. 9 and won for low putts with 15. Flight B, Low Net winner was Ruth Ann Wilson with a net 42. There was a tie for low putts in Flight B between Ruth Ann Wilson, Etta Mae Schneurle, and Wendy Hawk, each of whom had 17.
Game of the Day for the Mirror Lake Ladies' Golfers on Wednesday, June 1, was "Mystery Partner, Low Net." Winners were Karen English and Gerry Ann Howlett with a net of 79. There was a tie for low gross winner between Therese Helmer and Julie Williams each with 44. Therese won low net with 33. Gerry Ann Howlett and Etta Mae Schneurle tied for Low Putts with 15.
The Mirror Lake Ladies Golf Association meets every Wednesday at Mirror Lake Golf Club for nine holes of golf, beginning at 10 a.m. The time changes to 9 a.m. when the weather warms up. There is an Ace of the Month contest on the last Wednesday of the month, and a separate "game of the day" for each golf day.
Following the golf morning, the ladies may stay around for lunch in the clubhouse if they wish, and every fourth Wednesday, they hold a lunch and business meeting. Any lady wishing to play another nine holes after the morning session is welcome to stay.
The Mirror Lake ladies welcome any lady golfer in or around Bonners Ferry to join in and play. Call President Carrie Figgins at 208-946-6559 or Ralph Lotspeich, manager, or staff at the Mirror Lake Golf Club at 208-267-5314 and let us know you are coming, or just drop by on a Wednesday to meet the ladies.
Recent Headlines
---