5 XC runners made all-league
by
EMILY BONSANT
Staff Writer
|
June 16, 2022 1:00 AM
BONNERS FERRY — Bonners Ferry Cross County finished out a strong 2021 season with five athletes taking all-league honors.
Named to the all-league team were Connor Alexander, Camille Ussher, Sydney Beckle, Ceci Roemer and Leah Moellmer.
Head coach Tyler Warner said each of the athletes were deserving of the honor, noting highlights of their successes last season.
Connor Alexander has always been very involved with the analytics of running, Warner said. Alexander can be found studying the times of other runners and is always going out and getting enough miles.
"There are kids that run and kids that are runners — Connor is a runner," Warner said.
Alexander's PR is 16:26.0 for the 5000m race. He finished 10th at the 2021 3A Idaho State Cross County Championship and took second at Districts.
Warner said he is looking forward to seeing how Alexander's college running career develops as he runs for Lewis-Clark State College.
During her senior year, Camille Ussher had a mind shift when it came to running, Warner said. While she had been running since she was 9 years old, last summer she decided to go all in on her training.
As a result, during the last country season, she started cutting her time down race after race.
"Camille just kept dropping time," he said.
He said that her success really bloomed after she claimed the district championship in track at the 800m race. From there she locked in and dug deep pushing her body and shaving off time.
Ussher's PR is 20:54 in the 5000m race. She finished 25th at state and fifth at districts. Ussher will be running track and field at Spokane Falls Community College.
Warner said it is not often such a caliber of kids that move on to run at the next level.
Sydney Beckle started her freshman year unsure of high school cross country, Warner said. In the 2022 track season, she qualified for state in the 1600m and the 3200m run.
Warner said she is naturally gifted with her smooth stride and good form. Typically he'd have to teach runners this, but for Beckle it is second nature. He knows that the future is bright for the program as Beckle is always asking how to improve and what she needs to do in the off season.
Beckle's PR is 21:55.1 in the 5000m race. She finished 35th at state and 10th at districts.
He said, unlike other athletes he's had the pleasure of coaching, Beckle has gotten past the mental block of pushing and entered a runner's mentality before her sophomore year. He's excited to see what the next three years of BFHS cross country holds and Beckle's future in the program.
Running appeals to Ceci Roemer because it is difficult, Warner said.
One example of pushing through during difficulty was when Roemer had a bloody nose before a race. After the coaching staff helped stop the bleeding, Roemer led most of the race.
Warner said she took second despite having a stomach issue from the bleeding and eventually throwing up. He said this is one of the reasons he sees her as a team leader.
"She is very dedicated and challenges herself," he said.
Roemer's PR is 20:37 in the 5000m race. She finished 26th at state and fourth at districts.
Roemer is good about getting mileage in and staying healthy. Warner said she should be a top contender in the league.
Leah Moellmer is going into her senior year. Last year was her first year in cross country. Warner said her long distance running background is longer distances of 17 miles to marathon lengths.
She goes on these long runs with her dad and runs for running's sake, he said. It is part of her lifestyle.
It took Moellmer the first couple of meets to find the change in pace in 5000m races, which were more of a sprint compared to her longer distances.
Moellmer's PR is 23:55.6, she finished 59th at state and 11th at districts.
Warner said that Moellmer is naturally helpful and will be part of the leadership on the girls team next fall.
He said it was a happy surprise to have four girls out of five teams make the all-league team. Only the top 10 at district qualify for all league and to have 40% of that be Bonners Ferry Badgers feels really good.
"Having five all-league runners is a testament to their hard work," he said.
Fitness is a process, trust the process, Warner said. It is a phrase he always tells the cross country team. It doesn't matter who's winning in September, if a runner is in shape in October then they can do something awesome.
In the 2020 season, only three Badgers qualified for state. In 2021, both the boys and girls teams qualified for state.
"Trust the process, be a good team and be dedicated," he said.
Warner said he is interested to see how the teams do next year as the Intermountain league will only include CDA Charter, Timberlake and Bonners Ferry. He looks forward to the competition and knows the team will be ready.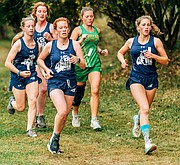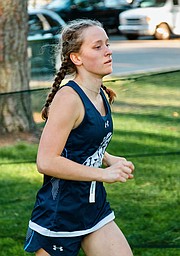 Recent Headlines
---