FOR Walking for the Restorium update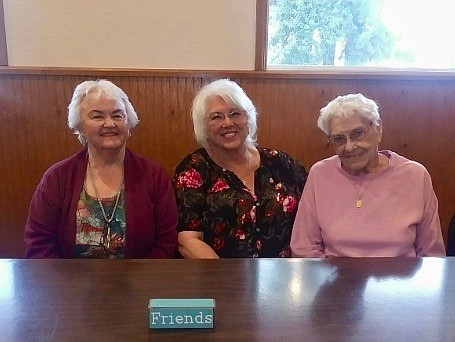 (left to right) Donna Jo Dirks, V.P., Jeannie Robinson, President and Alice Sandaker, secretary at one of their regular meetings.
(Courtesy Photo)
by
EMILY BONSANT
Hagadone News Network
|
June 23, 2022 1:00 AM
BONNERS FERRY — Eli Pine's walking for the Restorium fundraiser has paid off as sponsors and donors have flocked to the cause of fundraising for the residents of the Boundary County Restorium.
Eli Pine walked a total of 345 miles in the month of May.
Donna Jo Dirks, vice president of the Friends of the Restorium told the Bonners Ferry Herald that the Friends of the Restorium surpassed their goal of $10,000.
The Friends of the Restorium is an all-volunteer nonprofit group whose mission is to enhance and support the life quality of Restorium residents with financial support and resources. Through donations these amenities make life for the Restorium residents more pleasant and focus community attention on the assisted living facility.
Donations go to holiday celebrations and gifts, entertainment, and a handicap accessible van for recreation and medical appointments and other expenses which are not funded by the Boundary County budget.
Due to COVID-19 related restrictions, fundraisers and raffles were limited, but the Walking for the Restorium fundraiser has helped immensely, Dirks said. In addition, due to state regulations, the Restorium has had to separate out the memory care unit from the other residents. Funds will be going to provide amenities to the separate units.
There were more than 31 pledges and many businesses stepped up to sponsor Pine's walking which resulted in $22.75 fundraised per mile walked. FOR officials announce on the WhereIsEli website that they also received separate donations with a current total of $4,634 on top of the mileage pledges.
The Boundary County Community Restorium is owned and operated by Boundary County on a tight, taxpayer with Restorium residents paying additional fees for services. Staff handle the resident laundry, housekeeping and personal care services. Three delicious meals are served every day in the communal, socially friendly dining room. Some of these meals are made with Restorium garden produce, and meat donated by patrons of the Boundary County Fair.
The Community Restorium is as close to a home atmosphere as possible for those living there, FOR officials said. The staff and residents all agree they feel like they are family. Residents can come and go as they please from this cheerful, warm, clean, cozy and safe place, even stay for the winter and go home in the spring. Friends and family are encouraged to visit at any time.
There are many activities for residents to choose from, such as bingo, sing-a-longs, crafts, bowling, birthday and holiday celebrations, flower and vegetable gardening, movies with popcorn, card games and exercise classes, and others. There is also a computer with internet access.
Local churches provide hair care and nail care in the Hair Care Room renovated by FOR. There is special music and Bible study for those wishing to participate. Vocal, instrumental and dance entertainment comes from local groups and studios. Boundary County Library provides books for readers.
It takes a community to care for our honored citizens in assisted living, FOR officials said. FOR has raised and donated $450,000 to $500,000 since 2003 to upgrade the facility and provide services to advance the safety, care, comfort and enjoyment of the Restorium residents.
FOR is a nonprofit organization; donations are tax deductible. Donations are always ongoing and appreciated.
To join the FOR and make a difference. Dues are $5 per year. Send checks to the Friends of the Restorium and P.O. Box 1362, Bonners Ferry, ID 83805.
Join FOR at their monthly lunch at Chic-n-Chop the third Thursday of each month. For additional information or questions, please call Jeannie Robinson, president FOR, 208-267-6030.
Recent Headlines
---