Katie Sherman, 96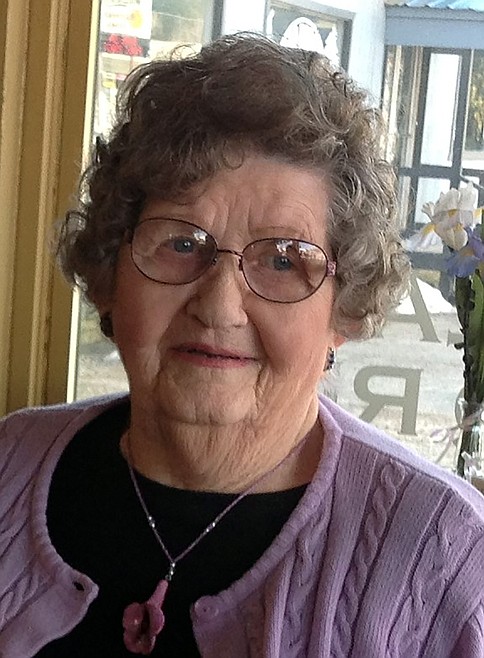 Katie Sherman of Bonners Ferry died on April 18, 2022 at Mountain Valley of Cascadia Nursing Home in Kellogg, Idaho, where she had been lovingly cared for by nurses, doctors and professional caregivers. Her daughter arrived in time to be with her the last 35 minutes of her life holding her hand.
She had contracted pneumonia on Easter and passed peacefully the day after. Katie loved the people there and her beautiful view of the mountains. Prior to September of 2020 she had been a residence at Hearthstone Village in Sandpoint, Idaho, since April of 2019. She was very happy there as well but her care had progressed to a higher level. Katie had lived independently until the age of 93.
Katie was born on September 21, 1925, in Willow, Oklahoma. She grew up on ranches in Texas and New Mexico, where she went through a fire that destroyed one ranch and another destroyed by flood. For her lifetime she was afraid of water but still ventured out on boat rides and even once rode the rapids with family at Glacier Park.

She married her high school sweetheart after he returned from World War II. He always had the Bible with him which she had given him before leaving for war, and she had every love letter he had written wrapped in a big bow until her passing. Her husband Oscar was an officer in the Air Force, and obtained his college degree in business from Eastern New Mexico University. He did not want to stay in the military because he didn't want to move too often. That turned out to be the joke of the family, since they moved 18 times during their 59 years of marriage including several large cities such as Denver, Colorado Springs, Phoenix, Tucson and Albuquerque.

Katie was a stay-at-home mom until her son and daughter graduated from high school and went to college. She sold makeup from home before social media existed and was the number one distributor for her region in Colorado for two years. She became a very talented artist by watching Bob Ross's TV show, "The Joy of Painting". She continued art until her eyes would not focus well in her 90s. Her husband retired from his business early so she could have her dream of owning a floral shop. They both attended Cliff Mann Floral School in Denver, Colorado, where they graduated as the number one team. From there they opened floral shops in Tularosa, New Mexico, Ruidoso, New Mexico, and finally Roswell, New Mexico.
They retired from Roswell and moved to Bonners Ferry, Idaho, to be closer to family. Their son and daughter-in-law lived on 80 acres near Canada and Katie and Oscar loved the mountains. Eventually their daughter Trish Mayo (retired from AT&T) and their son-in-law Foster (retired from Salt Lake City Police Department) moved to Bonners as well. Katie loved her family, was active in church all her life, loved flowers, traveling, especially to the mountains, art and southern cooking. She always had a smile for everyone and possessed a great sense of humor until her death. She was a tenacious southern belle who never lost her accent.

Katie's laughter and love will be missed every day by her family who considered her an amazing precious lady. She is survived by her daughter Trish Mayo of Bonners Ferry, Her son Bill Sherman and daughter-in-law Jean of Independence, Missouri; her granddaughter, Syrece and husband Bryan Hall of Kansas City, Missouri; great-grandson, Brandyss Hall of Missouri; grandson, Kevin Mayo and wife LJ of San Antonio, Texas; and two great-granddaughters, Chelsea Jo of San Antonio and Brittany Elyse of Palermo, Italy. She also left behind one niece, three nephews, loving younger friends (as she outlived all dear friends closer to her age) and loving church family from MT Hall and Trinity Lutheran.
The shining stars in her life were her two grandchildren. She always said she had a little bit to do with their decisions as she was a mentor to them for ethics and working hard to pursue your goals and dreams. Both have their dream jobs: her granddaughter recently opened a chiropractic clinic in Kansas City where she is the lead doctor and her grandson in San Antonio is the Global Team Leader for Security in a large corporation serving Fortune 500 companies.

What a great and happy life she lived. Katie would say enjoy every day to the fullest and thank God for your blessings. She loved helping others as she believed there's always someone worse off than you. We as a very small family were truly blessed to share her joy, infectious laugh, and love for close to a century.
Funeral services will be held on Saturday, May 14, 2022, at 11 a.m. at Bonners Ferry Funeral Home. To leave a message or memory for the family please go to bonnersferryfuneralhome.com. Bonners Ferry Funeral Home is caring for the family.
Recent Headlines
---