Steve Fioravanti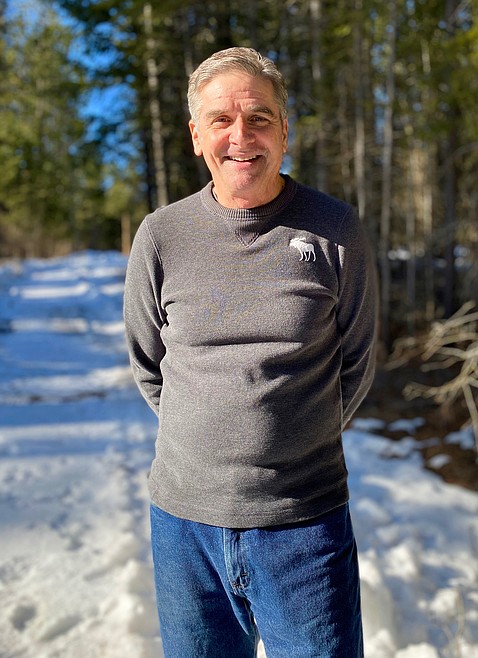 Steve Fioravanti.
(Courtesy Photo: Steve Fioravanti)
Age: 62
Party affiliation: Republican
Profession: Territory manager (automotive aftermarket) with industry leader.
Educational background: degree, New York State University at Delhi, New York
How many years as a Bonners Ferry resident: almost 10 years
Marital status: Married
Family: 4 children
Hobbies: Carpentry, gardening, reading history
Question 1. No. 1 – Set up my direct email contact on Boundary County website to allow for more direct citizen access. Currently, you have to send your inquiries to a generic county email address.
No. 2 – Facilitate a meeting with our local business owners to solicit their ideas on how we can improve their business operations. Helping our local businesses prosper will generate more tax dollars and revenue for our county.
No. 3 – Meet with our legislators to discuss SRS & PILT funding and begin working on a resolution to either garner our fair share or discuss other viable options.
Question 2. No. 1 — SRS & PILT Funding: The federal government controls 63% of Idaho's natural resources, preventing revenue generation and taxes to support our local schools and infrastructure. 30% of SRS funds goes to our schools and 70% is earmarked for roads and bridges. In 2010 our Road & Bridge department received $1 Million in funds. Today, we receive half the funding.
No. 2 — ARPA – Our county has received $1.1 Million in ARPA funds. We've signed the U.S. Treasury's conditions and terms of agreement which include compliance with all federal statutes, regulations, and executive orders. Beware of Joe Biden's zealous passion to vaccinate America.
No. 3 — Escalating Property Taxes
Question 3. No. 1 – Reversing our declining SRS/PILT funding will fix many issues. If we can't receive what we used to get in funding, we need to make changes. Costs are rapidly escalating. I will fight for our share or push for change.
No. 2 – Send ARPA funds back to U.S. Treasury. Federal government welfare weakens the will of the people and discourages hard work. Idahoans are self-sufficient and should remain independent and free.
No. 3 – Property taxes. We take back managing our state lands from federal control. This will raise significant revenue, provide more county services, and decrease the tax burden on our citizens.
Question 4. I believe that developers should pay for their fair share of infrastructure as it pertains to new development.
Question 5. We've experienced far too much government overreach during the Covid pandemic. Our local businesses were closed, impacting people's livelihoods. Churches were declared non-essential and ordered to close. We were faced with mask/vaccine mandates. Every day we give away more of our precious freedoms. I will stand and defend your God-given rights to life, liberty and property. As your elected representative, I will obey our Constitution, not ignore it.
Question 6. We need to seek more opportunity for our young adults who graduate from Bonners Ferry High School. They should be able to earn a decent living, buy an affordable home, and raise their families right here in Boundary County. I will work with our local business owners to brainstorm ideas on how we could increase entrepreneurship in our community to provide more opportunities for our young adults. We can improve without changing the rural character of our community.
Question 7. Placement permits (Planning/Zoning). We currently subcontract this service to a 3rd party firm in Sandpoint. I've personally spoken to several citizens about the current process to secure a permit. Excessive delays and poor service are points of frustration with our local citizens interacting with this firm. Last year we paid in excess of $130,000 to subcontract this service. I believe we could hire a local employee and maybe an assistant, bring this service back to Boundary County, save some money, and offer better service than what we are currently receiving.
Question 8. I wasn't born and raised here. However, I did grow up in a small town just like Bonners Ferry.
I love the rural character and charm of our county. Neighbors helping neighbors are all values instilled in me at an early age.
With that said, I believe my years in private industry, working alongside some of the best and brightest minds in business, have given me strong management skills. This experience brings a fresh outlook with problem-solving abilities, which should be taken into consideration when evaluating a candidate.
Question 9. Should Idaho take back managing its own state lands from the feds? I believe we should and would do a better job managing our own resources at the local level. Putting a gate across access to the forest with no effective conservation program in place is a recipe for disaster. No one cares more than Idahoans and we would be better stewards of our own land. We have an abundance of natural resources and any profits taken from managing our resources should be kept locally by the people.
Question 10. I'm running for Boundary County commissioner, District 2. More transparency and citizen participation are needed in our local government. I believe the current status quo in leadership is lacking foresight and vision. We need an infusion of creative ideas and energy to tackle the complex issues that face us today. I stand for medical freedom and I will oppose all unconstitutional vaccine mandates. I will utilize my business experience to assist our local business owners to prosper. Finally, I'm a fiscal conservative who holds traditional values along with a strict adherence to our Constitution. I would be honored to serve you.
Recent Headlines
---