Elaine Cross, 102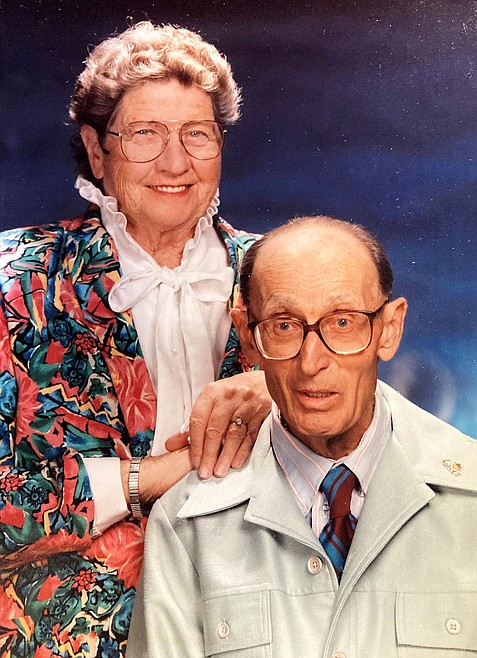 Elaine (Shelly) Cross, 102, passed away May 21, 2022, in Philipsburg, Mont. She was born in Boundary County, Idaho, on Oct. 2, 1919. She went to school in Bonners Ferry.
During World War II, Elaine worked at Geiger Field Airport (now called Spokane International) painting U.S. military aircraft. Elaine said "I'm not Rosie the riveter, I painted over Rosie's rivets."
Elaine married George Lester (Les) Cross in 1945. They had six children and lived in the Rock Creek area of Boundary County.
Elaine was a multi-talented lady and had many hobbies. She played card games, sang and played the fiddle.
The family moved to Sandpoint in 1962, and then moved to Philipsburg in 1966.
Les worked for the U.S. Forest Service. Elaine kept busy at multiple endeavors. She played pool and entered several tournaments. She enjoyed time on the golf course, sang in a group, and was active in the local theater group. Her character in the theater was often "Maxie Pearl," a play on the famous Minnie Pearl character.
She worked part time at "Stuff and Such" antique shop in Philipsburg.
Elaine was preceded in death by her parents and siblings; her husband, Les; and their son, Kerry Cross of Helena, Mont., in June 2021.
Her children, many grandchildren, great-grandchildren and great-great-grandchildren live in many different places. Her children: Sioux Chappell lives in Alaska, Mary Cowan and family live in Huntsville, Ala., Carol and Phil Walker live in Santa Valley, Ariz., Bill Cross lives in Superior, Mont., and Connie and M.C. Orr live in Boulder, Mont. The grandchildren live scattered around, from Alaska, the West Coast, the Inland Northwest to California and Kansas to name a few places. She still has extended family living in Boundary County.
In 2019, her family and friends helped her celebrate her 100th birthday with a big party in Philipsburg. Family and friends came from near and far. On the morning of her 100th birthday, some of the family had breakfast at a local restaurant when the county sheriff came to "arrest" Elaine. The charges: "Not acting your age." Her mugshot number: 100. What a good sport and what a good laugh.
Elaine lived a happy life and often entertained people with her stories and jokes. She will be greatly missed.
No services are planned at this time.
Recent Headlines
---