Preparing for the future: First responders Boom Deployment training
by
EMILY BONSANT
Staff Writer
|
November 17, 2022 1:00 AM
BONNERS FERRY — Hope for the best, but plan for the worst, it's not just a motto, but a way to ensure preparedness.
Local first responders train for different emergency scenarios, such as a 2020 train derailment which saw six cars of a 115-car BNSF Railway train knocked into the Kootenai River near Moyie Springs by a rockslide.
Taking lessons learned from the incident, local first responders joined BNSF Railway) and Idaho Department of Environmental Quality crews on Saturday to practice deploying collection booms on the Kootenai River.
The flotation devices are made of different connecting pieces that help prevent spills from moving downriver.
The training is based on the recently updated Geographic Response Plan for the Kootenai River and Deep Creek. The plan helps guide responders in protecting sensitive areas in the event of a hazardous material spill in the rivers, Andrew O'Neel, director of Boundary County Emergency Management, said in a press release.
At Saturday's training, the boom was deployed at the Search and Rescue boat launch, using a boat to cross the Kootenai upriver. The boom was then grounded on the north side and south side of the Kootenai.
First responders learned about the river's current and resources that should be protected on the river in case of an emergency related to train derailment or spillage.
The training was sponsored by BNSF Railway and involved local firefighters, Search and Rescue, and law enforcement.
Every fire district in Boundary County needs volunteers and cannot run without the help of neighbors stepping up and volunteering, Boundary County Fire Officials wrote. Like most firefighters, volunteers do much more than just take down fires: they also respond to vehicle accidents, medical emergencies, rescues and much more.
For more information and to learn about your fire district, visit www.boundarycountyfire.com.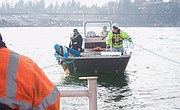 Recent Headlines
---