Badgers boys basketball preview: Back with a vengeance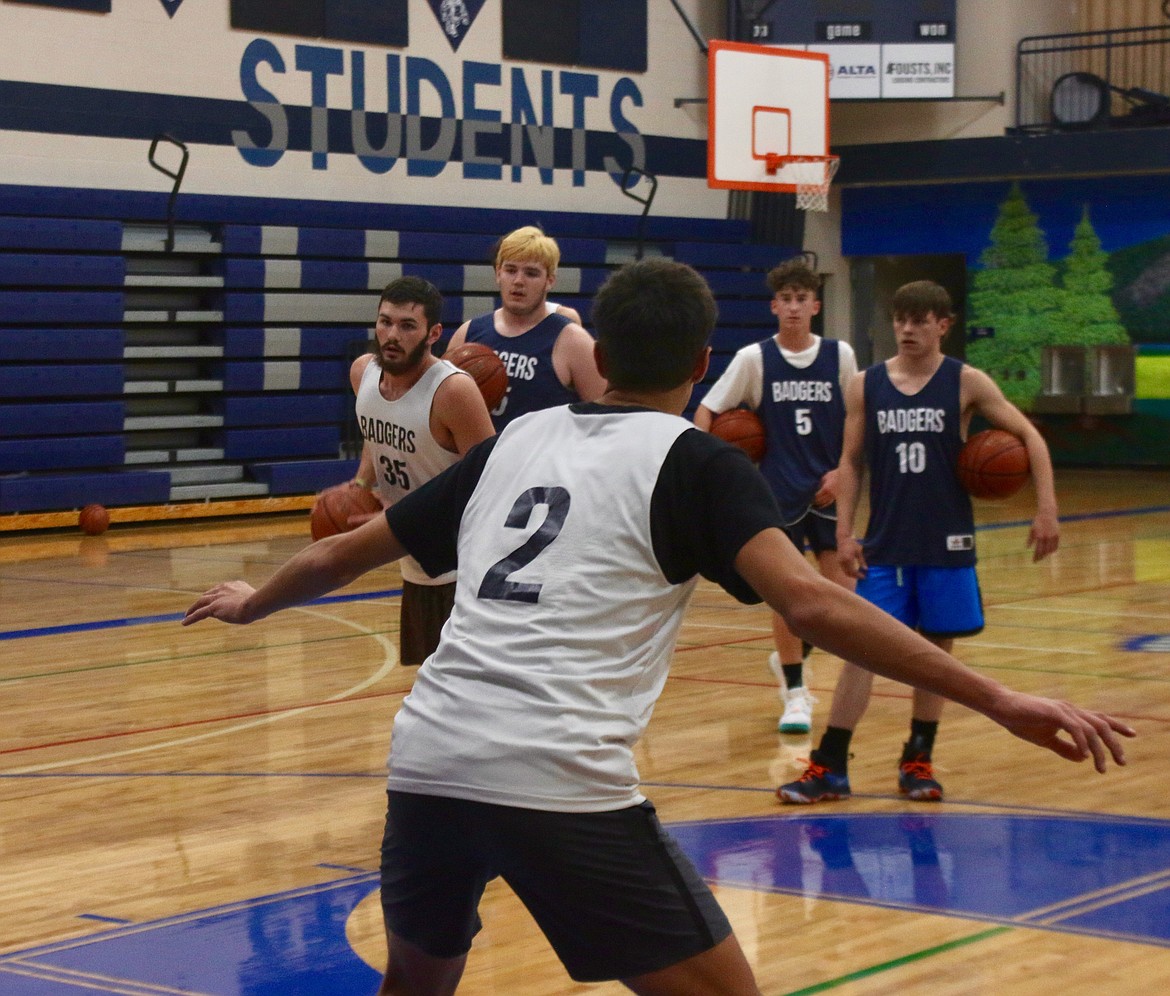 #2 Riley Petesch plays defense at practice.
(Photo By: EMILY BONSANT)
BONNERS FERRY — Last year, the Badgers boys basketball made history as they won districts and a game in the state tournament.
Now they are back with a vengeance.
"The boys basketball team has a lot of promise," head coach Nathan Williams told the Herald. "We have experience, depth, leadership, and a little bit of size for once. If we can remain injury-free and healthy until March, I believe these young men can achieve anything."
Williams said at this time the team hasn't officially met to discuss season goals. However, since he started coaching this group when they were in third to fifth grades, they have been talking about bringing home a state title to Bonners Ferry.
"I would be lying if that is not still the goal for this special group of athletes," he said.
The team held tryouts Nov. 11-12, with a great turnout, Williams said. This allows the Badgers to again have varsity, JV and C teams. All of the boys playing are learning a lot and giving effort every day, he added.
From the 2021-22 state qualifying team, the Badgers only graduated one senior, Ethan Hubbard.
"Ethan was an amazing person and player and contributed to the success of our team more than other coaches and fans could see. I miss his presence in the gym, especially on the defensive end," he said.
Like always, this year the Badgers are focusing on defense and looking for others to buckle down and get stops on a consistent basis.
The whole program is excited to get back on the court and compete at a high level, Willias said.
"The varsity boys made history last year with winning districts and finally getting a win under their belts at the state tournament and we can't wait to tip off on Nov. 26 in front of our home crowd at 5:30 p.m."
This year, the IML is down to two teams for the basketball season and only one team will go to state.
"Timberlake is always a tough opponent and we will play them twice during the season. The first match-up will be Jan. 27 for the highly anticipated Battle of the Brawl spirit game in Timberlake," he said.
"I'm really looking forward to our returning all-league seniors providing the much needed leadership on the court. Both Braeden Blackmore and Ridge Williams have been exceptional for us throughout the years, with Braeden being a three time all-league player," he said.
Last year, the Badgers went 14-10 overall with a 5-2 conference record. The first home game is Nov. 26 at 5:30 p.m.
Recent Headlines
---