Daniel Ray Funkhouser, 56
|
October 27, 2022 1:00 AM
Daniel Ray Funkhouser (aka Dan or Danny) was born on March 3, 1966, in Bonners Ferry, Idaho, to Dorothy and Edward Funkhouser. Dan passed away at the young age of 56.
Dan moved from Bonners Ferry to Anchorage, Alaska, in 1984 after graduating from high school. He continued to live and work in Alaska until his death on Aug. 22, 2022.
Upon moving to Anchorage, Dan tried his hand working as an apprentice carpenter and then in the hot tub industry. He soon discovered that these careers were not his calling, instead he learned that he was an outstanding commercial and residential painter. Dan painted homes, schools, hospitals, clinics, hotels, and more in many outlying villages of Alaska, as well as in Anchorage. At the time of Dan's death, he was working in Juneau, Alaska.
Dan was never married, however, he spent most of his adult life with the love of his life, Karen Warne. Dan's "children" were his much-loved dogs. Dan had a passion for motorcycle riding and enjoyed dipnetting in Alaska waters, camping, listening to music, traveling to warm and sunny climates, relaxing with friends and family, and spending time with his dogs.
Dan, although a shy person, was a hard worker and an extremely generous person, ready and willing to help friends and family in times of need. Dan was blessed with beautiful blue eyes, an endearing smile, and a sense of humor. As his mother would often mention, "Dan gives the best hugs."
Dan is missed and will continue to be missed by family and friends. Dan's father, Edward Funkhouser, and his brother, Michael Funkhouser, predeceased him. Surviving Dan are his mother, Dorothy Mincher (T.Ray); brother Larry Funkhouser (Donna); and sisters Linda Rustigan (Wayne Curley) and Debbie Miller (David); as well as many nieces and nephews, who he adored.
The family plans to celebrate Dan's life with friends in the spring or summer of 2023.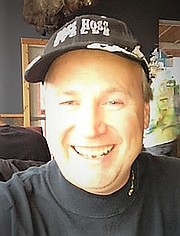 Recent Headlines
---