Badgers win Battle of Kootenai 37-7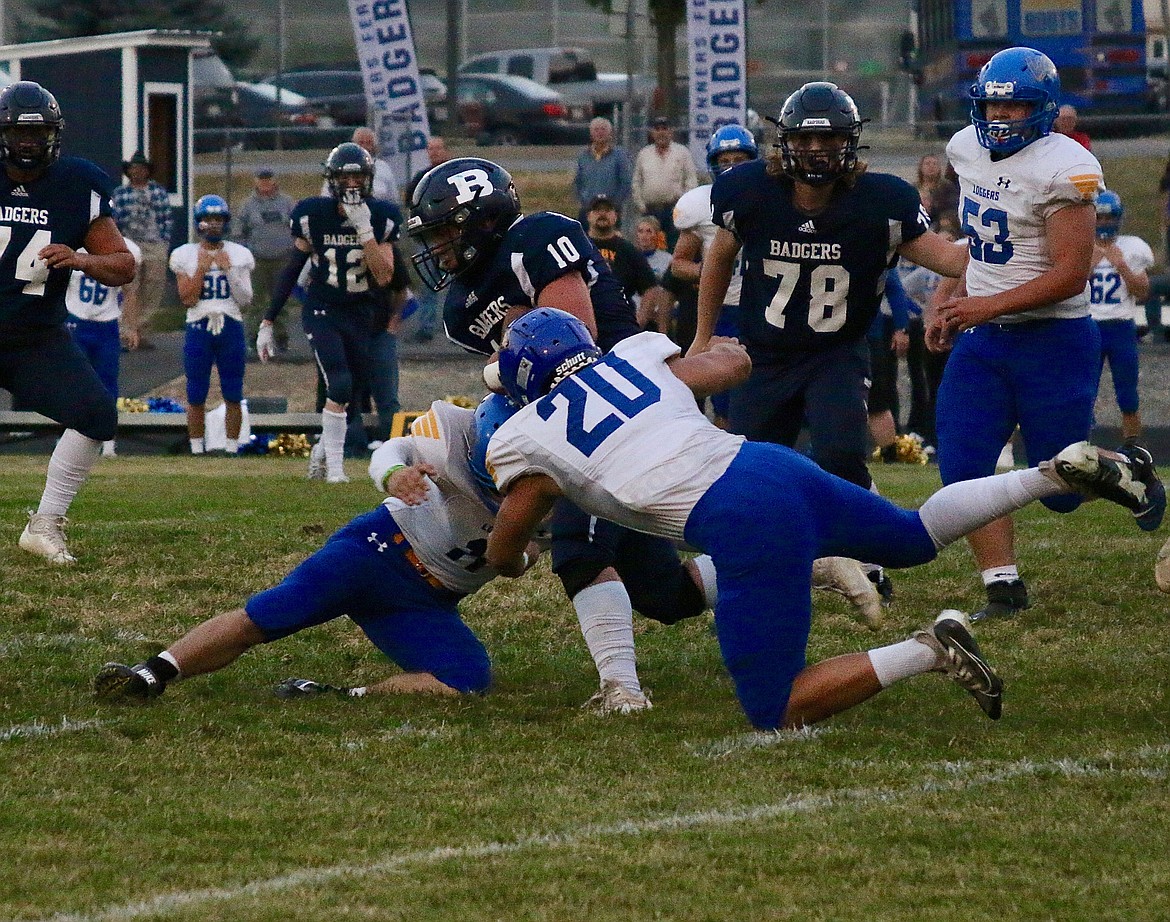 Michael Boscweiller carries the ball against the Libby Loggers on Sept. 9.
Photo by EMILY BONSANT
by
EMILY BONSANT
Hagadone News Network
|
September 15, 2022 1:00 AM
BONNERS FERRY — Badger football is 3-0 after beating the Libby Loggers at the Battle of the Kootenai 37-7 on Friday, Sept. 9.
In the first two minutes of the game, the Libby Loggers on third and 11 found a whole in the Badger defense and ran the ball in for a touchdown. After the extra point it was 0-7 for the Badgers.
The Badgers answered with a touchdown and two point conversion with six minutes left in the first quarter. It was a battle with the Loggers blocking two field goals in the game. The Badgers advance continued and after an error from the Loggers' quarterback, the Badgers claimed the ball in their end zone scoring another touchdown. The Badgers lead going into halftime 17-7.
The Badgers went on to score another touchdown in the third and two touchdowns with field goals in the fourth, walking away with a 37-7 win over the Libby Loggers.
"[Libby] ran the ball really well the first couple of games, so we weren't really ready for them to come out empty, set with no running back and throw the ball every play," said Head Coach Travis Hinthorn.
He said the Badgers adjusted and kept the Loggers' quarterback under control.
"We ran well. We changed a couple things on the line this week and created big holes for the running back which worked out pretty well," he said.
He added that in this game, the Badgers played two solid halves.
In the second half, the Badgers had penalties called when they got to the red zone. Hinthorn said they'll be working to clean this up in practice.
QB Blake Rice had 11 completions with 18 attempts. For rushing, Rice had 10 carries and 58 yards. He also had one interception. Micheal Bollscewiller had 20 carries and 153 yards.
For rushing Cleo Henslee had 13 carries for 77 yards and in receiving he had five receptions and 37 yards gained.
Charles Henslee had three receptions and gained 44 yards. He had five solo tackles and three assists.
Dakota Heller had four solo tackles and four assists. Trey Bateman had two sacks.
LIBBY: 7000—7
BONNERS FERRY: 896(14)—37
TDs scored by: Rice 1, Ch. Henslee 1, M. Bollscweiller 1, Cl. Henslee 1, D. Heller 1.
Two point conversion: Dillion Mai 1.
Field goal: Rice 1.
Badger football is 3-0 and plays at Connell, Wash., on Friday.
Recent Headlines
---