Westside Road Residents Return to "Ready" Stage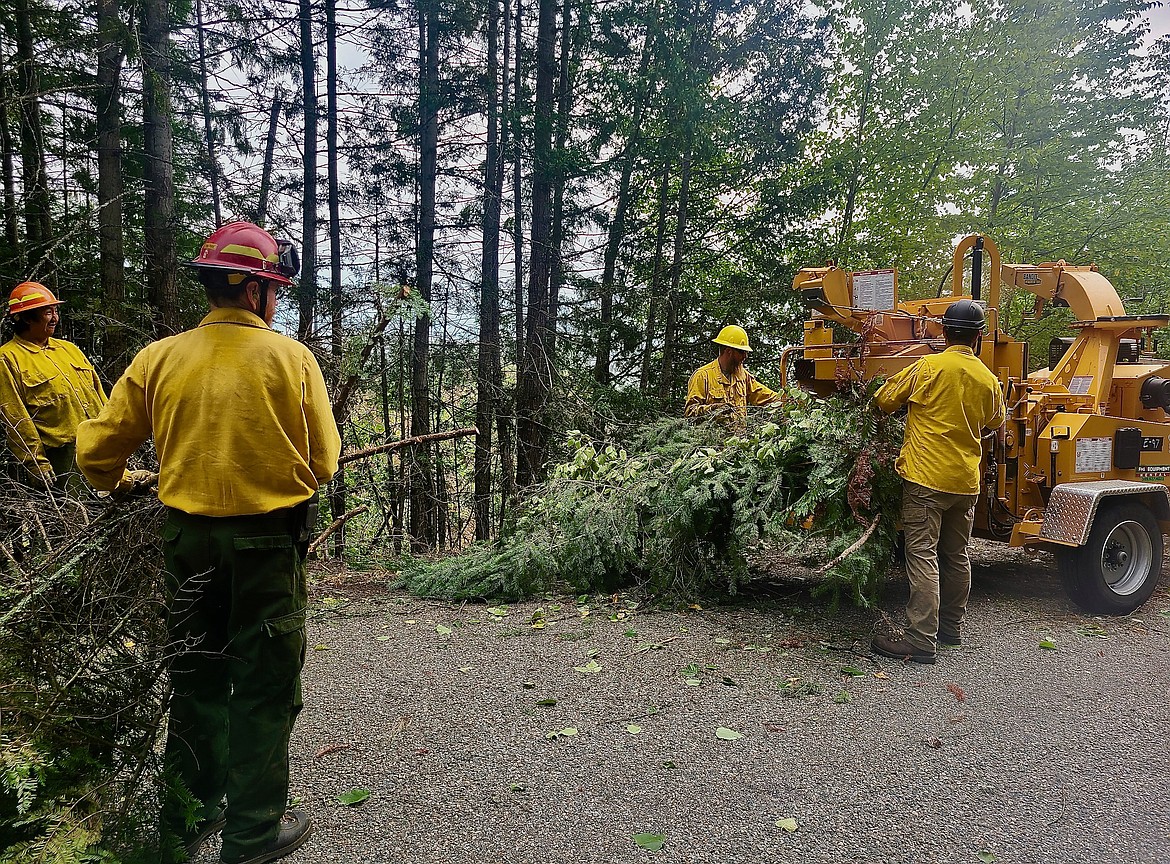 Fire Crews mopping up downed trees and limbs near Westside Road.
(Courtesy Photo Brett Gregr)
|
September 16, 2022 11:55 AM
BONNERS FERRY —-Residents of Westside Road are being advised they can reduce their evacuation preparation status to "Ready".
Westside Road residents previously had been at "Set" status since Sept. 1 when the Scotch Creek Fire was unpredictable and could have reached the road and threatened homes there.
The Scotch Creek Fire has since merged with the Russell Fire, which has made contact with fire
control lines and is currently being mopped up along the west side of the road, Andre O'Neel Boundary County POI and Emergency Manager wrote in a press release. No structures were damaged as the fire burned down to the control lines.
The following are updated "Ready, Set, GO!" pre-evacuation preparations in place in
Boundary County:
• "Ready" – Almost all of Westside Road, from the Kootenai Wildlife Refuge north to Kerr Lake Road are in the "Ready" stage of evacuation to maintain their evacuation plans for
their families, pets, and livestock. (Russell Fire)
• "Ready" – Katka Road up from the lookout area, Two-Tail Road, Misty Mountain Road and Taboggan Lane have been advised to be in the "Ready" stage of evacuation to begin evacuation planning for their families, pets, and livestock. (Katka Fire)
The Kootenai River Complex, now consisting of the Russell Fire and Katka Fire, totaled 20,821 acres of burned area as of last night's estimate. There are 366 personnel working on the fires, and total cost for the fires is $5.3 million so far. Just over $1.1 million (21%) of that cost is for aircraft operations, O'Neel said.
The infrared aircraft flyover last night showed a small hot spot in the vicinity of Cascade
Creek south of the Russell Fire, and so crews are investigating today for a possible new start
caused by the lightning two days ago.
Learn more about what to do in each of the "Ready, Set, GO!" evacuation planning stages by
downloading the brochure at www.boundarycountyid.org
Residents can receive emergency notifications by opting in to receive Nixle text alerts on
their smartphones by texting 83805 to 888777.
Current evacuation preparation status information is also available in a recorded message on
the Boundary County Emergency Information Line at 208-696-BOCO (2626).
Recent Headlines
---