Badger football on four-game winning streak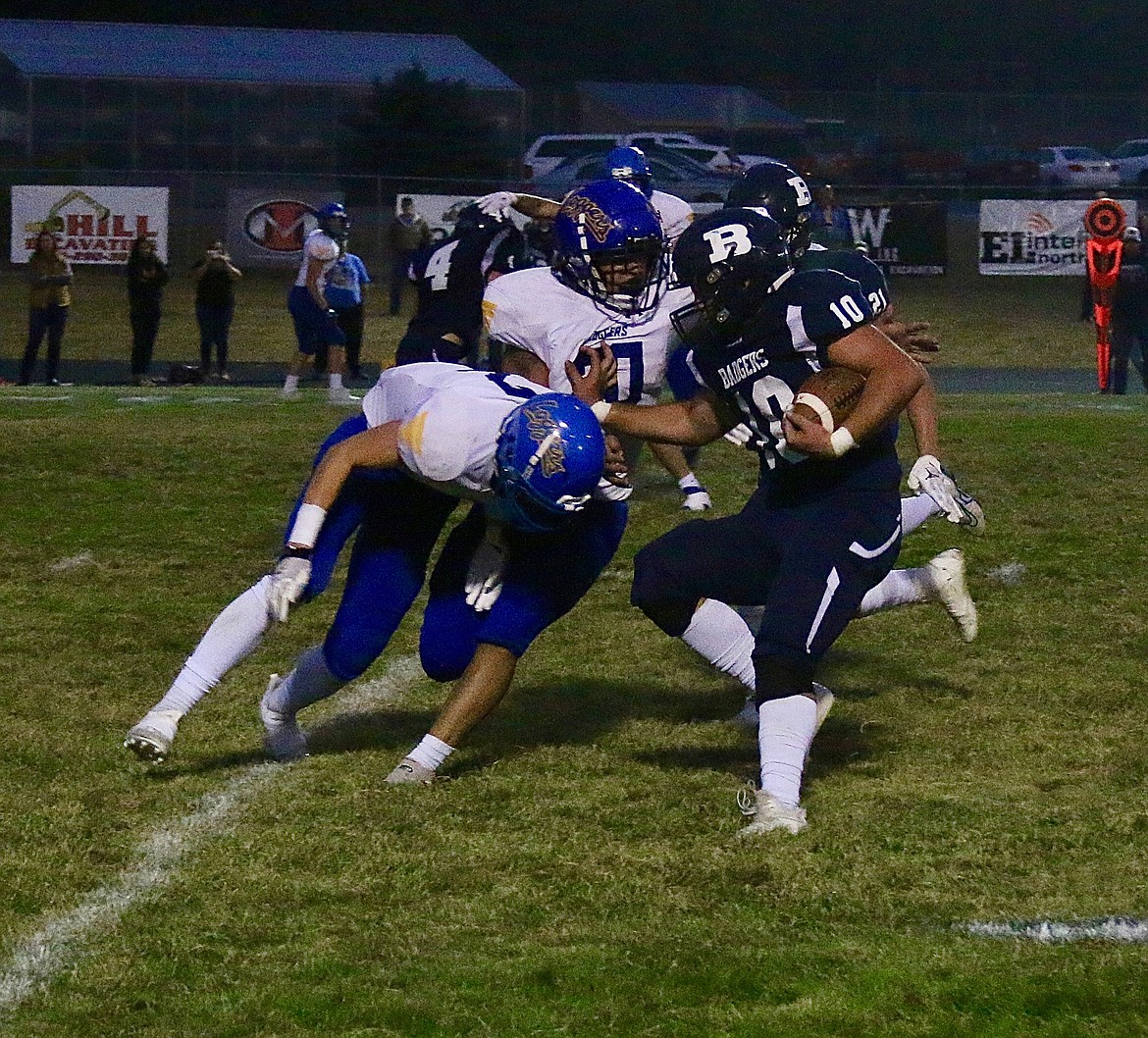 Michael Bollscweiler rushes the ball against Libby High School during the Battle of the Kootenai Sept. 9.
(Photo by: EMILY BONSANT)
by
EMILY BONSANT
Hagadone News Network
|
September 20, 2022 3:00 PM
CONNELL, WASH. — The Badgers defeated the Connell Eagles Friday, Sept. 16, 14-6 and are now 4-0.
The game was scoreless until the second quarter when both teams were on the attack. After a touchdown scored by Henry Willis and two-point conversion scored by Cleo Henslee, the Badgers took a two-point lead.
In the third, Blake Rice scored two field goals for the Badgers making it 14-6. As quarterback, Rice completed eight out of 19 attempted passes for a total of 63 passing yards.
As QB, Teigan Banning was one for three completed passes with a total of 39 passing yards.
In rushing, Rice had five carries and gained 18 yards. He also had 63 passing yards. Michael Bollscweiller had eight carries and 13 yards in rushing and seven yards in receiving. Cleo Henslee had eight carries and 26 rushing yards and one receiving yards.
In receiving, the Badgers had a total of five receptions and 23 gained yards. In all-purpose yards, Charles Henslee had 52, 48 of which were off a punt return.
Cleo Henslee had six solo tackles and six assisted tackles. Dakota Heller and Dillon Mai had four solo tackles.
The Badger gained a total of 5.5 sacks against the Eagles. Dillion Mai had 2.5 sacks, Cleo Henslee and Dakota Heller had one apiece and Joshua Varelman and Travis Petersen assisted on sacks.
Mai also had one blocked punt over the Eagles.
BF: 0860—14
Connell: 0600—6
Homecoming is Friday, Sept. 23, at 7 p.m. against the East Valley Knights from Spokane Valley, Wash.
Recent Headlines
---