Boys Soccer falls to Tigers, record 6-1-1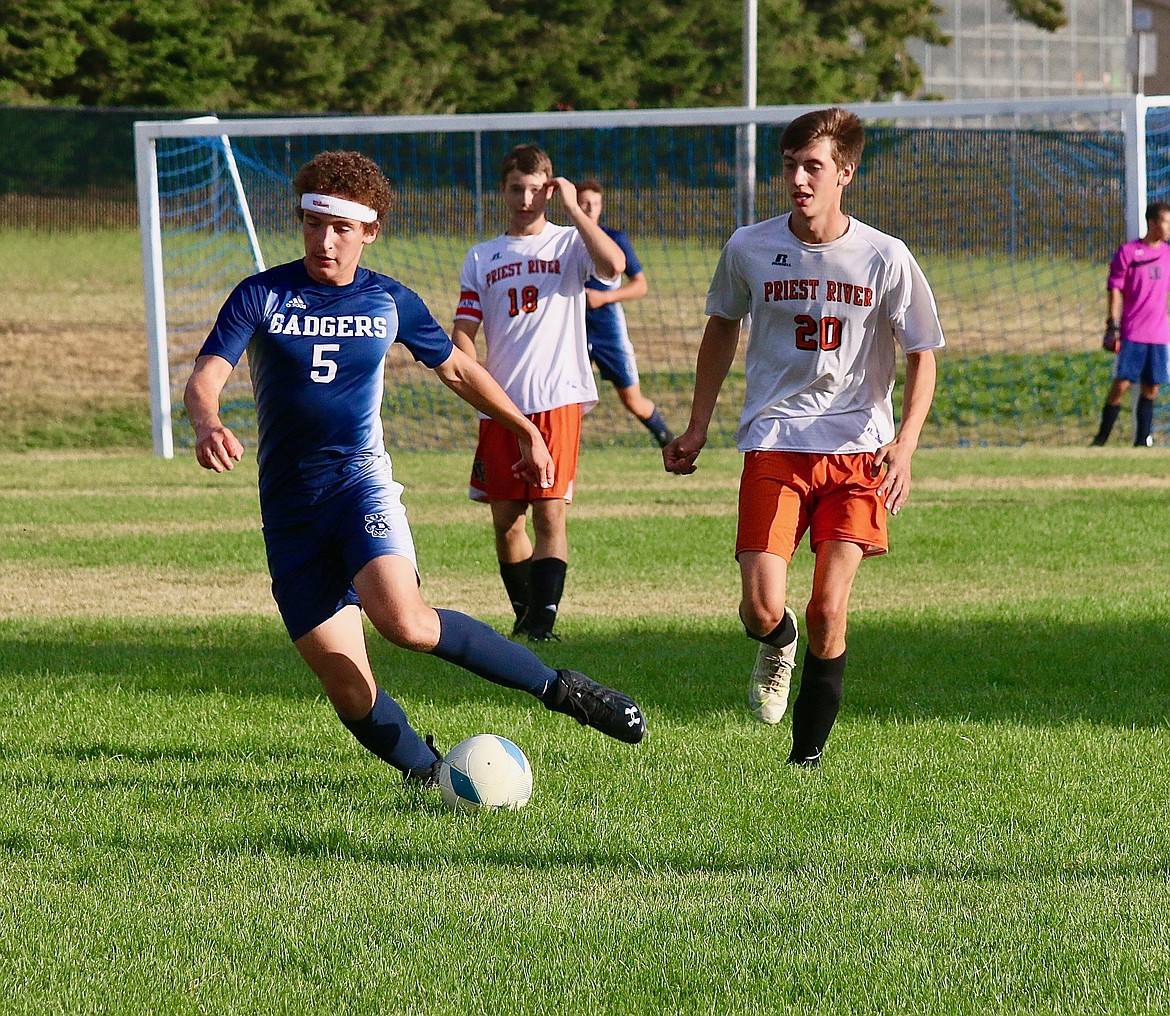 #5 Chandler Swanson runs the ball against Priest River earlier in the season.
(Photo by: EMILY BONSANT)
TIMBERLAKE — After a close competition, the Badgers boys soccer team lost by one goal against Intermountain League foe, the Timberlake Tigers, on Tuesday.
The Badgers came out strong and scored early with two goals by Eli Newell and Nick Eastman.
On the first goal, Eastman pushed through a short pass to Newell, who exploded through their defense to score, head coach Paul Bonnell told the Herald. On the second pass, a through ball by senior wing Isidro Perez connected with Eastman, who took a controlled touch and clean shot to score.
The Badgers were up 2-0, but the Tigers countered.
"The rest of the 80-minute game was a full-on game of close competition," Bonnell said. "A few lapses in our defensive game gave Timberlake the lead, but the Badgers played hard all the way through to the closing whistle."
Bonnell said he felt like it was anyone's game all the way to the end.
The Badgers lost 3-4. The Badgers may have lost their winning streak, but they are overall 6–1-1. The Badgers will play Timberlake again on Sept. 29 at home. This will also be the Badgers senior night.
The Badgers play at home against Stillwater Christian on Friday with JV at 2 p.m. and varsity at 5 p.m. The Badgers also play Lakeland at home on Saturday. JV plays at noon and varsity plays at 2 p.m.
RATHDRUM — The Badgers beat the Lakeland Hawks Saturday, Sept. 24 5-3, maintaining their winning streak.
"It was nice to play after a week of contending with postponements because of air quality. We were happy to have both J.V. and Varsity post wins against Lakeland on the road," Bonnell said.
In the JV game, goals were scored by Isaac Weaver (2) and Riser Hanson (1). Goalkeeper William Hollabaugh let one goal and made five saves. Final score was 3-1.
"We had a solid defense in Curtis Blevins, Chandler Swanson and Kadyn Chouinard. We are still working on our offensive play and look forward to J.V. competitions at home this weekend," he said.
This year, the coaching staff has made fitness/conditioning and team dynamics goals for the season.
"In the Lakeland game, we saw both of those tested, and we rose to the occasion," Bonnell said. "We had few subs because of having to play both J.V. and varsity games that day, but our fitness proved to be solid. Additionally, in the second half, we tightened down our defense and employed counteroffensive plays which resulted in scoring opportunities, particularly with solid runs by Eastman and Newell."
Goalkeeper Roger Naylor gave three goals and had seven saves.
GOALS: N. Eastman 2, S. Rice 1, N. Rawson 1 and E. Newell 1.
Recent Headlines
---