XC making ground and dropping times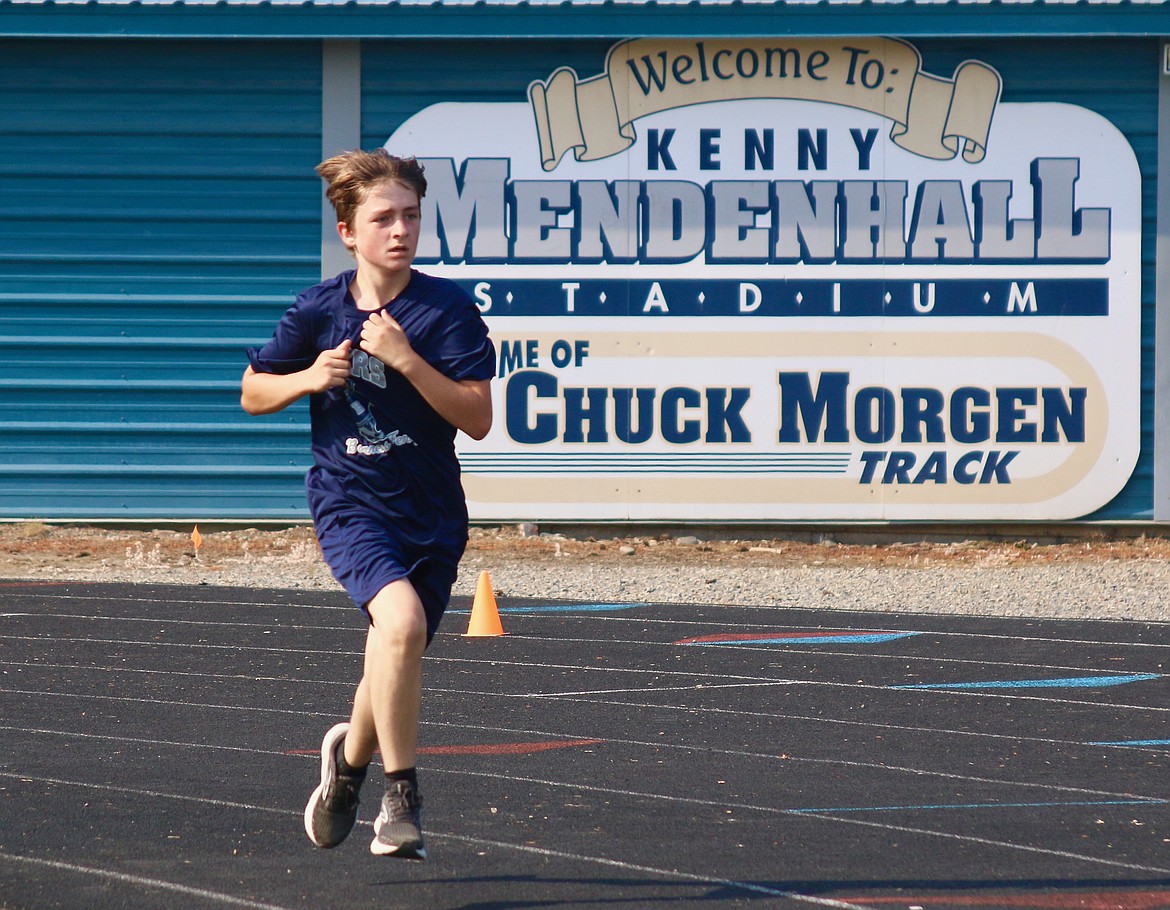 Badger XC runner earlier in the season at the Badger Jamboree.
(Photo by: EMILY BONSANT)
by
EMILY BONSANT
Hagadone News Network
|
September 22, 2022 1:00 AM
BONNERS FERRY — Badger Cross Country had some season bests and new personal records at the home race on Saturday, Sept. 17.
Head coach Tyler Warner told the Herald it was a great day for racing, as the team has had to compete in non ideal conditions due to heat and smoke.
Ryan Beckle led the way for the team and is getting closer to under 20 minutes, which is his goal, Warner said.
"I was impressed with Jack Woods, who was second on the team and lowered his time to a new PR. He's one of the hardest working, most coachable guys on the team, and it's continuing to pay dividends for him," Warner said.
"Cole Phillips wasn't far behind and I'm noticing he's figuring out the pacing of 3.1 miles more and more as the season goes on," Warner said.
Matthew McCabe, Aiden Hyde and Maddux Martinez all posted PR's for the boys as well. Warner said the team continues to get better every week.
Sydney Beckle had her best overall finish of the season, coming in 4th. Jayden Byars, Leah Moellmer and Trina Johnson all had season best times as well.
"I'm encouraged by the girls team's progress at this point. As long as we have a complete team, I think we may have a chance of qualifying for State, but that also depends on if Timberlake has a complete team," Warner said. "The Charter girls squad was fairly dominant and will be difficult for anyone to catch in the district this year."
On the boys side, Warner said the team has a lot of room to grow. The Badger boys finished 5th out of 5 teams, but were without Justin Strugar. Warner said once the team has all its runners, it should improve their odds at completing.
Cross Country competes at Priest River at 3 p.m. today.
Badger Boys times: Ryan Beckle 20:43, Jack Woods 21:03, Cole Phillips 21:12, Micah Thomson 23:22, Carson Dineen 23:28, Mathew McCabe 24:20, Aiden Hyde 25:07, Maddux Martinez 25:30 and Nate Murray 26:35.
Badger Girls times: Sydney Beckle 21:56, Ceci Roemer 23:20, Leah Moellmer 27:05, Jayden Byars 27:10 and Trina Johnson 31:38.
Recent Headlines
---