Homecoming '22: Seniors win Powder Puff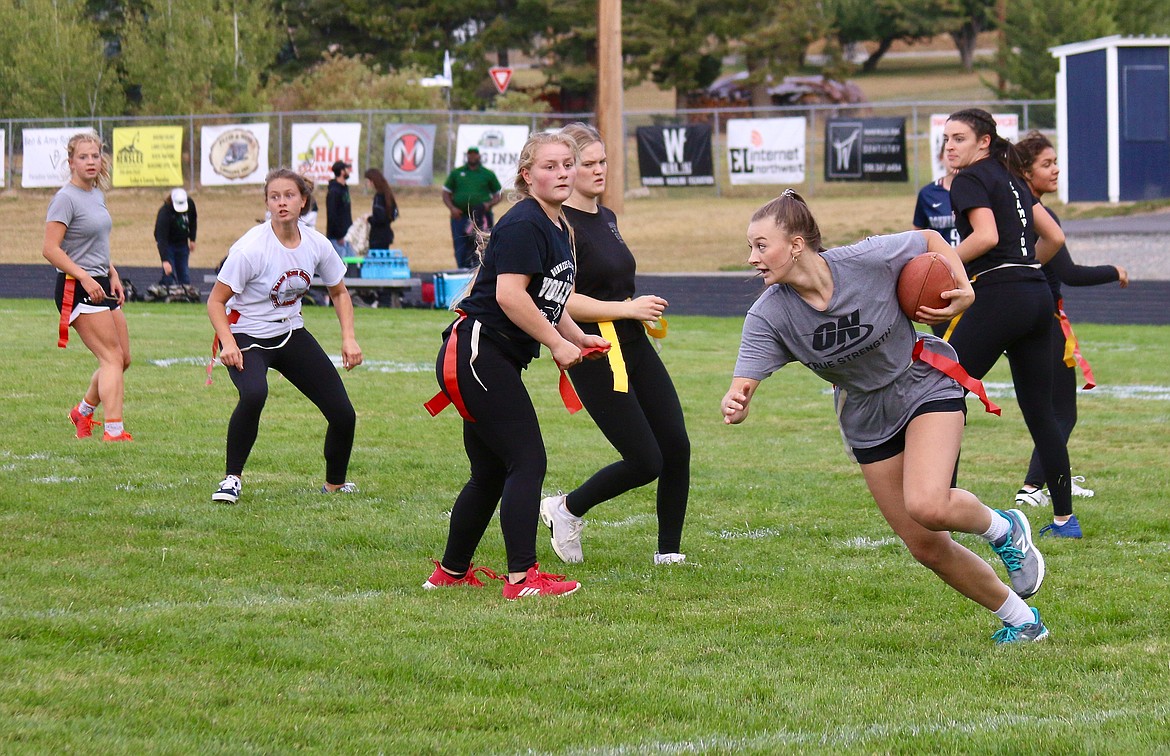 Kaylee Sumpter runs the ball for the seniors at powder puff football.
Photo by EMILY BONSANT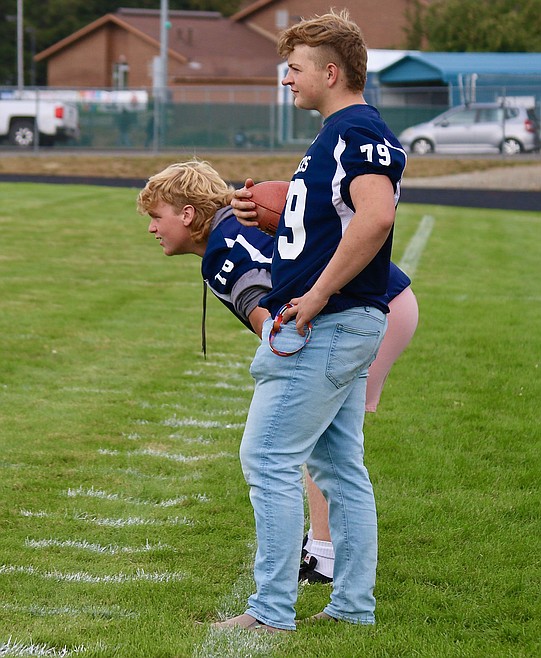 Junior football players, (front) Trey Bateman and (back) Kolton Rude coach from the sidelines during powder puff football.
At powder puff football, Lindsey Onstott runs the ball for the juniors and is chased down by a sophomore player. Football Coach Travis Hinthorn (left) refs the game.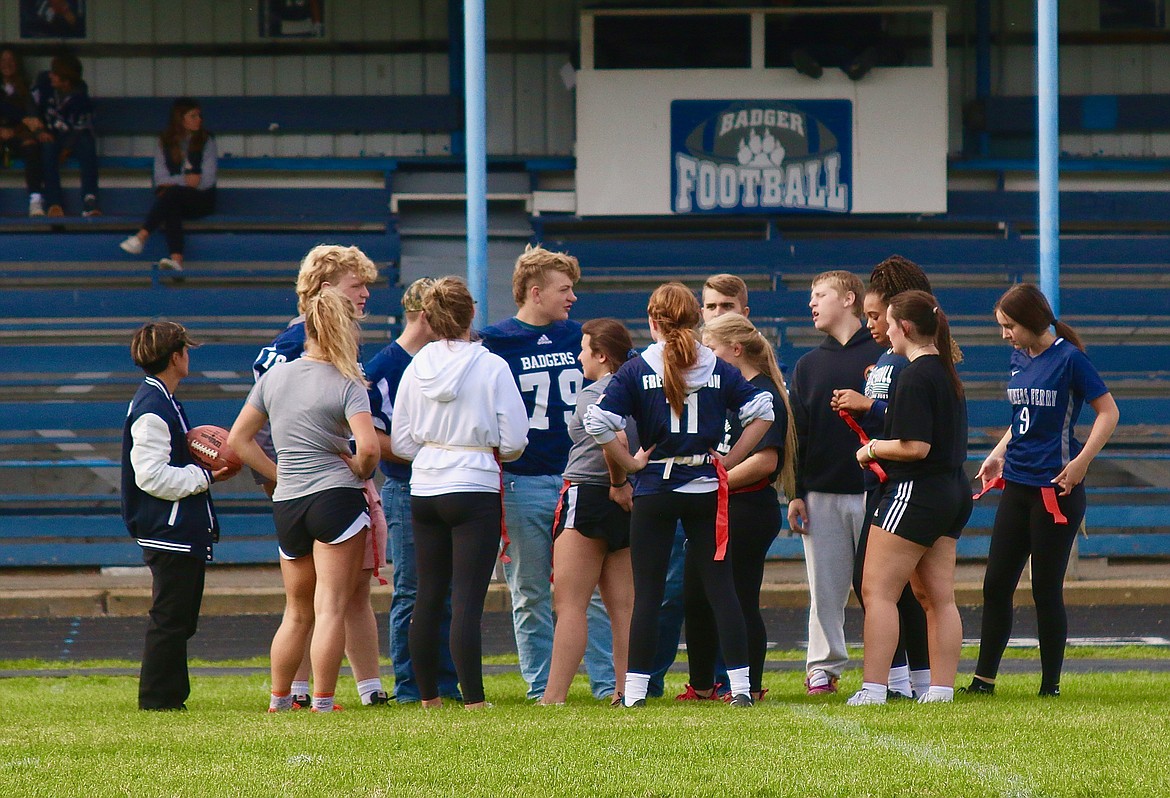 Juniors strategize at powder puff football.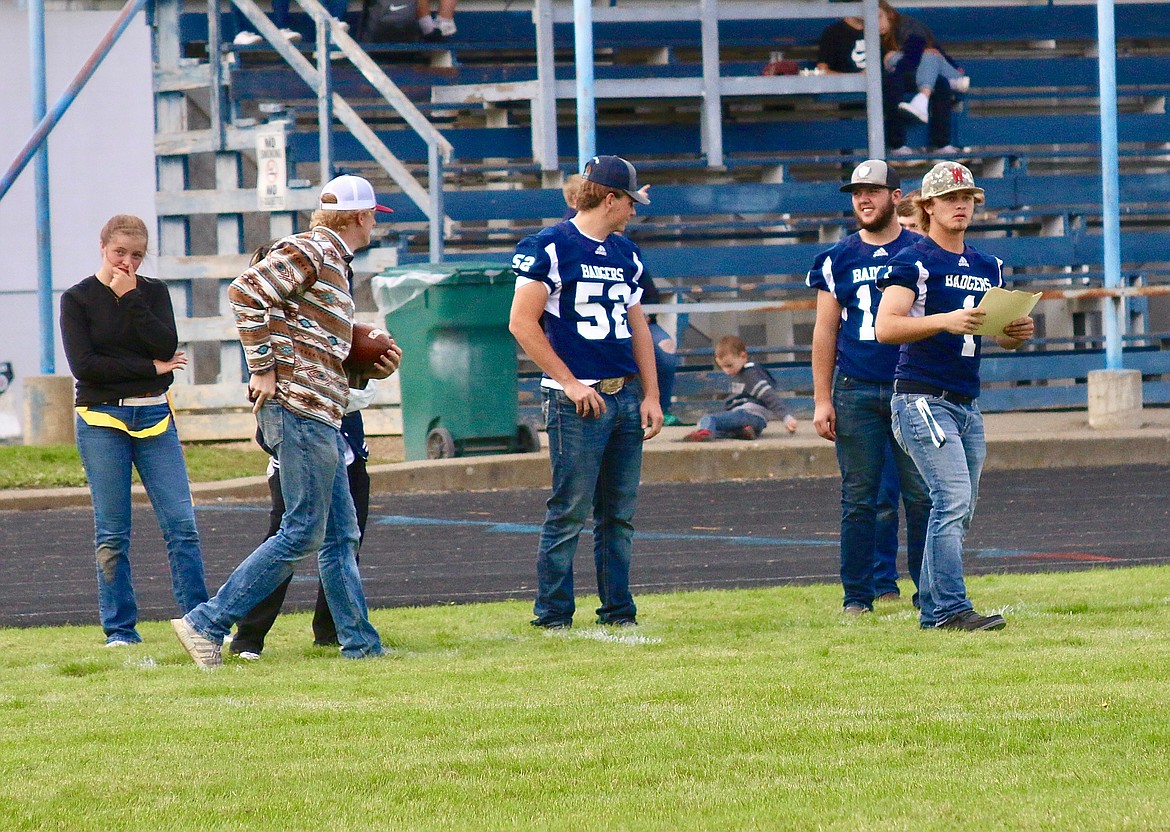 Senior football players coach from the sidelines at the powder puff football game. From left: Trew Lammers, Henry Willis, Dillion Mai, Michael Bollsweiler and Teigan Banning.
Previous
Next
by
EMILY BONSANT
Staff Writer
|
September 29, 2022 1:00 AM
BONNERS FERRY — After years in the making, the Class of 2023 won the powder puff football tournament during Homecoming week.
Competition was high, as both the juniors and sophomores had been held scoreless until overtime. Throughout the contest field goals had been elusive for both teams as the uprights refused to yield to any field goal attempts, until Lindsay Onstott sunk a field goal. The juniors won 13-6 and finished the game with an interception by Onstott.
Sophomore Sydney Hinthorn held her own as quarterback and scored for the Class of 2025.
The seniors and juniors battled it out. The tension of the junior coaches Trey Bateman and Kolton Rude was palpable as they coached and strategized from the sidelines and sometimes face-down in the endzone.
Coach Teigan Banning paced the sideline with a makeshift playbook organizing the offense.
Mia Blackmore scored for the seniors. After an interception, the seniors scored again making it 12-0 and took the win.
The senior girls happily raced to ring the victory bell.
Head coach for the seniors, Tully Reinhardt told the Herald it felt good to earn the big win.
"You know when you wake up every morning and you [exude] excellence like this young group of women, who are ringing the victory bell right now, some people are made to win," Reinhardt said. "We are made to win. That is all there is to it. We have the best coaching staff to ever know how to powder puff football and that's why we came out here and had not one point scored on use in any of our games and [that's why] we put up 38 points total."
After the game to celebrate their victory, many of the senior girls warmed up for their soccer game. The coaching staff said they planned to take a much-needed nap.
Recent Headlines
---