From the Archives - Feb. 2, 2023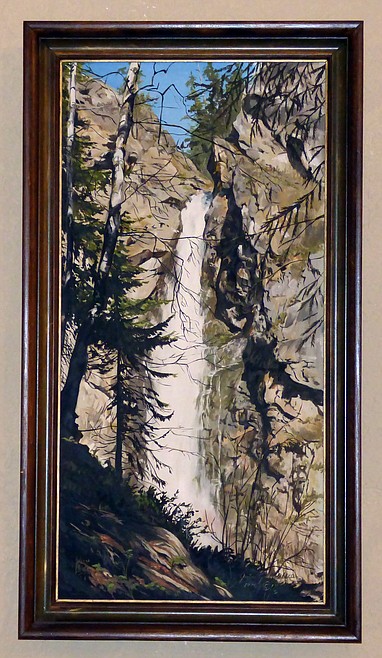 Janene Grenda Utter captured the beauty of Copper Falls with her painting done in 1975. This painting now hangs in the museum.
(Photo courtesy BOUNDARY COUNTY MUSEUM)
|
February 2, 2023 1:00 AM
"John O'Hogge, had several gold/copper mines in the area [near Eastport] — explaining the naming of the two mountains on each side of the port - Hogue (O'Hogge) Mountain and Copper Ridge. The "east port" consisted of three log cabins and a number of tents. Supplies were purchased at the general store in King's Gate." Small Towns, Big Dreams
Copper Creek begins its trek from Copper Lake. Copper Falls is the scenic waterfall, found along the way, as the creek meanders down to the Moyie River. The falls spill 225 feet into a small pool.
Janene Grenda Utter captured the beauty of the falls with her painting done in 1975. This painting now hangs in the museum.
The Boundary County Historical Society and Museum, 7229 Main, Bonners Ferry, sponsors this column.
Visit the museum, Thursday through Saturday 10 a.m. to 3 p.m.; visit the museum online at its website, boundarycountymuseum.org; or the museum's Facebook page for historical photos and stories, and to see upcoming events. The museum can be reached at doyouremember@meadowcrk.com or by telephone at 208-267-7720. Thank you for your continued support!
Recent Headlines
---