Ice diving training at Smith Lake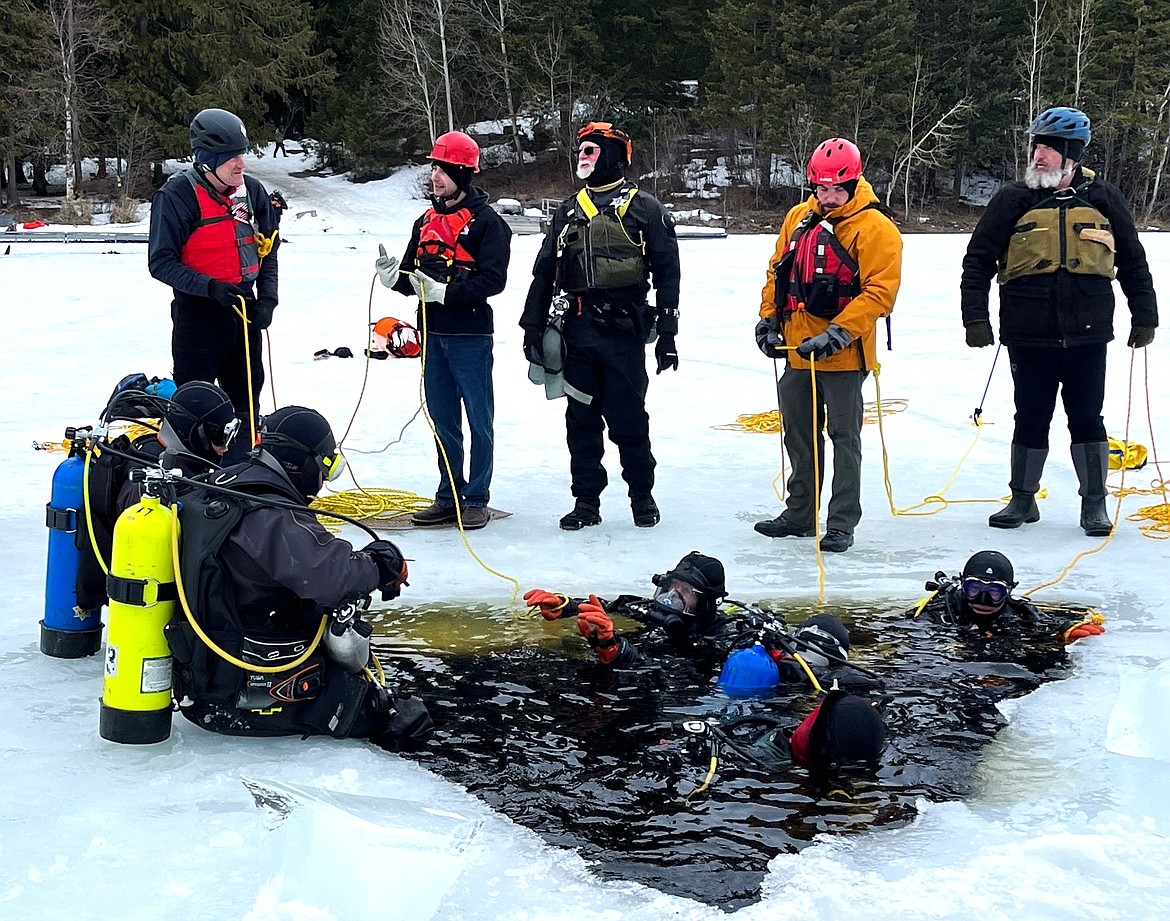 Boundary County Sheriff Office officials and other first responders at ice diving training.
(Courtesy photo)
by
DAVE KRAMER/Contributing Writer
|
February 23, 2023 1:00 AM
A lot of times when you get a group of people together for the first time you may start with an "ice breaker." Well, several divers did just that recently — literally.
Jake Powlison with Jake's Diving instructed an ice diving full-day training class at Smith Lake on Feb. 19. The training was primarily designed for Dive Rescue Team members to prepare them for diving and searching below the ice, which has challenges beyond the normal diving environment.
Participants included several tenders (safety and line handlers) on top of the ice from Boundary Search and Dive Rescue and divers from Boundary County Sheriff's Office, Boundary Search and Rescue, Kootenai County Sheriff's Office and Stevens County (Wash.) Dive Rescue along with a few non-team associated divers from Kootenai County and Western Washington.
The first step of the class involved cutting a triangle hole in the ice, which was still very thick and then shoveling reference patterns in the snow on top of the ice to help orientate the divers when they are below the ice. All the divers were attached to a line which was "tended" by a person on top and would communicate to the divers below through rope tugs.
Once the divers are below the ice it is very difficult for them to see the hole through which they entered. That's why it is important to be securely connected to a rope to help guide them back to the hole in the event of equipment malfunctions or other safety concerns. The divers also carried an additional pony tank with them below the ice should their primary system fail due to the cold.
The course covered safety aspects of diving below the ice along with search patterns through the use of the Tender line, and what to do if there is a problem below the ice. The training was very beneficial and had the added benefit of working with multiple team members from different dive teams. At the end of the training, the section of ice that had been cut out was replaced and safety cones and barrier tape were placed around the hole until the ice refroze.
Recent Headlines
---