Badger wrestling beats Lions in dual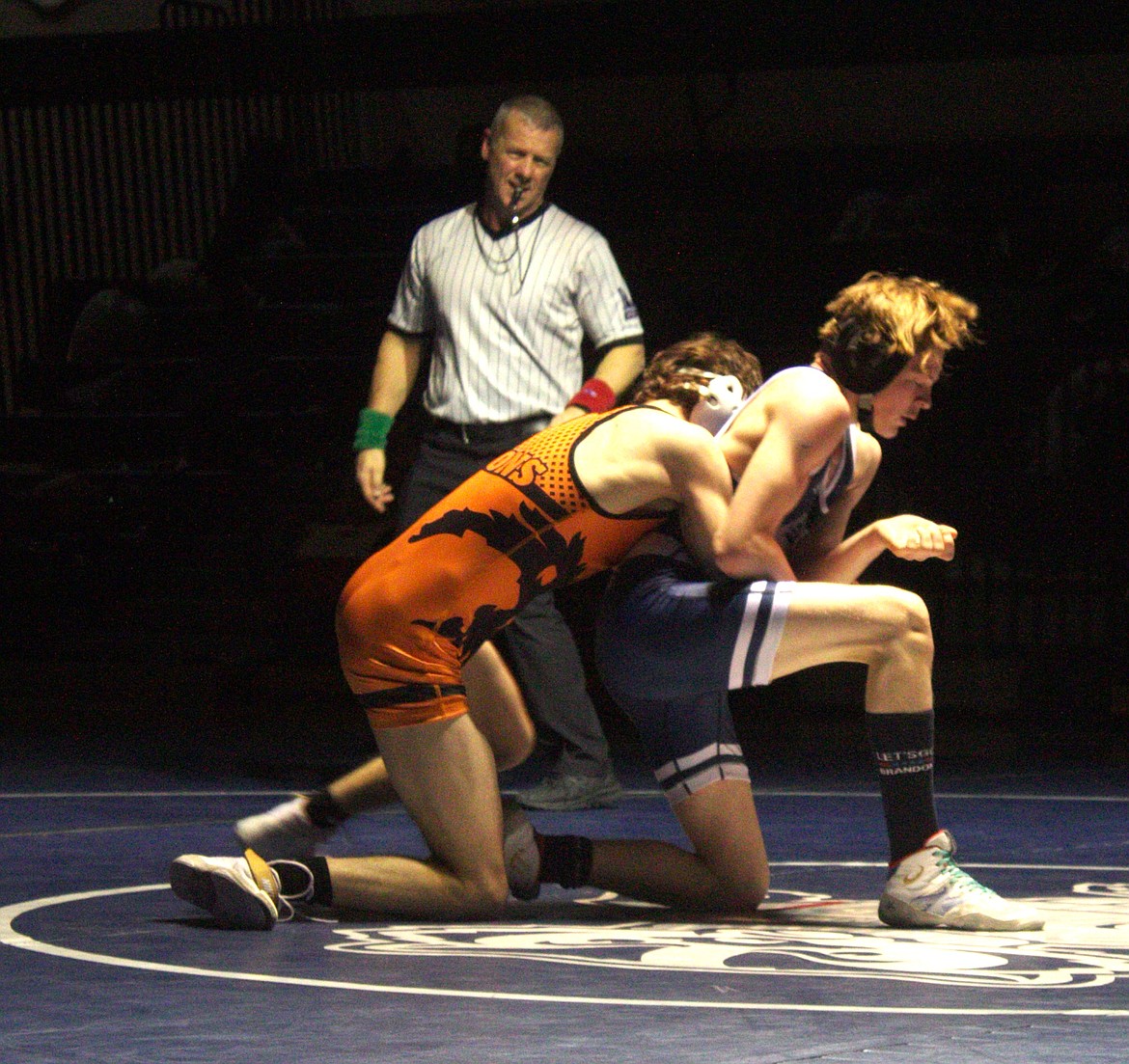 Brandon Williams fights to break free of Lincoln County opponent on Jan. 12.
(Photo by: EMILY BONSANT)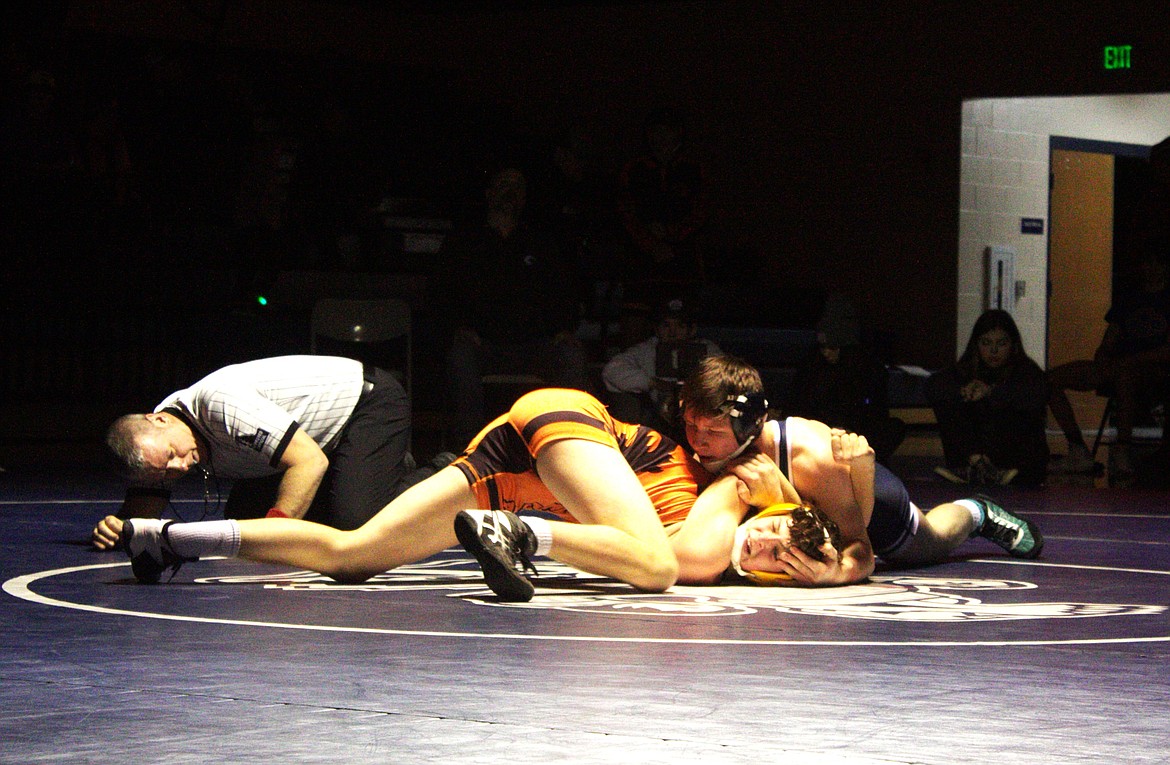 Marcus Regher works to pin his Lincoln High School opponent on Jan. 12.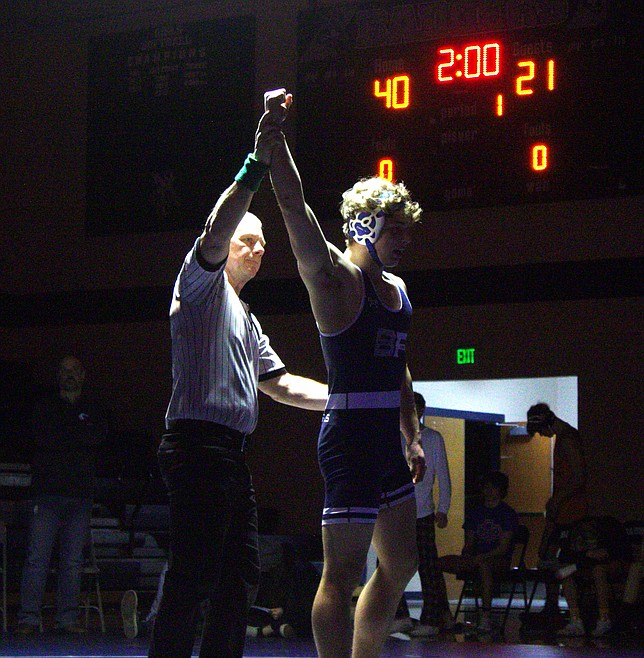 Jackson Holman wins his match by pin against Lincoln County High School's Wyatt Hume on Jan. 12.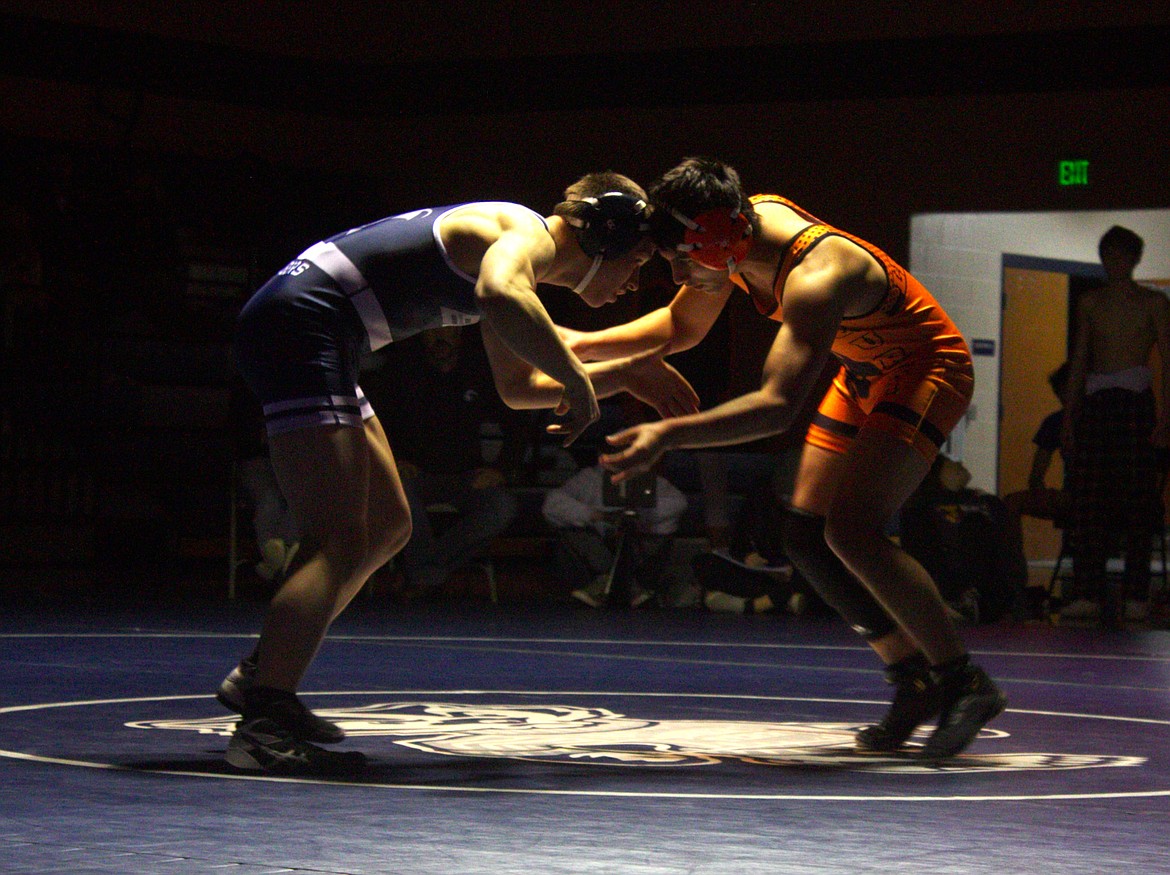 Porter Blackmore faces off against Lincoln County High School opponent on Jan. 12.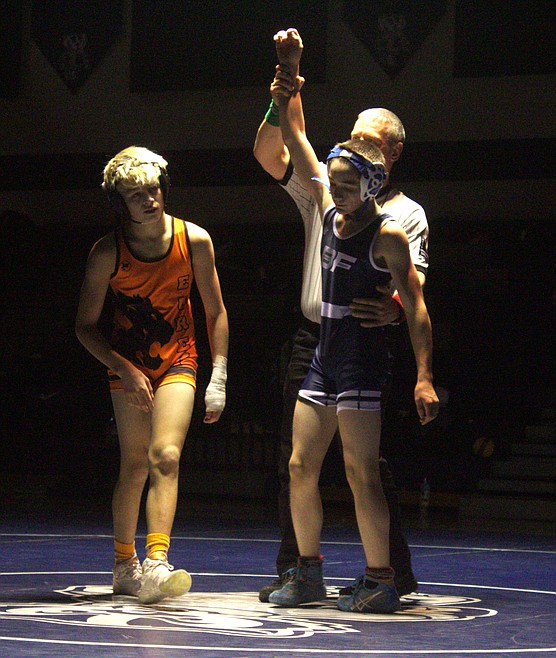 Saber Blackmore wins match against Lincoln County opponent.
Previous
Next
by
EMILY BONSANT
Staff Writer
|
January 13, 2023 12:30 PM
BONNERS FERRY—- In the ninth Bonners Ferry and Lincoln County High School wrestling dual, Badger boys wrestling defeated the Lions on Jan. 12, 46-33.
Saber Blackmore (106) fought his Lincoln County opponent for over five minutes. Blackmore won by pin, giving the Badger a six point lead.
Head coach Kevin Campbell said that he was impressed with Blackmore's performance and improvement, especially since he lost to the Lincoln county wrestler earlier this season.
"For Saber this match just shows how much he's improved," Campbell said. "A lot of our players are freshmen, but they are experienced. We'll be okay."
Brandon Williams (117) and Stryder Lierman (126) fell to their opponents after three rounds. The Lions led 10-6.
Hunter Pope (126) won by a 10-2 decision.
James Graves (126) pinned his opponent 22 seconds into the match giving the Badgers the lead with 16-10.
Gaige Johnson (138) fell to his opponent after going three rounds 18-3, as the Lions inched closer the the Badgers lead.
Porter Blackmore (145) pinned his opponent with 1:17 seconds left in the second round.
"Porter has a gas tank that won't stop," Campbell said. '[Coach staff] knows that so we tell him to push the pace, wrestler fast, wrestle hard. No one can match his pace. He doesn't get tired."
Campbell said Balckmore's speed and pace is due to his high level of conditioning.
Marcus Regehr (160) pinned his opponent with 17.1 seconds left in the first round.
Tayor Alexander(152) tried and failed to fight off a major attack by his Lincoln County opponent.
Eli Leyden (170) executed a quick pin over his opponent. Jackson Holman (182), freshman, made quick work of his opponent.
Campbell said it was one of the best matches he's seen Holman wrestle.
Donnie Riess (285) was pinned by Riley Hume with 35.4 seconds left in the first round.
"Even the matches we lost were good matches," Campbell said. "No one quick, no one gave up, all around a great performance."
He added as a program the Badger wrestling is going in the right direction.
Badger wrestling will be competing in the River City duals this weekend. They will compete at home against Sandpoint on Tuesday at 5 p.m. for the B-cup.
Campbell said it will be exciting to put on a show for Bonners Ferry. Badger girl wrestling will also make their home debut at the B-Cup.
Recent Headlines
---