Badgers take fourth in River City Duals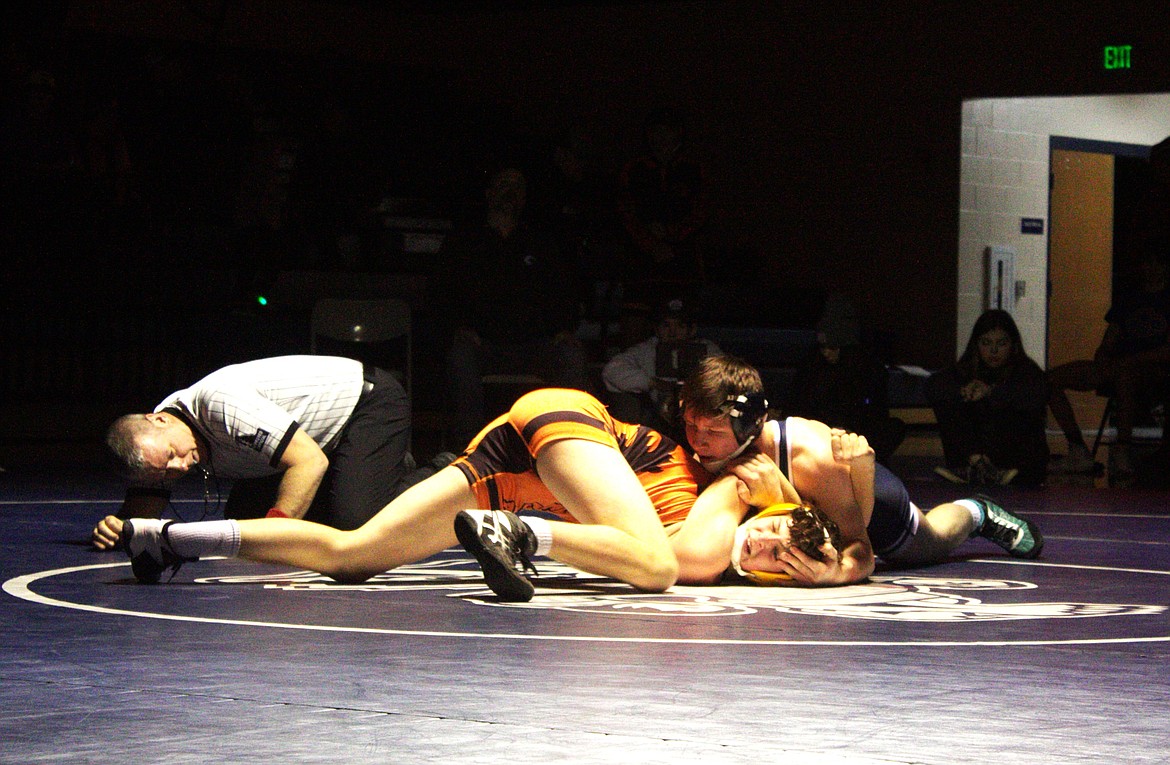 Marcus Regher works to pin his Lincoln High School opponent on Jan. 12.
(Photo by: EMILY BONSANT)
|
January 16, 2023 12:30 PM
POST FALLS —- The Bonners Ferry boys varsity wrestling team took fourth in the Copper Championship at the River City Duals going 2-3 on Jan. 14.
In the first two rounds the Badgers went 0-2 when faced against Ephrata and Eureka, losing 45-36 and 46-36.
In the third match the Badgers defeated Freeman 59-21, but fell to Lewis and Clark 38-36.
The Badgers finished the tournament with a win over Post Falls 48-36, going 2-3 overall and taking fourth.
Brandon Williams (113) went 4-1. Porter Blackmore (145) a senior, went 3-2. Marcus Regehr (152) went 5-0.
Jackson Holman (182), a freshman, went 4-1.
The Badgers forfeited the 98 and 220 weight classes at the duals due to not having a wrestler to fill the weight class.
Match One: Ephrata defeated Bonners Ferry 45-36
98 - Double Forfeit
106 - Saber Blackmore (Bonners Ferry) over Braiden Stump (Ephrata) Fall 3:29
113 - Brandon Williams (Bonners Ferry) over William Flynn (Ephrata) Fall 5:29
120 - Zander Boyd (Ephrata) over Stryder Liermann (Bonners Ferry) Fall 2:45
126 - Jorge Rodriguez (Ephrata) over Hunter Fulton (Bonners Ferry) Fall 2:45
132 - Walker Fulk (Ephrata) over James Graves (Bonners Ferry) Fall 0:32
138 - Carter Schultz (Ephrata) over Gaige Johnson (Bonners Ferry) Dec 3-2
145 - Porter Blackmore (Bonners Ferry) over Nelson Barragan (Ephrata) Fall 5:02
152 - Marcus Regehr (Bonners Ferry) over Daniel Villa (Ephrata) Fall 0:47
160 - Hudson Sager (Ephrata) over Eli Leyden (Bonners Ferry) Fall 2:45
170 - Jesse Merritt (Bonners Ferry) over Elijah Chavez (Ephrata) Fall 1:59
182 - Jackson Holman (Bonners Ferry) over Jonny Ramirez (Ephrata) Fall 3:49
195 - Antonny Quintero (Ephrata) over Andrew Erhardr (Bonners Ferry) Fall 1:27
220 - Micah Sandberg (Ephrata) over Unknown (Unattached) Forf
285 - Jose Pelayo (Ephrata) over Donald Riess (Bonners Ferry) Fall 5:38
Match Two: Eureka defeated Bonners Ferry 46-36
120 - Blake Lancaster (eureka) over Hunter Fulton (Bonners Ferry) Fall 0:45
126 - Stryder Liermann (Bonners Ferry) over Jaxon Flanagan (eureka) Fall 0:36
132 - James Graves (Bonners Ferry) over Bryan Alexander (eureka) Fall 0:19
138 - Riley Atchinson (eureka) over Gaige Johnson (Bonners Ferry) Fall 1:25
145 - Porter Blackmore (Bonners Ferry) over Koale Medicine Bull (eureka) Fall 1:55
152 - Marcus Regehr (Bonners Ferry) over Michael Waters (eureka) Fall 1:12
160 - Caden Pecora (eureka) over Jesse Merritt (Bonners Ferry) Fall 0:17
170 - Eli Leyden (Bonners Ferry) over Unknown (Unattached) Forf
182 - Jackson Holman (Bonners Ferry) over Wiatt Hume (eureka) Fall 1:24
195 - Colyn Johnson (eureka) over Andrew Erhardr (Bonners Ferry) Fall 1:12
220 - Wes Banks (eureka) over Unknown (Unattached) Forf
285 - Riley Hume (eureka) over Donald Riess (Bonners Ferry) Fall 1:02
98 - Double Forfeit
106 - Colin Hickman (eureka) over Saber Blackmore (Bonners Ferry) Fall 1:42
113 - Timothy Schmidt (eureka) over Brandon Williams (Bonners Ferry) Maj 16-2
Match Three: Bonners Ferry defeated Freeman 59-21
113 - Brandon Williams (Bonners Ferry) over Eli Schweiger (Freeman) TF 17-2
120 - Stryder Liermann (Bonners Ferry) over Lucas Lowe (Freeman) Fall 0:21
126 - Nathan Cochran (Freeman) over Hunter Fulton (Bonners Ferry) Maj 17-6
132 - Hunter Hawk (Freeman) over James Graves (Bonners Ferry) Fall 0:51
138 - Chase Smith (Freeman) over Gaige Johnson (Bonners Ferry) TF 15-0
145 - Israel Johnson (Bonners Ferry) over Unknown (Unattached) Forf
152 - Porter Blackmore (Bonners Ferry) over Tanner Juhnke (Freeman) Fall 3:26
160 - Marcus Regehr (Bonners Ferry) over Jonah Orndorff (Freeman) Fall 2:33
170 - Eli Leyden (Bonners Ferry) over Tucker Hawk (Freeman) Fall 0:37
182 - Andrew Erhardr (Bonners Ferry) over Levi Wellner (Freeman) Fall 0:27
195 - Jackson Holman (Bonners Ferry) over Brandon Cochran (Freeman) Fall 0:56
220 - Double Forfeit
285 - Donald Riess (Bonners Ferry) over Unknown (Unattached) Forf
98 - Levi Vetter (Freeman) over Unknown (Unattached) Forf
106 - Saber Blackmore (Bonners Ferry) over Unknown (Unattached) Forf
Match Four: Lewis and Clark defeated Bonners Ferry 48-36
138 - Skye Martin (Lewis and Clark) over Gaige Johnson (Bonners Ferry) Fall 1:22
145 - Israel Johnson (Bonners Ferry) over Unknown (Unattached) Forf
152 - Caleb Fromherz (Lewis and Clark) over Porter Blackmore (Bonners Ferry) Fall 2:45
160 - Marcus Regehr (Bonners Ferry) over Tucker Albaugh (Lewis and Clark) Fall 0:22
170 - James Evans (Lewis and Clark) over Eli Leyden (Bonners Ferry) Fall 1:50
182 - Bridger Cloninger (Lewis and Clark) over Jackson Holman (Bonners Ferry) Fall 2:55
195 - Maddox Vandyken (Lewis and Clark) over Andrew Erhardr (Bonners Ferry) Fall 0:46
220 - Hunter Albaugh (Lewis and Clark) over Unknown (Unattached) Forf
285 - Quinnton Flores (Lewis and Clark) over Donald Riess (Bonners Ferry) Fall 1:25
98 - Double Forfeit
106 - Saber Blackmore (Bonners Ferry) over Unknown (Unattached) Forf
113 - Brandon Williams (Bonners Ferry) over Temarious Garcia (Lewis and Clark) Fall 2:19
120 - Hunter Fulton (Bonners Ferry) over Unknown (Unattached) Forf
126 - Stryder Liermann (Bonners Ferry) over Kadyn Norris (Lewis and Clark) Fall 1:08
132 - Kale Creekmore (Lewis and Clark) over James Graves (Bonners Ferry) Fall 0:32
Match Five Bonners Ferry defeated Post Falls 3 48-36
145 - Joshua Stone (Post Falls 3) over Porter Blackmore (Bonners Ferry) Fall 4:21
152 - Marcus Regehr (Bonners Ferry) over Kaiden Bohl (Post Falls 3) Fall 0:20
160 - Kadin Sims (Post Falls 3) over Jesse Merritt (Bonners Ferry) Fall 5:14
170 - Jason Stone (Post Falls 3) over Eli Leyden (Bonners Ferry) Fall 5:04
182 - Jackson Holman (Bonners Ferry) over Sultan Rafeeq (Post Falls 3) Fall 1:20
195 - William Anderson (Post Falls 3) over Andrew Erhardr (Bonners Ferry) Fall 1:15
220 - Colton Austin (Post Falls 3) over Unknown (Unattached) Forf
285 - Donald Riess (Bonners Ferry) over Sebastean Martin (Post Falls 3) Fall 1:17
98 - Double Forfeit
106 - Saber Blackmore (Bonners Ferry) over Lane Pratt (Post Falls 3) Fall 0:28
113 - Brandon Williams (Bonners Ferry) over Isaiah Cramer (Post Falls 3) Fall 0:18
120 - Hunter Fulton (Bonners Ferry) over Unknown (Unattached) Forf
126 - Stryder Liermann (Bonners Ferry) over Lucas Anello (Post Falls 3) Fall 2:16
132 - Kyle Miller (Post Falls 3) over James Graves (Bonners Ferry) Fall 2:53
138 - Gaige Johnson (Bonners Ferry) over Landen Vigil (Post Falls 3) Fall 1:01
Recent Headlines
---