'She would not have survived'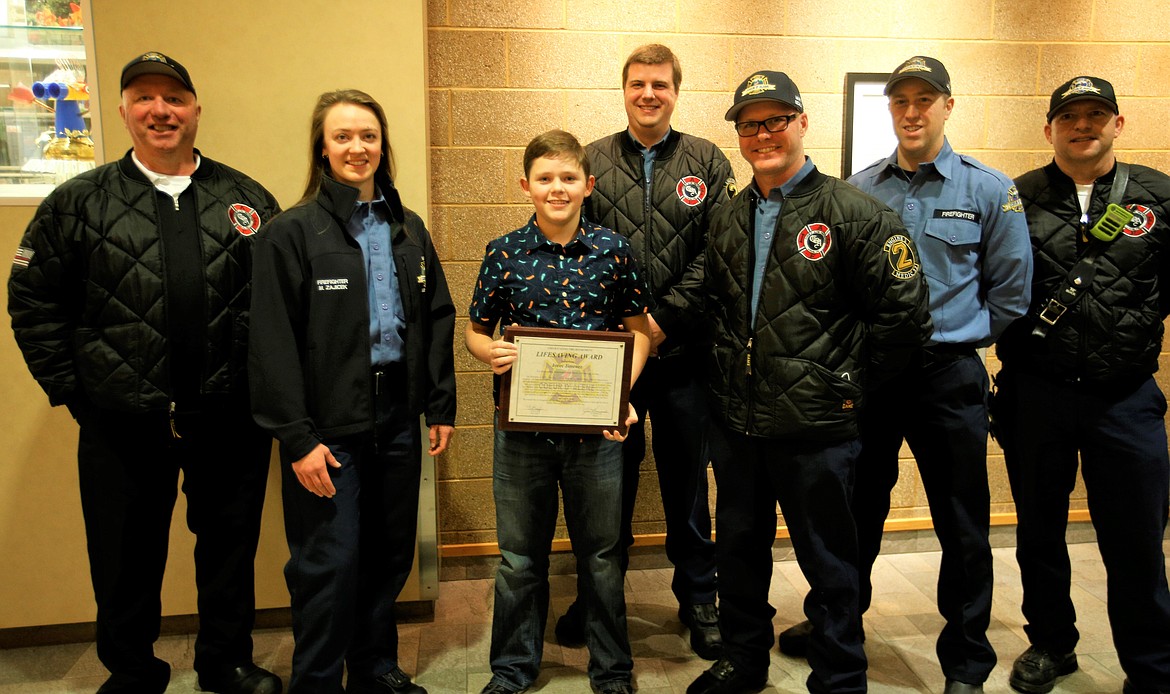 Joree Jimenez holds the lifesaving award he received during Tuesday's City Council meeting for helping a woman who had fallen outside her home on Dec. 4. From left, Coeur d'Alene Fire Department members Deputy Chief Jeff Sells, paramedic Morgan Zajicek, Joree, engineer Jeff Butcher, Capt. Chris Keires, paramedic Cody Moore and EMS officer Steve Jones.
BILL BULEY/Press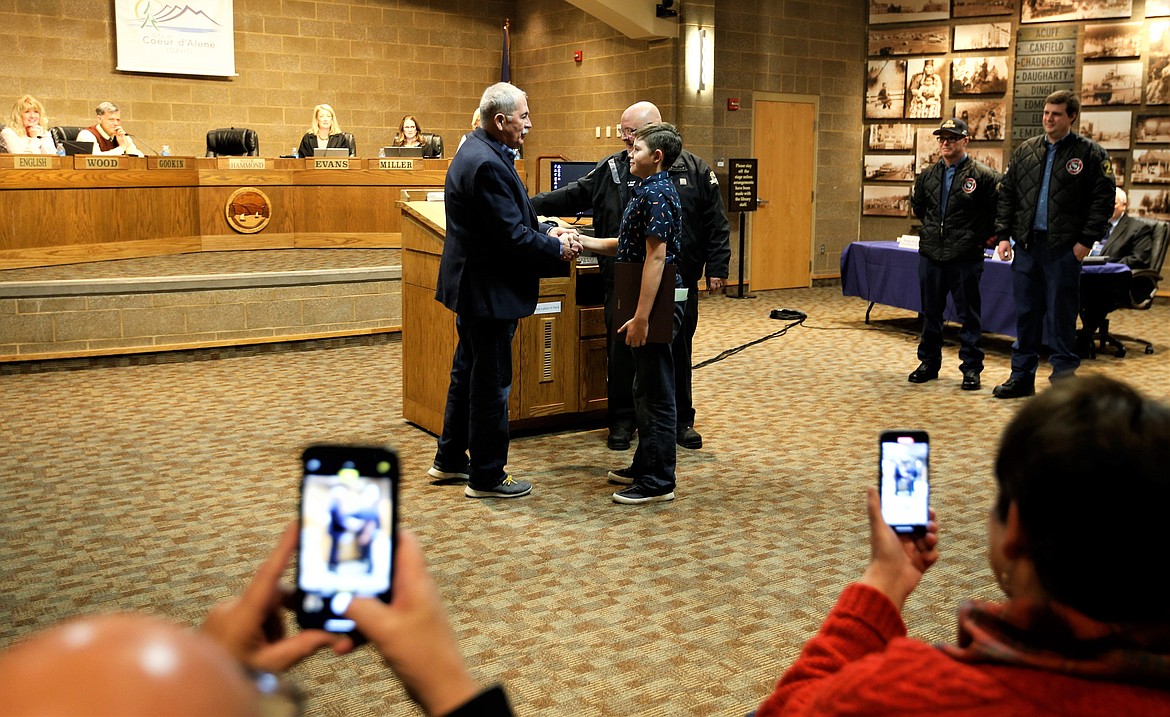 Coeur d'Alene Mayor Jim Hammond shakes the hand of Joree Jimenez as others look on during Tuesday's City Council meeting.
Previous
Next
by
BILL BULEY
Hagadone News Network
|
January 18, 2023 10:00 AM
COEUR d'ALENE — It sounded like a cat in distress.
"A weird yelp," said Joree Jimenez. "I didn't know what it was."
But he knew he had to find out.
The 14-year-old stopped walking down the snow-covered street and headed toward the whimpering on a cold, dark Dec. 4 afternoon.
At first, he didn't see anything. He kept walking and looking. Then, he spotted her. An elderly neighbor was lying in her driveway near the garage.
"Help," she said.
Joree immediately called 911 from his cellphone. Then, he took off his coat and covered her bare feet, as her slippers had come off and were a few feet away.
The woman, who was in her 70s, was weak and said little. A few minutes later, medical assistance arrived and rushed her to Kootenai Health.
Fire Chief Tom Greif said it was about 20 degrees when Joree found the woman, who may have been stuck outside for several hours. She was wearing a coat and jeans.
Her body temperature was in the low 80s, which is a fatal level, Greif said, and she also had frostbite.
Joree, he said, saved her life.
"If he would not have found her she would not have survived those conditions," Greif told the Coeur d'Alene City Council as he presented a lifesaving award to the Woodland Middle School eighth grader.
Joree was nominated for the award by Fire Department Engineer Jeff Butcher and Capt. Chris Keires.
Greif said since it was cold and dark, about 4 p.m., it was doubtful anyone else would have come along. Joree lives about a block from the woman and was going to visit a friend when he found her in the Fairway Meadows neighborhood north of Kathleen Avenue near Ramsey Road.
It is believed the woman was taking her recycling out when she slipped and was unable to get up.
"She wouldn't have survived the night," Greif said.
Greif said it's a pleasure to recognize community members who "go above and beyond in their daily lives.
"Especially when they're young folks," he said.
Mayor Jim Hammond thanked Joree.
"That was excellent work and I am very pleased to have you in our community," he said.
While Joree has been described as a hero and news of his actions is spreading, he said he was glad he was there to help someone when they needed it.
"It feels good," he said.
He knew he should not try to move the woman inside on his own, and called 911.
"It was definitely that kind of situation," Joree said.
The woman has recovered and is back home.
Katie Jimenez was proud of her son. She said the woman has not always been the friendliest person, but when she was in trouble, Joree answered the call for help.
"He showed her the greatest kindness you could ever ask for," she said.
Joree's grandparents attended the presentation ceremony Tuesday.
"He's a good boy," said an emotional Tammy Jimenez, of Utah.
Joree's grandmother, Ellen Ziska of Sandpoint, said while many young people might have just kept walking when hearing a strange sound, Joree is different.
"Joree has always had empathy," she said. "I have a lot of grandchildren, and mostly, they're in their little worlds for a long time. But Joree has always been one that kind of lives outside of himself."
She described him as a good listener, outgoing and empathetic.
"That served him well and will serve him well," Ziska said. "It served that lady well."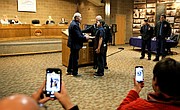 Recent Headlines
---