Internet crimes costly for Idahoans
by
KAYE THORNBRUGH
Hagadone News Network
|
January 18, 2023 1:09 AM
COEUR d'ALENE — Idahoans aged 50 and older lost more than $10.7 million to internet crimes in 2021, according to a report from the FBI.
The real losses may be much higher than what are currently known. Many victims of internet crimes are reluctant to notify law enforcement.
"They're embarrassed because they feel like they should've known better," said Coeur d'Alene Police Capt. Dave Hagar.
Internet crimes include any illegal activity involving one or more components of the internet, such as websites or email.
The most recent annual report from the Internet Crimes Complaint Center, a division of the FBI, shows that the most reported cybercrime in Idaho in 2021 was non-payment/non-delivery.
In 2021, there were 402 reported instances of this type of crime, in which a seller isn't paid for a shipped item or a buyer doesn't receive a purchased item. Around $2.3 million in losses were reported.
The other internet crimes with the most reported victims in Idaho were extortion (201), personal data breach (175), identity theft (125) and tech support (115).
Email account compromise, a type of crime where email is used to trick someone into sending money or divulging confidential information, was the most costly crime reported in 2021, with around $9.8 million lost.
Confidence frauds and romance scams resulted in about $1.9 million in losses, while investment scams cost Idahoans at least $1.7 million.
Idahoans over the age of 60 made up the bulk of the victims, with 427 people reporting crimes to the Internet Crime Complaint Center. Combined, they lost around $3 million to internet crimes.
About half as many people between the ages of 50 and 59 reported crimes, but they lost more than twice as much money to cybercrimes than victims in the higher age bracket: around $7.7 million.
Adults under the age of 30 made up around 19% of the victims and lost around $427,000 combined.
"Our aging populations are much more susceptible because they're not as used to the technology," Hagar said.
Scammers use a range of techniques to target different age groups, Hagar said.
For example, an imposter might pretend to be a Medicare representative in order to trick a senior into providing a Social Security number or other sensitive information.
Another scammer might "spoof" the phone number of a local law enforcement agency, pose as a police officer and tell potential victims they must pay a fee to resolve an arrest warrant.
If a caller requests personal information, Hagar said it's wise to hang up and call the organization's legitimate phone number.
"Known companies and legitimate businesses understand the scams that are out there and won't be offended if you say, 'I'm going to call you back,'" he said.
Older adults who receive emails or other messages asking for financial information should contact an adult child or another trusted, technologically savvy person before taking action.
Hagar said falling victim to a scam even once can be the start of a dangerous pattern.
"If this is a target who's successful one time, they'll become targets again," he said.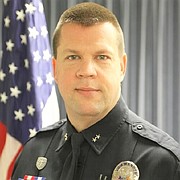 Recent Headlines
---