Time to adopt the Bring Our Heroes Home Act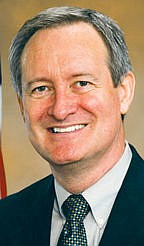 by
U.S. SEN. MIKE CRAPO Contributing Writer
|
January 19, 2023 1:00 AM
America's servicemembers, past and present, have shown incredible sacrifice and dedication to defending our freedom.
We owe it to our nation's heroes and their families to cut the bureaucratic red tape and continue the effort to identify and recover those who have not yet made it home.
In December, I joined Sen. Jeanne Shaheen, D-New Hampshire, in re-introducing the Bring Our Heroes Home Act, which would eliminate obstacles preventing families and caseworkers from accessing the records needed for recovering America's prisoners of war and missing in action. As the 118th Congress begins, we are continuing to work to advance this effort.
The legislation would consolidate all records related to missing personnel within a newly instituted Missing Armed Forces Personnel Records Collection at the National Archives and Records Administration and require all government agencies to transmit any missing servicemember records to NARA. The measure would also establish an independent government office, the Missing Armed Forces Personnel Records Review Board, to identify missing personnel records, facilitate the transmission and disclosure of these records, and review any decisions by federal agencies to postpone declassification. Co-sponsors include Senators Jim Risch (R-Idaho), Maggie Hassan, D-New Hampshire, Elizabeth Warren, D-Massachusetts, John Thune, R-South Dakota, Marsha Blackburn, R-Tennessee, Tammy Duckworth, D-Illinois, and Mike Rounds, R-South Dakota.
According to the Defense POW/MIA Accounting Agency, more than 81,500 Americans — including 360 Idahoans — remain unaccounted for from World War II, Korea, Vietnam, the Cold War, the Gulf Wars, and other conflicts. The vast majority, 328, of Idaho's missing servicemembers were lost during their service in World War II, while 23 Idahoans were lost serving in the Korean War, and one Idahoan was lost during service in the Cold War. The remaining eight Idahoans went missing while serving in the Vietnam War.
Some years ago, then-POW*MIA Awareness Corp. Director Hiedi Young shared biographies she prepared of those eight Idahoans, listed below, at a rally I attended. The biographies are a thoughtful reminder of the ongoing price of our freedom.
I shared them again in September in the Congressional Record in honor of National POW/MIA Recognition Day. It has now been more than 50 years since these Idahoans were lost in service to our country:
• Lieutenant Roderick L. Mayer, United States Navy of Lewiston;
• Ensign Hal T. Hollingsworth, United States Navy of Grace;
• Staff Sargent William B. Hunt, United States Army of Sandpoint;
• Captain Curtis R. Bohlscheid, United States Marine Corps of Pocatello;
• First Lieutenant William E. Lemmons, United States Army of Pocatello;
• Captain Jon K. Bodahl, United States Air Force of Boise;
• Warrant Officer Jon M. Sparks, United States Army of Carey; and
• Captain Gregg N. Hollinger, United States Army of Paul.
My prayers remain with their families as the challenging work continues to get needed answers and bring our country's servicemembers home. I have previously co-sponsored the BOHHA in the 116th Congress and have long supported various efforts to identify and recover all missing and unaccounted-for American military personnel. I will continue to press for the enactment of this legislation to help ensure our country's bravest are brought home to the families and communities who love them and long for their return.
• • •
Mike Crapo represents Idaho's First Congressional District in the U.S. Senate. He can be reached at crapo.senate.gov.
Recent Headlines
---