Wilma Watkins, 89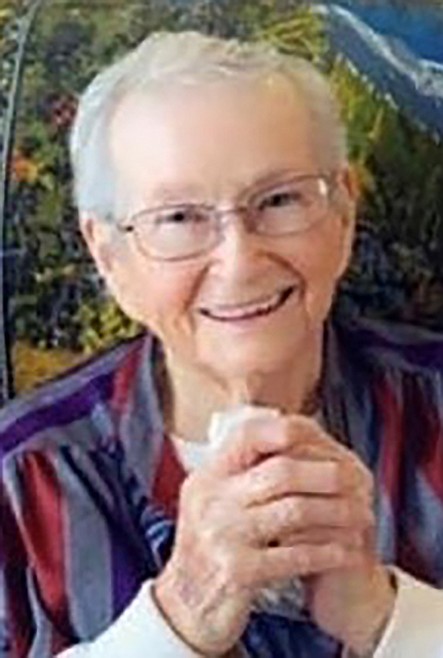 |
January 19, 2023 1:00 AM
Wilma Irene Watkins, 89, passed away Oct. 13, 2022, surrounded by her family at Sunset Home. She was a loving mom, grandma and great-grandma.
Wilma is survived by her daughter, Shirley Facha; grandchildren Michael and wife Dawn, and Christopher and wife Libby; and great-grandchildren Courteney, Hannah and Hunter Facha.
She was preceded in death by her husband, Lonnie Watkins; son-in-law Mike Facha Sr.; and many brothers and sisters.
Wilma was born Feb. 4, 1933, in Soledad, Calif., to Noah and Marguerite Smith. Wilma was a busy stay-at-home mom for many years. Upon a family vacation, Lonnie and Wilma stumbled upon North Idaho and Canada. They moved to Porthill, Idaho, in 1972. After moving to North Idaho, they took up beekeeping and owned Kootenai Valley Bee Farm selling honey products around the world.
Wilma enjoyed family get-togethers, baking, gardening, canning her own fruits and vegetables, and making her famous homemade applesauce. She enjoyed sewing and ceramics in her younger years and was active fishing and hunting with her loving husband. Wilma and Lonnie were known to raise a large garden and share with family and neighbors. She was well-known in the Porthill community and adored her neighbors and they adored her. She will be missed dearly and loved eternally.
The celebration of life will be held at 11 a.m. Saturday, Feb. 4, 2023, at Chic-N-Chop in Bonners Ferry, which would have been her 90th birthday.
Cards and flowers can be sent to Bonners Ferry Funeral Home, 6485 Harrison St., Bonners Ferry, ID 83805. Bonners Ferry Funeral Home is caring for the family. To leave a message or memory for the family, please go to www.bonnersferryfuneralhome.com.
Recent Headlines
---