Badgers come back against Lakeside Knights
by
EMILY BONSANT
Staff Writer
|
January 24, 2023 5:00 PM
BONNERS FERRY — With the score 79-75, Bonners Ferry's Trey Bateman took a defensive charge against the Lakeside Knights (7-2) from Plummer, ID, resulting in an offensive charge, no basket and gave the Badgers the defensive stop they needed to win 87-77, on Jan. 20 for Senior Night.
Early in the second quarter the Badgers trailed the 1A Division II Knights by nine points. After a six point run the Badgers and Knights were neck and neck the remainder of the contest, with the Badgers breaking away in the last minute of the third quarter and again in the fourth.
Sophomore Asher Williams scored 20 points for the 3A Badgers, who finished 20 of 28 from the free-throw line to hold off the 1A Division II Knights.
Senior Vander Brown scored 26 points for Lakeside, which had been on a four game winning streak.
Freshman Tyson Charley scored 21 points for Lakeside, 14 were in the fourth quarter.
Junior Riley Petesch scored 18 points for Bonners Ferry.
Bonners Ferry head coach said the Knights were quick and anticipated the Badgers press.
"They had good footwork, balanced and were well coached," he said.
He said he was happy with the Badges shooting 20-28 at the free throw line and having players Ridge Williams and Thomas Bateman back after recovering from injuries. He was proud of Eli Blackmore's effort and senior Porter Schulte scoring back-to-back goals to start the contest.
"First quarter we did not shoot from a high percentage at the three point line," he said. "Trey Bateman saved our bacon [with the charge] just like he did at the Moscow game, with a five point game."
After the first quarter the Badgers made adjustments in order to hold the Knights back.
"I kept telling the boys to keep your composure and play hard. Don't back down," he said.
Bonners Ferry 21 14 24 28–67
Lakeside 26 12 11 31–77
Bonners Ferry: R. Williams 6, E. Blackmore 10, C. Henslee 0, R. Petesch 18, A. Williams 20, Th. Bateman 14, D. Hammons 0, Tr. Bateman 7, P. Schulte 4, B. Blackmore 8.
Lakeside: Brown 26, SiJohn 7, Callahan 3, Corey 0, Hall 2, Hendrickx 18, Charley 21.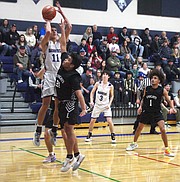 Recent Headlines
---