Girl Badgers demolish Knights by 37
by
EMILY BONSANT
Staff Writer
|
January 24, 2023 5:00 PM
BONNERS FERRY — For Senior Night, the Badger girls basketball pulled up all the stops defeating the 1A Division II Lakeside Knights on Jan. 20, by a whopping 64-27.
Lakeside kept looking for a three-pointer opportunity, but the shots only fell twice that night. The Badgers grabbed the defense boards and executed off the fast break, leading 37-15 at the half.
In the second half, Bonners Ferry Senior Senior Mia Blackmore attacked the hoop scoring off three consecutive possessions adding seven points for the Badgers.
Junior Markynn Pluid, for the Badgers, was the lead scorer of the game with 18 points, she also had 12 rebounds and was five for eight at the free-throw line. Asha Abubakari added 18 and Blackmore added 17.
Arrianna Havier-Gorr, of Lakeside, scored 15 points for the Knights.
"It was a nice win on Senior night with a great crowd," Hinthorn said. "We had a pretty good practice yesterday and knew we needed to work on rebounding and we rebounded well today."
He said defensively the Badgers talked and communicated on screens, well running down the straight and moving the ball in order to hit the post.
Kaylee Sumpter was back for the Badgers after recovering from an injury.
Bonners Ferry 17 20 17 10—64
Lakeside 8 7 9 3–27
Bonners Ferry: Petesch 0, Kimball 2, Pluid 19, Blackmore 17, Abubakari 18, Baisden 0, B. Bayer 0, Sumpter 8.
Lakeside: C. Gorr 0, Pluff 1, Wolfe 0, Rivera 6, Wienclaw 0, Thomas 0, K. Allen 0, Mott 4, Lowley 0, Havier-Gorr 15, A. Allen 0, Hodgeson 0, Lambert 0.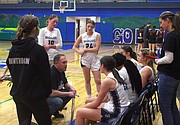 Recent Headlines
---