From the Archives — Jan. 26, 2023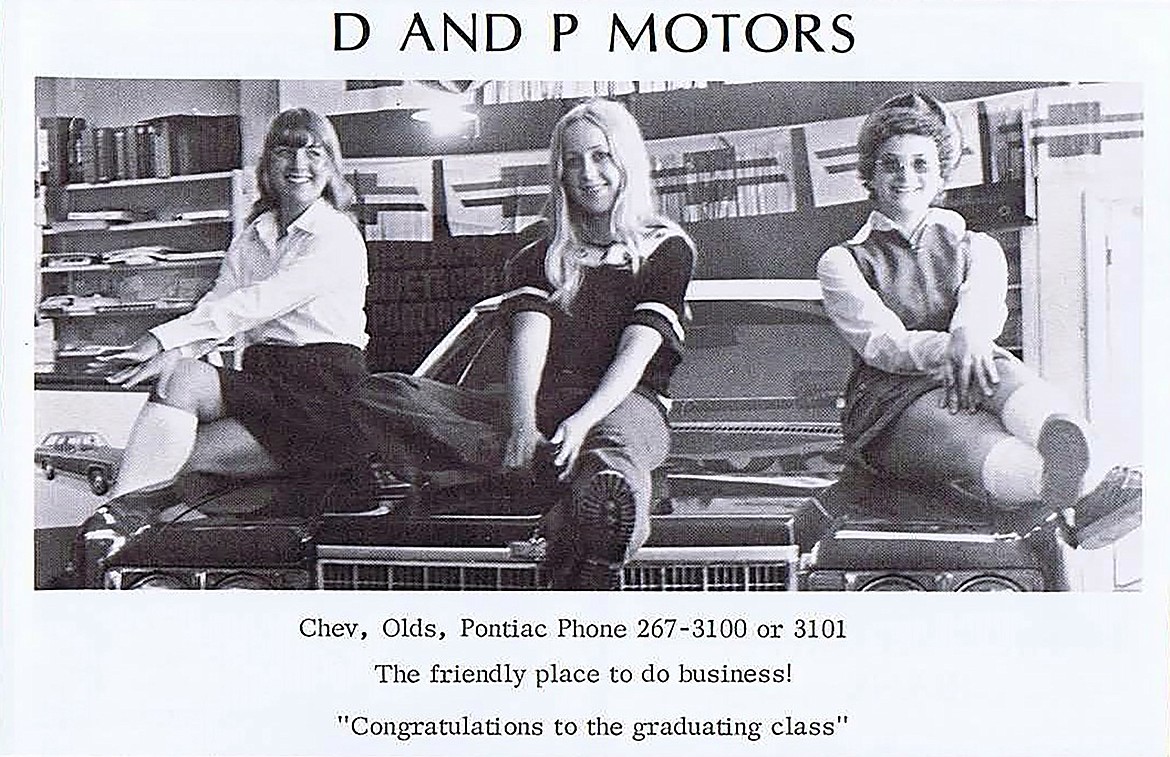 Val Coram, Margaret Douglas, and Kathy Miller - pictured in the 1974 Bonners Ferry High School yearbook and freshmen at the time - posed on one of the "new" vehicles D and P Motors had for sale.
(Photo courtesy BOUNDARY COUNTY MUSEUM)
|
January 26, 2023 1:00 AM
In this week's newspaper, in the column: "This Week in History," you will read:
"It is grand opening weekend at the newly-named D and P Motors and all are invited to stop in for a cup of coffee and bite to eat. Chevrolet, Oldsmobile, and Pontiac are the franchises being carried by the new owners, Russ Docherty and Harv Pedey. They purchased the dealership from the Charles Plums."
Although the opening took place in 1973 (50 years ago), we found this photo in the 1974 Bonners Ferry High School yearbook. Val Coram, Margaret Douglas and Kathy Miller — freshmen at the time — posed on one of the "new" vehicles D and P Motors had for sale.
Wonder who bought the car?
The Boundary County Historical Society and Museum, 7229 Main, Bonners Ferry, sponsors this column.
Visit the museum, Thursday through Saturday from 10 a.m. to 3 p.m.; visit the museum online at its website, boundarycountymuseum.org; or the museum's Facebook page for historical photos and stories, and to see upcoming events. The museum can be reached at doyouremember@meadowcrk.com or by telephone at 208-267-7720. Thank you for your continued support.
Recent Headlines
---