Post Falls man arrested for child porn production
|
January 26, 2023 4:00 PM
A Post Falls man has been arrested for federal child pornography production violations.
The Post Falls Police Department on Wednesday arrested Kevin Ronald Richmond, 61. The U.S. Secret Service, the U.S. Marshals Service, Homeland Security Investigations, the Moscow Police Department and the Idaho Attorney General's Internet Crimes Against Children Unit assisted with the investigation and arrest. Richmond was taken into custody without incident, Post Falls Police reported.
The investigation was initiated in response to numerous cyber tips filed with the National Center for Missing and Exploited Children that had been reported by an electronic service provider. It is alleged that Richmond was saving child pornography in cloud storage.
At the time of the arrest, a search warrant was conducted at Richmond's Post Falls residence on Iron Horse Cirle. Richmond's digital devices were collected as evidence and have been submitted to the Post Falls Police Department Digital Forensics Lab for in-depth analysis, as authorized by a search warrant.
If more illegal files are located, further charges may be added at a future date.
Police said it is important to note that an arrest is not a conviction. Richmond is considered innocent until proven guilty in a court of law.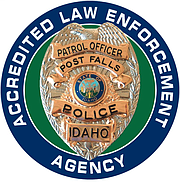 Recent Headlines
---