IDFG: Familiarity likely behind coyotes' behavior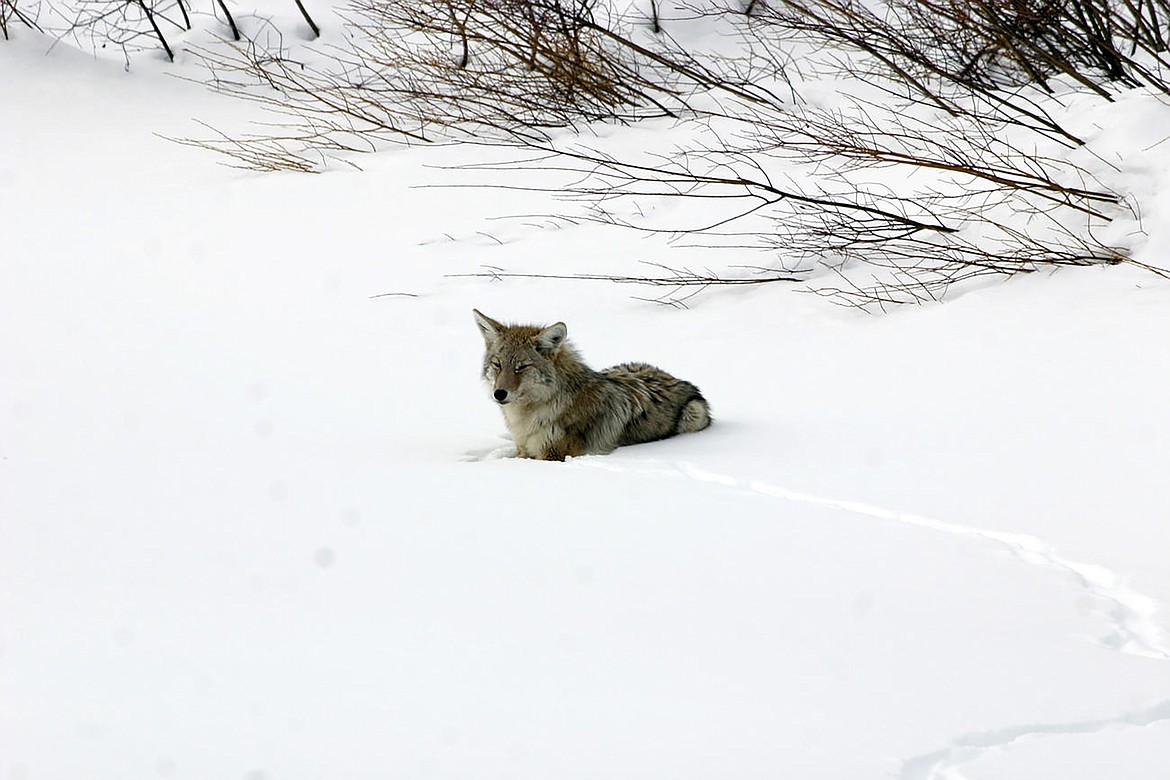 Unusual coyote behavior in the greater Sandpoint area is likely tied to the animals becoming too comfortable around people, Idaho Fish & Game officials said Friday.
(Photo courtesy IDAHO DEPARTMENT OF FISH & GAME)
by
CAROLINE LOBSINGER
Hagadone News Network
|
January 30, 2023 1:00 AM
Unusual coyote behavior in the greater Sandpoint area is likely tied to the animals becoming too comfortable around people, Idaho Fish and Game officials said.
In addition to multiple reports of coyote activity as recently as Thursday at Schweitzer, two young coyotes have been seen in the Sandpoint downtown business district during daylight hours.
"In early January, reports were received of coyotes on Schweitzer Mountain Ski Resort that were chasing skiers as they navigated down the slopes," T.J. Ross, IDFG regional communications manager, said.
While working with resort staff to develop a plan to capture and dispatch the coyotes in the interest of public safety, Ross said one of the animals chased and attacked a skier.
"Before the coyotes could be located and dispatched, one bit a female skier," Ross said. "Although her injuries were minor, Fish and Game and Schweitzer Mountain Resort took the matter very seriously."
Collaborative efforts are underway to trap and dispatch the offending coyotes, he said.
As Fish and Game was working to trap and dispatch the coyotes at the resort, Ross said the agency began receiving reports Sunday, Jan. 22, of coyotes roaming the business district in downtown Sandpoint.
"The animals were reported to appear comfortable in the presence of human activity during daylight hours, which is highly unusual," Ross said.
After one of the coyotes was found hunkered down in the back patio area of the 219 Lounge, it was captured and dispatched. Efforts are underway to locate and trap the second animal, Ross said.
In coordination with local law enforcement, when located, the animals are being captured and dispatched.
The body of the dispatched coyote is being retained for further testing, if needed, Ross said.
What is causing the coyotes to behave abnormally is unknown but it is likely due to the animals becoming accustomed to being around people, Ross said. The animals are often secretive and are largely nocturnal.
"Reports of coyotes being comfortable near and even attacking humans are extremely rare," Ross said.
With few documented cases of rabies in land animals and the pup season several months away, Ross said it is unlikely that the animals are rabid or are defending pups in a nearby den.
That leaves the most probable explanation for their behavior to habitation to humans. That most typically happens when wild animals are fed by people.
"When wild animals become habituated to human presence or food sources, they can behave uncharacteristically and become dangerous to people," Ross said. "It is suspected this was the case with the coyotes involved in these incidents."
Anyone seeing a coyote on Schweitzer or in and around downtown Sandpoint is asked to report the incident to Fish and Game's Panhandle Regional office at 208-769-1414.
"Please do not approach the animal or attempt to feed, touch or harass it," Ross said.
Recent Headlines
---