BFHS 2023 All-League and All-State Athletes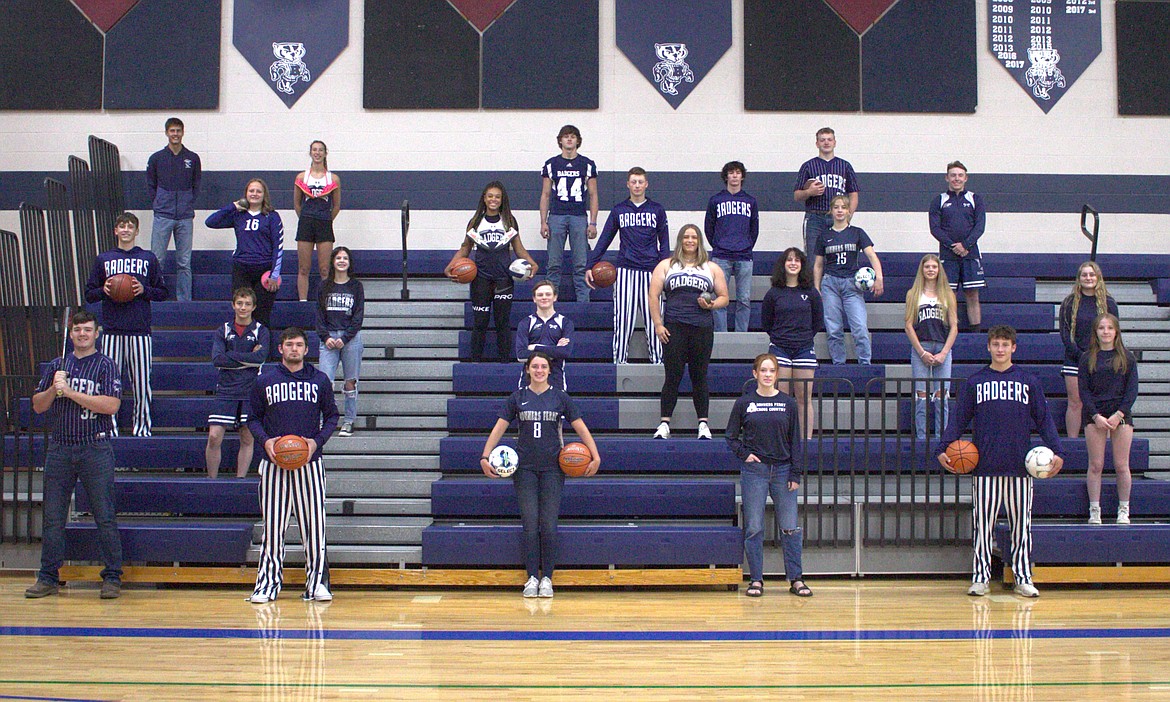 Front row Seniors, (left) David Hammons, Braeden Blackmore, Mia Blackmore, Ceci Roemer and Ridge Williams. Second row: (L) Saber Blackmore, Brandon Williams, Neveah Therrien. Third row (L) Asher Williams, Sydney Beckle, Hallie Hartman, Aubrey Wells, Makenna Baisden and Savannah Rickter. Fourth row (L) Helene Rae, Asha Abubakari, Thomas Bateman, Eli Blackmore, Lindsey Onstott. Top row (L) Riley Petesch, Brooke Petesch, Dakota Heller, Trey Bateman and Eli Leyden.
(Photo by Emily Bonsant)
by
EMILY BONSANT
Staff Writer
|
June 8, 2023 1:00 AM
BONNERS FERRY — This year was a success for many Bonners Ferry High School sports programs with athletes named All-League, state placers, state champions and one All-Idaho player.
FALL
Soccer
Boys
Nick Eastman was named 3A Boys Soccer All-State second-team player for the second year in a row. Eastman scored 27 goals and 15 assists in the fall season, averaging 1.3 goals per game.
All-League: Ridge Williams and Eastman.
Badger boys returned to the state contest finishing 0-2, losing to the eventual state champ.
Girls
All-League: Mia Blackmore and Lindsey Onstott. The Badger girls finished third in the conference.
Cross Country
Girls took second place at districts. District placers included in third, senior Ceci Roemer and in fourth Sydney Beckle.
Volleyball
Helene Rae, sophomore and outside hitter; Asha Abubakari, junior and middle; and Emma Lucas, senior and setter.
Football
All-Idaho Players: Blake Rice, Charles Henslee and Cleo Henslee.
IML
Named as MVP were Cleo Henslee and Blake Rice, Bonners Ferry.
Charles Henslee, Bonners Ferry, was named Defensive Player of the Year.
Named to the All-League first team were Dakoda Heller, Dillon Mai, Micheal Bollschweiler, Teigan Banning, Travis Peterson and Trey Bateman.
WINTER
Basketball
Girls
All-League — Asha Abubakari, jr., Bonners Ferry; Ciara Soumas, sr., Timberlake; Payton Young, fr., Timberlake; Jozee MacArthur, so., Timberlake; Mia Blackmore, sr., Bonners Ferry.
Boys
3A All-Idaho Boys Basketball Player of the Year – Sophomore Asher Williams
Bonners Ferry: Braeden Blackmore, senior; Ridge Williams, senior; Asher Williams, sophomore; Thomas Bateman, sophomore.
Wrestling
Boys
Junior Brandon Williams (113) took third at the state competition and is now a two-time state placer. Senior Marcus Regher (160) took fifth place for the Badgers and is also a two-time state placer.
BF District champs and state qualifiers: Saber Blackmore, Brandon Williams, Porter Blackmore, Marcus Regehr, Andrew Erhardt and Donnie Riess.
Eli Lyden also qualified for state for the Badgers.
Girls
Freshman Neveah Therrien (107) claimed the Idaho State Wrestling Championship title for her weight class on Feb. 25 and is the first girl to take first at the state for the Bonners Ferry Badgers. She was also District champ for District I and II of Idaho.
Savannah Rickter placed fourth in state and is now a two-time state placer and two-time District I and II champion.
Aubrey Wells (138) was also a district champ. Lindsey Onstott took sixth in state and second at districts.
SPRING
Golf
Girls
Won the state championship with Braylyn Bayer taking the individual winner honors.
Boys
Qualified for state for the first time in years.
Track and Field
Asha Abubakari was named state champion for both the shot put and the discus for the second year in a row. She also placed second in the long jump.
Helene Rae took second in the shot put and fourth in the discus. Hallie Hartman took fourth in shot put.
Badger Track state medalists included; Brooke Petesch, Hallie Hartman, Asha Abubakari, Riley Petesch, Mia Blackmore, Brenly Hymus and Makenna Baisden.
Baseball
Trey Bateman was named MVP for the IML for the second year in a row.
Recent graduates Blake Rice, Teigan Banning and David Hammons also received All-League honors.
Softball
Kaylee Sumpter, a recent graduate, was named softball Co-Defensive Player of the Year.
Recent Headlines
---