Durst selected as new WBCSD superintendent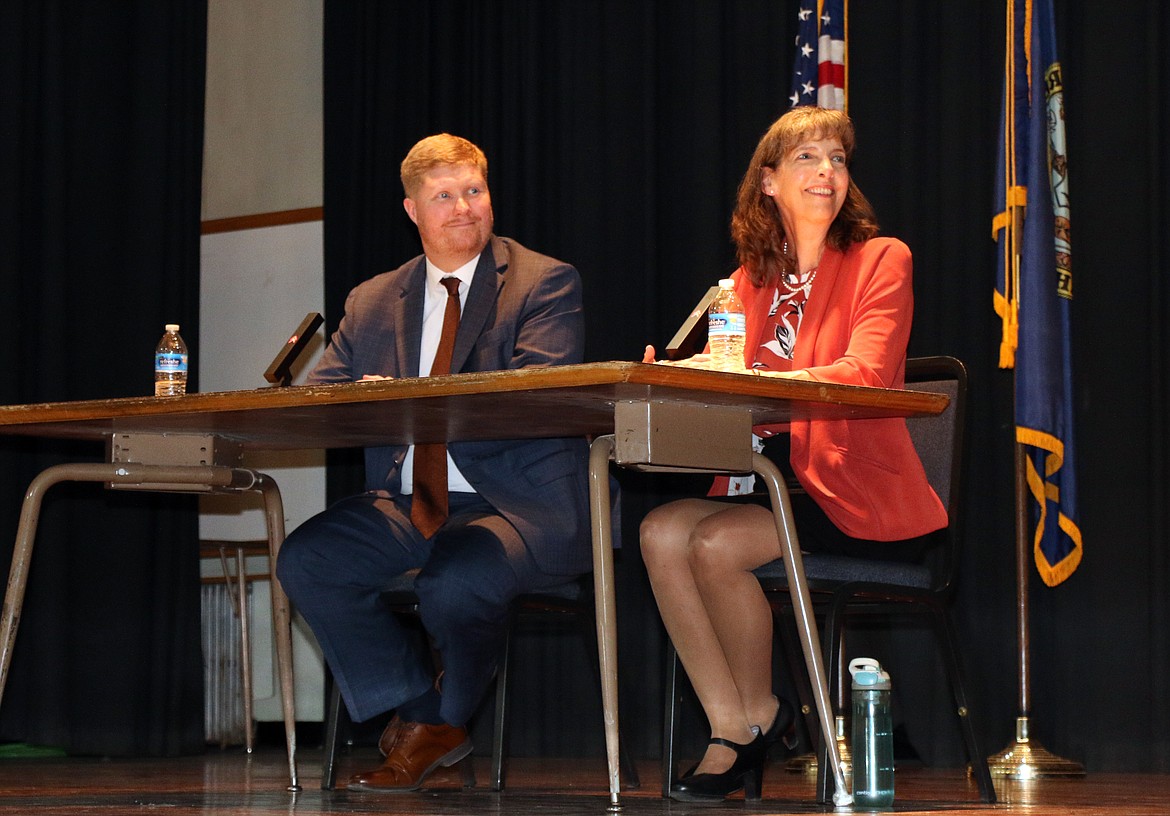 Branden Durst, left, and Susie Luckey listen to a question at a Wednesday community forum which gave residents a chance to ask the West Bonner County School District finalists a chance to ask them questions.
(Photo by CAROLINE LOBSINGER)
by
CAROLINE LOBSINGER
Hagadone News Network
|
June 8, 2023 1:00 AM
▶️ Audio story available.
PRIEST RIVER — Saying change was needed to steer a troubled district, the West Bonner County School District voted 3-2 to hire an Idaho Freedom Foundation policy analyst as its new superintendent.
The position would be the first school district administrative position for Branden Durst, who was selected over longtime Priest River educator and administrator Susie Luckey.
Luckey has been serving as interim superintendent since March after the sudden resignation of Jackie Branum at a special board meeting in mid-March. She also has been working as a principal at Priest Lake and Idaho Hill elementary schools.
"At this day, at this time, I think Susie Luckey is an excellent superintendent for a school district that was highly functioning and is running smoothly," board chairman Keith Rutledge said. "At this point, I think that change needs to happen. And I think Branden is the guy to do that."
However, trustee Margaret Hall said while there were good points for both candidates, Durst did not have the experience or knowledge to come into an already divided community.
"What sticks in my mind is Mr. Durst's question about what does the district need right now," Hall said. "And I think at this time, Susie Luckey would be a better fit for us because of trying to bring some calm to the community that has seen great disruption over the last year."
Luckey would bring calm to the district, trustee Carlyn Barton agreed.
"I think that she has the experience and I feel like Branden Durst, although he has very good points, I feel like he doesn't have the experience or the knowledge to come into a community that is already divided," Barton said.
However, board vice chairwoman Susan Brown moved to hire Durst with trustee Troy Reinbold seconding the motion. Voting to hire Durst were Keith Rutledge, Brown and Reinbold; those opposed were Hall and Barton.
The vote followed an hourlong executive session held following a 90-minute community forum which attracted more than several hundred people who packed the Priest River Junior High School auditorium.
Questions at the forum ranged from how the superintendent finalists would address challenges facing the district to the role of testing to the pending four-day school week. The pair also were queried on what their priorities would be, the role of policy in running a school district and how each would address the district's funding issues.
Durst said the district is troubled, with low test scores and facing significant challenges. Because he is approaching the issues with fresh eyes and fresh ideas, he is the best candidate to move the district forward.
Parents, not anyone else, should be driving the curriculum, he said. "The parents deserve to know what their kids are learning."
Luckey also emphasized the importance of parents and the community in schools and in drafting curricula. She noted the district's existing policy with at least half of those on boards being parents and community members as well as the district's effort to post all curricula on its website to make it easier for the community to find it.
Luckey said she was born and raised in the community, working in West Bonner County School as both a teacher and an administrator. She has served in leadership roles on the local, state and federal level, worked on literacy and youth groups and can think of no more important job than leading the district and ensuring students' success.
Durst said his background in finance and budgets give him an edge in looking at the issues — and finding the solutions. While his background isn't in education, he said the job is an inherently political and administrative job — skills that are his forte.
"I am well qualified to provide leadership in a way that has been missing in the past," he told the packed room.
Luckey noted that the district has been through a lot in the past year and, while financing is important, the longtime educator said leading all involved into being a highly-functioning team is something she excels at and which she has deep experience in.
Both Durst and Luckey said engaging the community is critical to the district's future, to help it regain a solid footing to ensure students have the ability to learn and grow. Each pledged to engage the community, to listen to the different views so all members of a community are heard and have their voices represented.
Durst said that while the ISAT is a required test, he would move to have monthly testing to gauge where students are at and where they may need help. His experience in drafting policy gives him a unique understanding of the landscape schools operate inside.
With the district's levy failing in mid-May, Luckey said she has been working with staff and WBCSD board members to do a "deep dive on the budget" to see where money will be spent and how. That includes both classroom needs and extracurricular programs.
Luckey said her vision for the district focuses on student academic achievement, as well as on programs that bring them success. She said she envisioned a variety of programs that address all student needs as well as on the district's finances
Durst said he views the levy's failure as a signal of the community's division and a deep lack of trust in the district by the community.
Success of a four-day school week depends on the community, Durst said, adding he'd seen several studies that showed it can be beneficial because it allows staff more time to collaborate. It would be important for the district to communicate how it is going, what is working and what isn't. To address the concerns caused by change, he said.
Luckey said she has been working with the board since it voted to implement a four-day school week. The hope is that it helps WBCSD recruit and retain staff and improve attendance. To address community concerns on what would happen with students on Fridays, the district is working with the community on how to make it work, she said.
Durst said his vision for WBCSD would be to see a focus on student growth and achievement, a focus on the budget and to conduct a forensic audit to address community concerns on where money has gone. That distrust contributed to the levy's failure, he said.
"I believe this district needs a change in course," Durst said. "I do believe this district really needs a fresh set of eyes on the problem."
He said his experience as a market research consultant helps him analyze situations, assess the options and "rebuild things and make them better."
While Durst said his ability to be a fresh set of eyes made him the best candidate, Luckey said her deep roots in the community and her passion for her hometown and its people give her invaluable insight. However, it does not blind her to the challenges ahead or the need to fix issues facing the district.
"I see a vision of where we do need change, we do need growth, we do need to move forward and I am willing to work hard," Luckey said. "I have lots of contacts throughout the state of Idaho that I have worked with over the years that would help us move in any direction we, the community and the team want."
Recent Headlines
---