Lucas continues volleyball career at Big Bend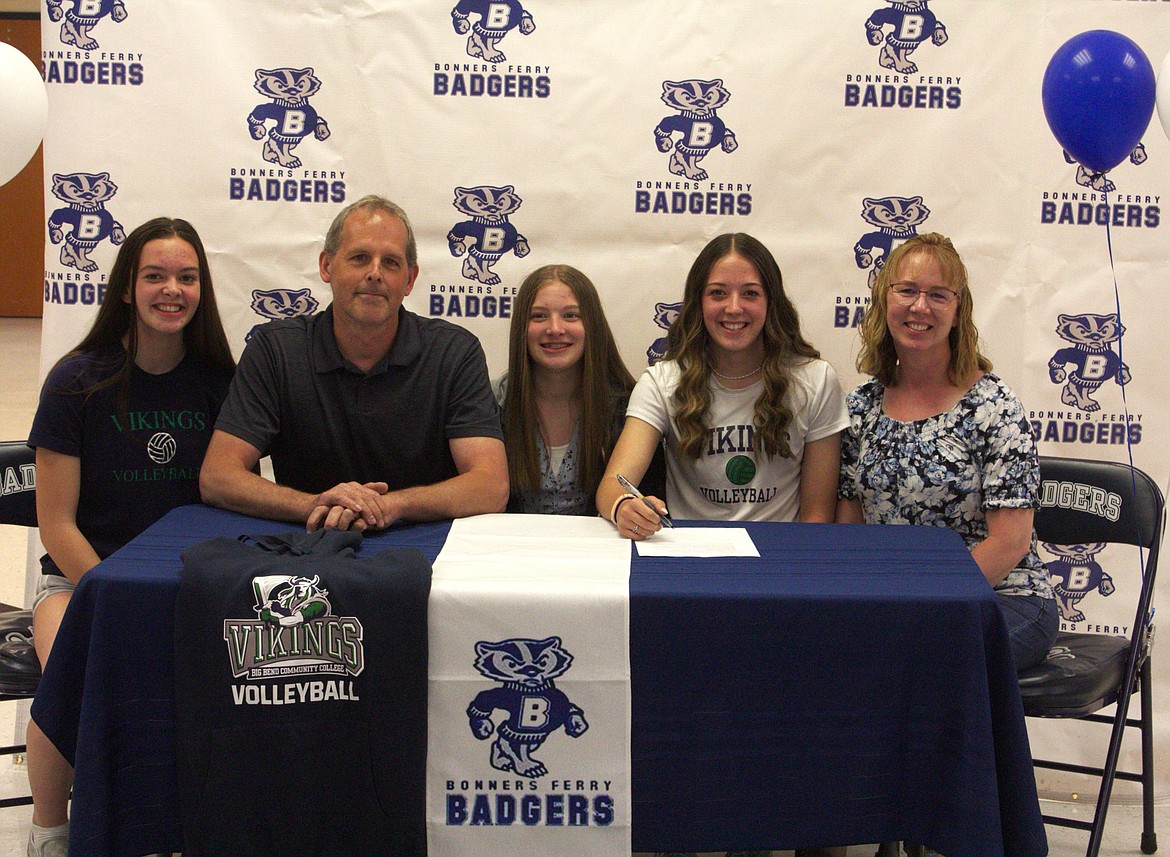 Emma Lucas signs to play volleyball at Big Bend Community College. (left) Kimberly Lucas, Scott Lucas, Addison Lucas, Emma Lucas and Angie Lucas.
(Photo by Emily Bonsant)
by
EMILY BONSANT
Staff Writer
|
June 8, 2023 1:00 AM
Bonners Ferry High School graduate Emma Lucas will be turning in her Badger blues to wear Viking blues as a new member of the Big Bend Community College volleyball squad in Moses Lake, Wash.
Lucas will be attending Big Bend, due to receive a scholarship and because the school has a Bachelor's degree in business. Lucas completed high school and earned her associate's degree.
Lucas said she is excited and nervous to play with a team she hasn't yet met. She looks forward to working with head coach Alexa Moser, due to her sweet demeanor and knowledge of the game.
"I'm excited for Emma to play at the next level," said BFHS volleyball coach Cynthia Cummings. "She has worked really hard at finding the right school that would be a good fit for her and her education needs. I think Big Bend Community College will benefit from Emma's leadership style on the court. She is a quiet leader, who leads through example, hard work, encouragement and sportsmanship. She has a great knowledge of the game, and is very hardworking on and off the court."
"She is the ideal teammate: positive, encouraging, doesn't contribute to any drama, but remains focused and hardworking," she said. "I'm also excited that she'll be attending a fairly local college so that myself and her high school teammates can go and support her."
Paula Petesch also taught Lucas through the Parks and Recreation volleyball program.
"Emma is a huge lover of the sport and has worked hard to get to where she is," Petesch said.
"A big shout out to all the coaches that got Emma to this point in her life," said Angie Lucas, mother to Emma. "We are excited for what the future holds."
Her father, Scott Lucas added they are all very proud of Emma.
BFHS athletic director Nathan Williams said the first year as a college athlete is always the hardest. He encouraged Lucas to stick with it and thanked her for such a great athletic career as a Badger.
Lucas leaves for Washington at the end of July, with practice starting Aug. 1.
Recent Headlines
---