Missing mushroom picker recovered after 4 days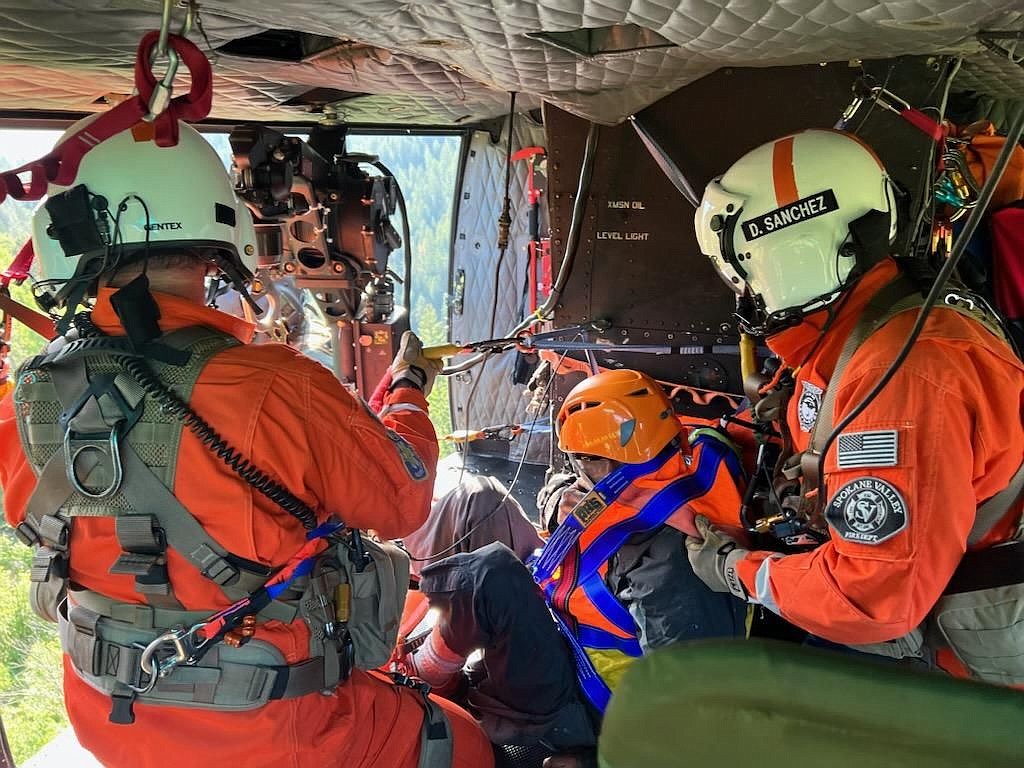 A missing hiker is medically evaluated by Spokane Valley Fire Department crews after being hosted to safety by the department's helicopter rescue medics.
(Photo courtesy SPOKANE VALLEY FIRE DEPARTMENT)
by
CAROLINE LOBSINGER and EMILY BONSANT/Staff Writers
|
June 8, 2023 1:00 AM
BOUNDARY COUNTY — A lost mushroom picker was safely located Saturday morning in the Smith Creek area after four days without food and water.
Bourathaphon Inthanthanya, reported to be in his 50s, had been reported missing in the early evening Wednesday, May 31 when he did not arrive at an agreed-upon destination to meet with the rest of his foraging group.
Inthanthanya, from Redding, Calif., was looking for wild mushrooms in the Smith Creek area Wednesday when he became lost. The Boundary Search & Dive Rescue Team was activated in the early morning on Thursday, June 1 to search for the missing man.
BSDRT president Mario Anest said Inthanthanya was last seen in the area of Long Canyon and Smith Creek in northern Boundary County. Search and Rescue did an extensive search in the area, and after 36 hours no clues or leads to the missing man's location were found.
As one team member was leaving the search area after a long shift, a plume of smoke was seen coming from an area inaccessible to the road or trails. Search teams immediately deployed.
It was determined that the smoke was a warning/signal fire started by the missing person, Anest said. As darkness fell on June 2, they made physical contact with Inthanthanya after traversing steep slopes and crossing the creek.
The man was found in stable condition, but had been without food and water for four days.
Contact was made with the Spokane County Sheriff's Office for extraction assistance by way of helicopter due to the rugged nature of the location, Anest said. Around 7 a.m. on June 3, SCSO assisted with a Huey helicopter and hoisted the man and team members to safety.
He was taken to a hospital to be checked out, as a precaution, according to Boundary County Sheriff's officials. He only suffered from minor cuts and blisters and was reunited with his friends.
"We are so grateful for the dedication and hard work of our county volunteer search and rescue team and all those who supported the team during this search," Boundary County Sheriff Dave Kramer said.
The Boundary County Sheriff's Office and Boundary County Search & Dive Rescue were assisted by search aircraft from Flathead County, Mont., and Spokane County, Wash.
Inthanthanya is not the first person to go missing while searching for either mushrooms or huckleberries in the mountains of Boundary County.
In July 2022, a man picking huckleberries in the Bethlehem Mine/Camp Nine Road area was lost in the mountains for several days before he was located safe and in good spirits by a rescue helicopter crew from Two-Bear Air Rescue of Kalispell, Mont.
"I continue to be both amazed and proud of our Boundary search and dive rescue teams," said BCSO Detective Caleb Watts. "All members are volunteers and put their time and money into this program. The specialty teams continue to train, starting with SAR Academy's swift water rescue, high ropes, dive, back country, snowmobile and maps. I could go on and on."
The dedication by members is what makes these teams work, Watts said.
"They continue to show expertise and professionalism on every call-out. Without these guys, the community would not have a chance when in need. When there is a call-out, they drop what they are doing, sometimes even leave work, to go serve this community," he said.
Watts also acts as liaison between the sheriff's office and Search and Rescue.
BSDRT has served Boundary County for more than 30 years. For more information on Boundary County Search and Dive Rescue Team, go online to bsdrt.org.
Recent Headlines
---