Mushroom pickers trespass on Westside Road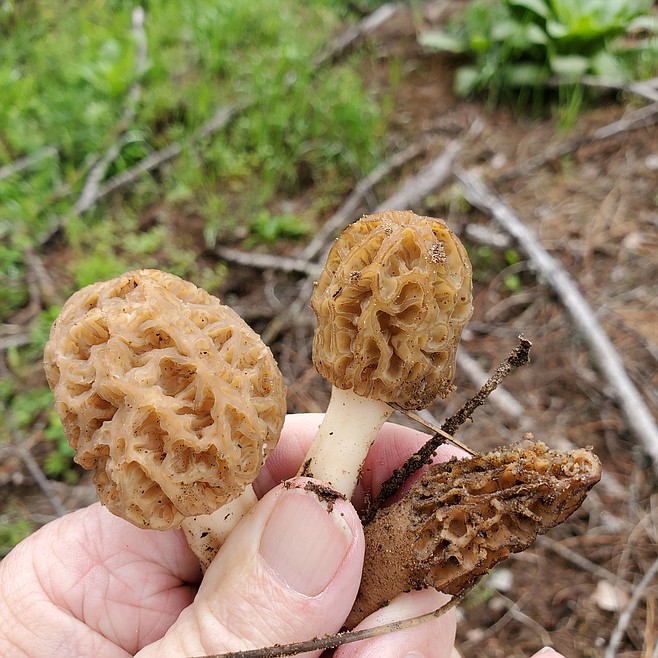 Morel mushrooms are a widely distributed edible fungus which has a brown oval or pointed fruiting body with an irregular honeycombed surface bearing the spores.
Photos by DON BARTLING
by
EMILY BONSANT
Staff Writer
|
June 8, 2023 1:00 AM
COPELAND — Commercial mushroom pickers that descended on the Westside Road area in late May are trespassing and violating forestry law, according to nearby property owners.
Resident Bill Lefebvre, 82, said he has had hoards of commercial mushroom pickers trespass on his property on Westside Road in late May. Last year's fire complex at Westside Road flowed into national forest land, making it a prime location for mushroom picking this May.
Lefebvre said the commercial pickers parked on Westside Road and crossed his property in order to pick mushrooms on national forest land.
"It was a nightmare," he told the Herald. "These people have no respect for people's property," he said, saying the pickers walked right past his "no trespassing" signs.
Lefebvre had several encounters with pickers and had Boundary County Sheriff's deputies respond multiple times.
"I couldn't catch all of them," he said.
Bonner County Sheriff Dave Kramer confirmed the reports and said deputies have responded to several trespassing incidents with out-of-state mushroom pickers on Westside Road in areas which were burned in last year's fire.
"We encourage landowners to call and report trespassing," he said.
Other neighbors faced similar issues.
Lefebvre said in the past, locals would knock on his door asking for permission to pick before trespassing, which is customary.
"They'd always offer a bit of what they picked," he said.
Lefebvre said he blames the mushroom buyers and not the pickers, stating many of the mushroom pickers likely didn't realize they were trespassing. He said trucks would drop pickers off on Westside Road, and then they would enter private property to pick.
Recent Headlines
---